When you shop through retailer links on our site, we may earn affiliate commissions. 100% of the fees we collect are used to support our nonprofit mission.
Learn more.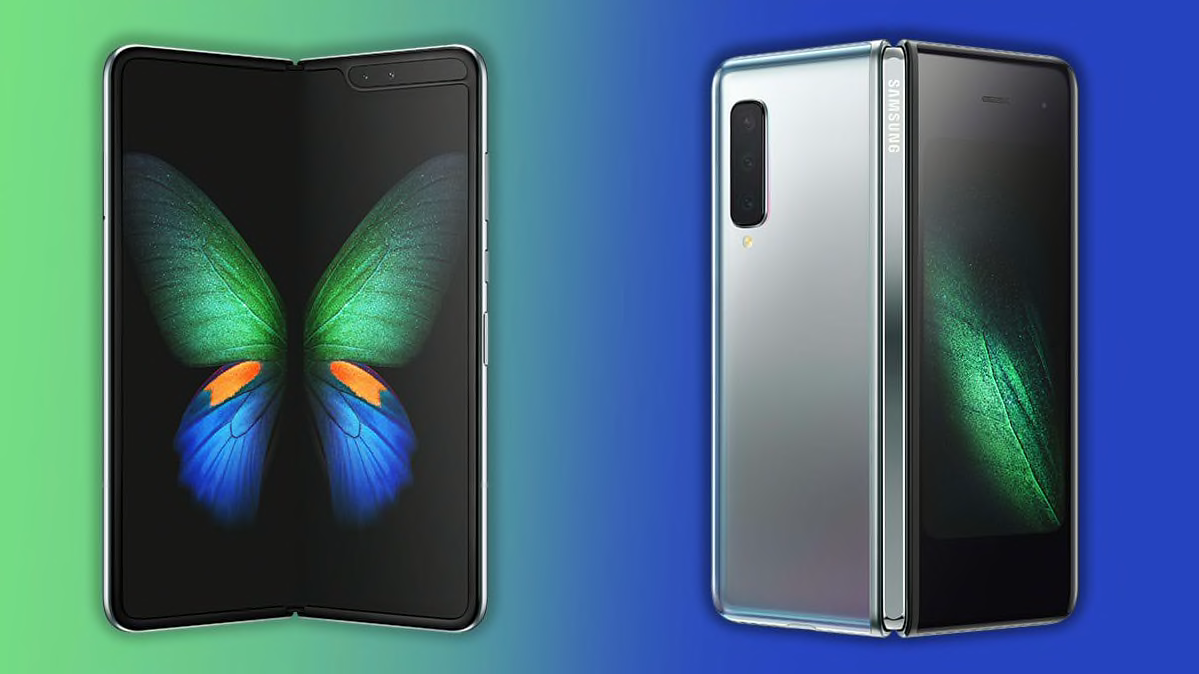 The future of smartphones, according to Samsung, is foldable and 5G. But if that's true, it's also going to be a lot more expensive.
Samsung officially updated its flagship smartphone lineup, unveiling five new models, including the long-awaited foldable phone and the first model that will be compatible with the faster, more efficient 5G networks set to roll out worldwide later this year.
Calling it a "one-of-a-kind luxury device," Samsung executives say the Galaxy Fold will boast a supersharp 4.6-inch front display, then open up like a book into a 7.3-inch flex display.

The Fold comes with a slew of other fancy features, including six cameras, 512GB of storage to start, twin batteries, and the ability to use up to three apps on its large inner screen. If you want a 5G version, you can have that, too.
But all that functionality comes at a hefty price. The Fold phone, set to reach consumers April 26, will start at $1,980, easily making it the most expensive mainstream smartphone on the market.
Samsung has yet to reveal how much the 5G version of the Galaxy S10 will cost but says it will go on sale exclusively through Verizon sometime in the first half of the year, then make its way to the other U.S. carriers over the summer.
Given the specs, the 5G phone is sure to be pricey as well. In addition to being 5G-ready, the phone will boast a 6.7-inch display and a monster 4,500-milliamp-hour battery.
While the telecom world has been buzzing about 5G technology for some time now, you may want to think twice before upgrading to a 5G device. The major carriers say they're hard at work putting their networks in place, but it remains to be seen how widespread service will be when Samsung's phone launches.
Samsung's latest 4G models—the S10, S10+, and a slightly pared-down S10e option, will go on sale March 8. These phones will start at $900, $1,000, and $750, respectively.

While not a huge departure from previous S-series models, all three phones do come with new hardware and features. The South Korean tech giant says they're faster and stronger, too. They're expected to have a noticeable bump in battery life, thanks in part to machine learning; a new rear camera with an ultrawide lens; and more storage space for digital pack rats.
The phones are WiFi 6-ready, so you'll be prepared as more WiFi 6 routers hit the market.
New advances in wireless charging will let you not only refill your phone's battery faster but also use it to charge headphones, a smartwatch, and other devices. It's like an old-fashioned game of tag: Lay an iPhone or other Qi-compatible device on top of your new Samsung phone and it will start to charge.
At the Wednesday event, Samsung also rolled out a new fitness tracker and smartwatch, along with an updated pair of wireless earbuds that can, for the first time, be charged wirelessly, including by one of the company's new phones.
While Consumer Reports will receive press sample phones—which we will rent from Samsung—before they officially go on sale, we won't be using them for testing. Instead, we'll purchase new phones at retail, just like any consumer, and put those through the paces. Full test results and new smartphone ratings will follow a few weeks after the phones hit stores.
In the meantime, here's a closer look at what the new S10 models have to offer.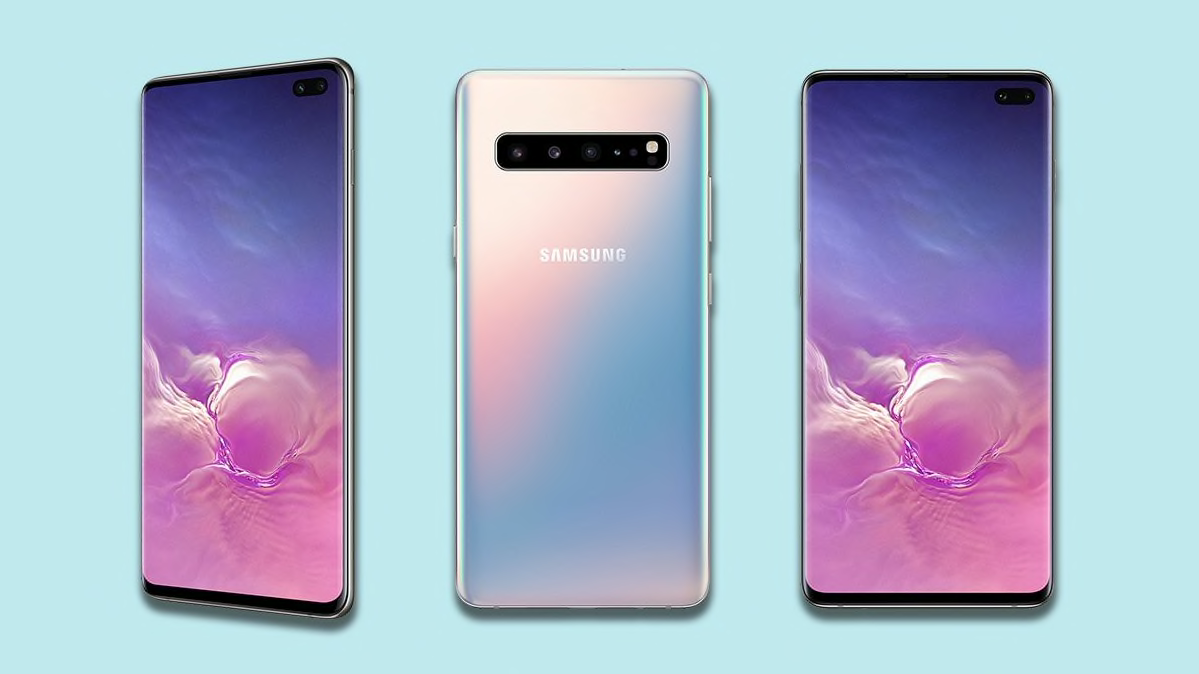 What You'll Notice
Bigger displays. Bigger is better, right? Samsung has once again shrunk its bezels and stretched its OLED displays even closer to the edges of its phones.
To make that change possible, it eliminated the bezel that once housed the front cameras at the top of the display and put those cameras inside a punch hole lasered into the screen itself.

On paper, the S10 and S10+ have slightly wider builds than the previous generation, but it's not really noticeable unless you look very closely. In fact, as mentioned earlier, the S10's display measures 6.1 inches diagonally, which is just a hair larger than the S9's.
The 6.4-inch display on the S10+ represents a 0.2-inch increase over the screen on the S9+. In that case, though, the body is less than a half-millimeter wider and a half-millimeter shorter.
The two phones are slightly lighter than their predecessors, too, though in both cases we're talking about less than 15 grams, about the same as three U.S. nickels.
The display on the 5G phone will stretch to 6.7 inches, edging out those on the Apple iPhone XS Max and Galaxy Note9.
The one on the S10e? That's only 5.8 inches, but it's an OLED display, just like those on its pricier siblings, and—more to the point—unlike Apple's analogous iPhone XR, which makes do with an LCD.

Better battery life. All the phones will have big batteries, with capacities spanning from the 3,100mAh version in the S10e to a 4,500mAh version in the S10 5G.

The new processor in the S10, S10e, and S10+ uses 18 percent less power than the previous version, according to the company.
The phones also feature new adaptive battery software that cuts down on power usage by restricting the running of apps you use less frequently and noting how and when you need the most power.
More cameras. The Galaxy Fold will have six total: three in the rear, one on the front, and two tucked inside the device, for use when the big screen is open. The S10 5G model includes a 3D Depth Camera, designed to improve the phone's live focus feature.

The other three phones have a new 16-megapixel rear camera with an ultrawide lens, designed for sweeping landscapes and those big group shots. You may have noticed this feature already on smartphones made by LG and other manufacturers.
The Samsung phones also provide a rear camera with a standard 12MP wide-angle lens.
And the S10 and S10+ have a third close-up 2x lens, too, which can be handy for zooming in on subjects without losing resolution.
For selfies, the three phones have a front-facing 10MP dual-pixel camera. The S10+ also offers a second 8MP camera designed to add depth to your photos.
The 10MP camera on all three phones can shoot video in Ultra High Definition (aka 4K), and Samsung says the auto focus is faster, reducing the chances of fuzzy photos.
The cameras can perform a handful of new tricks, too. Samsung says it has boosted the phones' ability to detect babies, dogs, cats, vehicles, and other items in pictures, and suggest ideal settings. A new Super Steady feature takes the bounce out of video captured when you're on the move. And portrait mode improvements let you customize the background behind your subject.
You no longer have to record 4K video in short bursts, either. With the new phones, you can shoot as long as you want, provided you have sufficient storage.

Faster wireless charging and power sharing. Wireless charging is convenient but can be painfully slow, too. Samsung says these new phones will charge 36 percent faster when you pair them with the company's soon-to-be-released Duo Pad charger, which will kick out 12 watts of power.
You can even share all that power in your bigger battery with other Qi-compatible devices. If you don't feel like lugging around chargers for your headphones and smartwatch, just turn on Wireless PowerShare through the phone's pull-down Quick Panel and put the devices back to back.
It's not a fast charge, but it might be a big help in a power pinch. And, yes, we confirmed it ourselves—the feature will even charge an iPhone.

Screen-embedded fingerprint sensor. Previous S-series phones had the fingerprint sensor on the back side. But even after Samsung shifted the location, it was easy to accidentally smudge the nearby rear cameras while feeling for it.
On the S10 and S10+, the fingerprint sensor is now embedded in the front display. It pops up only when needed. On the Galaxy S10e, it's built into the power button.
More storage. The S9 started with 64 gigabytes of storage, with the option to step up to 128GB or 256GB. The S10 and S10e go straight to 128GB or 256GB. But the S10+ has a whopping 1-terabyte option, too.
Still not enough? All the Samsung phones except for the Galaxy Fold and S10 5G come with a slot for a MicroSD card, which lets you add up to 512GB more. That's a lot of baby pictures and HD video.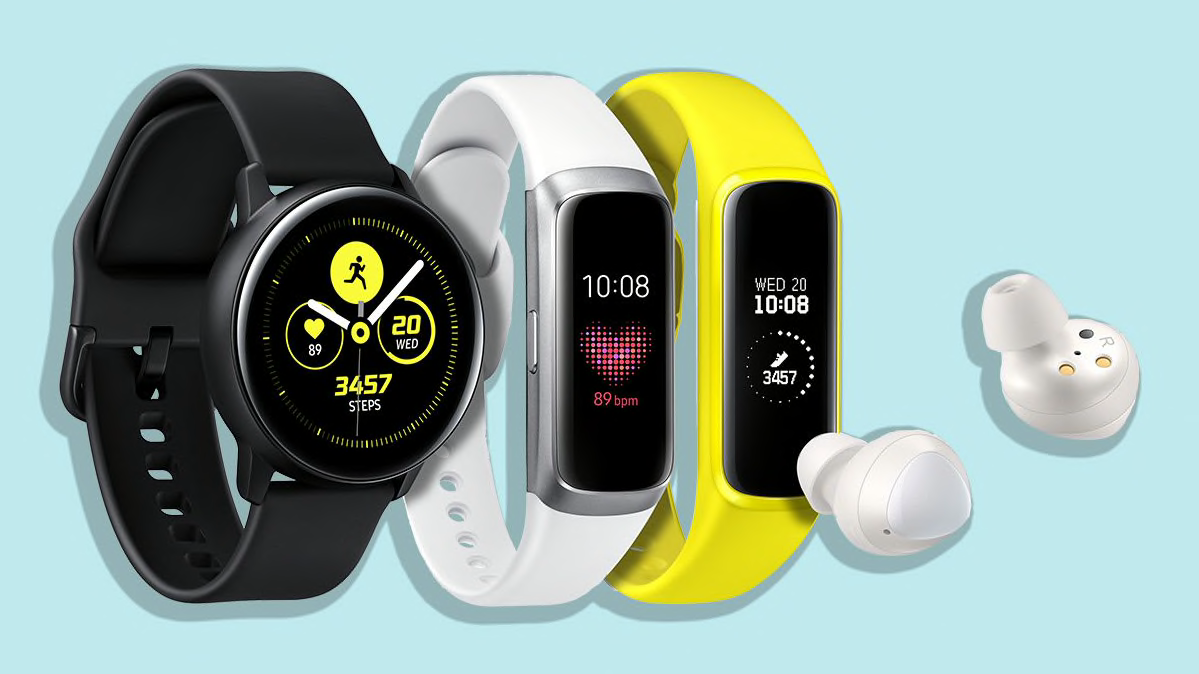 New wearables. What's a fancy new phone without accessories? Samsung's Galaxy Watch Active is designed to be lighter and more stylish than past Samsung smartwatches. It's also one of the first to include blood-pressure tracking, which will work with an app set to launch March 15. Meanwhile, the Galaxy Fit, Samsung's new fitness tracker, weighs only 23 grams, about the same as a strawberry, and will track more than 90 different activities.
The Galaxy Watch Active, which goes on sale March 8, will cost $200. But if you preorder starting Feb. 21, the company will throw in a free wireless charging pad. Samsung didn't give pricing information for the Fit but says it will go on sale sometime in the second quarter of this year.
Samsung's new Galaxy Buds feature wireless charging. You can even charge them with your power-sharing Galaxy S10 phone. And, at $130, they're a little cheaper than Apple's Airpods, which cost $160 and still need to be plugged in.