When you shop through retailer links on our site, we may earn affiliate commissions. 100% of the fees we collect are used to support our nonprofit mission.
Learn more.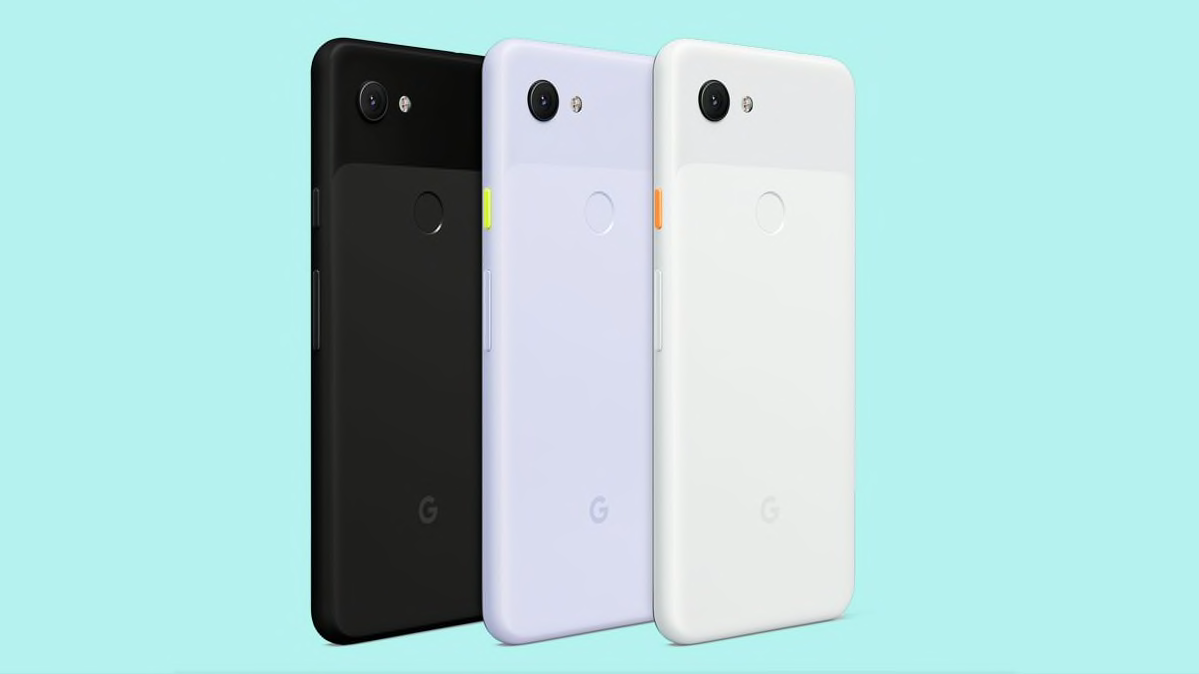 Saying smartphones have gotten too expensive, Google is rolling out pared-down versions of its Pixel phones that cost about half as much as the company's previous models.
The new phones will be missing a few features that other top-end smartphones now have, but the new Pixel 3a, $400, and Pixel 3a XL, $480, promise high-quality displays and cameras, despite their budget pricing.

The announcements were made Tuesday at Google I/O, the company's annual gathering of developers. Google executives also showed off a slew of improvements to the Android operating system, along with a new smart speaker that boasts a bigger screen and a video camera.
Executives also promised improvements to consumer security and privacy.
Here's a quick look at the Pixel 3a phones and some of Google's other announcements. Both phones are on sale now through both Google and multiple carriers. We'll have full test results in a few weeks. Like all products rated by Consumer Reports, we will buy the phones through retail outlets.

Pixel 3a and 3a XL
At first glance, these look a lot like last year's Pixel 3 phones. A lot of the inner hardware and software are the same, too.
The OLED displays should be great for viewing videos, if they prove to be as good as the screens on the Pixel 3. The Pixel 3a's display measures 5.6 inches diagonally, just a hair bigger than the Pixel 3's.
But the Pixel 3a XL's display is a little smaller than that of the 3 XL. It measures 6 inches diagonally, down from the Pixel 3 XL's 6.3 inches.
The batteries of both new phones are slightly larger than those of their predecessors. We'll see what that means for battery life once we get the new phones in the lab. All the Pixel 3 phones, old and new, have 12.2-megapixel rear cameras.
So what are you giving up in exchange for that lower price?
First, you're exchanging a glass body for a plastic one—and you'll need to be careful around water because the new phones aren't water-resistant, unlike their older siblings. And the new phones lack their predecessors' wireless charging capability.
Internal storage is limited to 64 gigabytes for both new models, while the Pixel 3 and Pixel 3 XL offer 128GB options. And instead of Qualcomm's speedy Snapdragon 845 processor, you get the less fancy Snapdragon 670.
While the rear cameras are unchanged, Google swaps out the Pixel 3's dual front cameras with just a single camera on the new phones. The dual cameras were good for taking big, wide-angle group selfies.
On the upside, Google decided to bring back the traditional 3.5-mm headphone jack. That's a feature phone makers have been dropping—to the irritation of many phone users.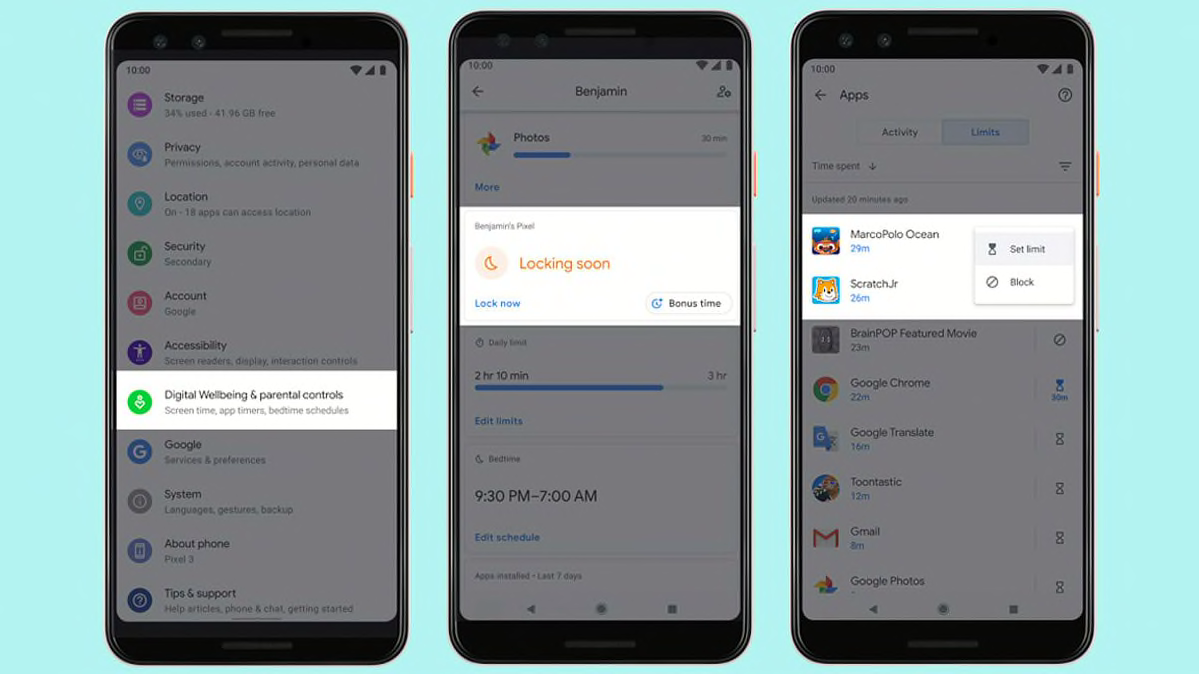 Android Improvements
Google has a handful of notable improvements coming as part of Android Q, the next version of its mobile operating system. In particular, a handful of new features will focus on managing your privacy and security. A beta version of the new OS is already available, but the company didn't say when a broad rollout would take place.

Privacy settings. When it comes to location tracking, ad settings, and other information your apps might be collecting, you'll have more control over turning those on and off than you currently do. Google also promises to remind you when apps you're not using are tracking your location.
In particular, Google says it's going to let you review and control the location-tracking abilities of each of your apps through simple controls in your settings. This functionality will be somewhat akin to what's currently offered in iPhones.
Faster security updates. Google says it will now be able to send you software patches and privacy improvements through automatic updates, the way many apps do. The company says that will allow users to get new protections as they become available, without having to reboot their phones.
Improved parental controls. Currently, parents need to use a separate app to perform tasks such as setting screen time limits for the phone overall, and for individual apps. Now these controls will be built right into your phone's settings.
Foldable phones. Samsung's Galaxy Fold may be on hold indefinitely, but Google is still working to optimize Android for foldable devices. The idea is to make sure there's a seamless experience when users switch from closed to open modes.
Dark theme. Want to save battery at night? You'll be able to switch to a dark mode that's easier to use in low light and saves power.

New Hardware, and Chrome Privacy Controls
Google is rebranding its Google Home line and merging it with its Nest products. There are also a new features in Chrome that will affect how the operating system handles cookies.
Nest Hub Max. The Google Home Hub, introduced last year, has been renamed the Nest Hub, reflecting Google's expectation—or hope—that you'll use it to manage your smart home devices.
As part of that move, the company is introducing a larger version of the device, called the Nest Hub Max. The $230 device will feature a 10-inch high-definition screen and will be Google's first smart speaker to include a video camera.
As a hub, it's designed for multiple users. Voice-matching technology and facial recognition will be used to provide each user with his or her personalized music and calendar, rather than another household member's.
Worried about the privacy of that facial-recognition data? It will be stored and encrypted on the hub, according to Google. And a little green light will tell you when the camera is on. You can manually switch the camera and microphone off.
Still want last year's cameraless device? Google has cut the price of it by $20, to $130.
Chrome changes. Google also said that it would soon give consumers more control over how cookies work in Chrome, the widely used web browser that currently has more than a 60 percent market share worldwide.
Cookies are small files stored in browsers that perform tasks such as keeping you logged in to websites and allowing you to save items in an online shopping cart. Those features are central to making many websites work the way consumers expect. However, cookies are also used to by marketing and advertising companies to track consumers from website to website.
According to a blog post published after the I/O keynote, consumers will soon have more control over what cookies are stored inside Chrome. For instance, you'll be able to approve cookies left behind by the website you're visiting but block cookies left behind by third-party companies that place ads.

These controls are already available in other browsers, including Firefox and Safari.