When you shop through retailer links on our site, we may earn affiliate commissions. 100% of the fees we collect are used to support our nonprofit mission.
Learn more.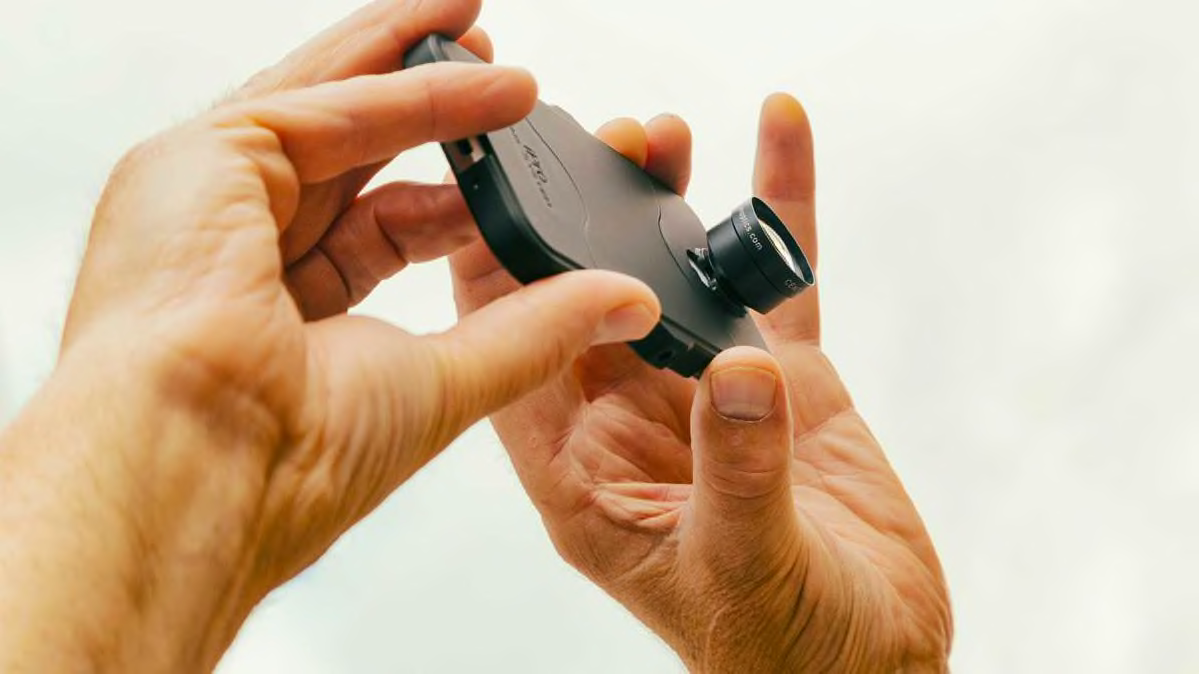 You can capture good home video with a modern smartphone. But the results will often be better with a few add-on accessories to improve the sound, reduce hand-shake, and help you zoom in.
I've tried an number of these accessories over the years with good results, and recently they've come down in price and become easier to use. In the past couple of months I've bought and experimented with several of the best and most affordable add-on lenses, mics, and other equipment available for phones. To see whether these accessories were worth an investment, I monkeyed around shooting smartphone video with them in parks, bars, and the streets of Brooklyn, N.Y.
More on Smartphone Photography
Most of these add-ons will work with any phone model, though you may need to get a model-specific lens. Prices range from as little as $10 for some lenses to more than $100 for a gimbal that will keep the phone from shaking as you shoot.

The inspiration for my new round of smartphone video experiments was the release in March of director Steven Soderbergh's new thriller, "Unsane," which was shot entirely with an iPhone 7, a device you may well have in your own pocket. And that's not even the first time iPhone footage made it to theaters. A 2015 breakout at the Sundance Film Festival, "Tangerine," was shot with an iPhone 5s.
"Phones today are incredible, and in the end it's all down to how you use the tool," says Isabella Tan, an independent filmmaker in New York who frequently shoots video with her phone when scouting locations.
Improve Your Sound, Improve Your Video
It may seem a little backward, but the first step in creating better smartphone video is to improve the audio quality.
Even without accessories, the camera in your smartphone will do a reasonable job capturing visuals, especially of nearby subjects shot in bright light. But the mic is another story. "A built-in microphone just generally records everything around it," Tan says, making it all-too-easy to pick up deafening wind and other distracting background noises.
Adding a dedicated microphone helps isolate the sounds you want to record. And, Tan says, it "helps improve speech if that's a component" of your project.
There are a number of microphones designed for mobile-phone use, including a $20 Saramonic Mini Smartmic and the $150 Shure MV88. I went with a midpriced option, the $60 RODE VideoMicro.

I noticed the improvement immediately, especially when I filmed outside during gusty conditions. The included windscreen blocked out most of the loud, buffeting sounds often captured when wind hits a mic.
Most of the mics on the market, including the VideoMicro, plug into a phone using a traditional headphone jack. If you own a phone that's missing that port, such as the iPhone X or Google Pixel 2, you'll need to use the converter included with your phone.
Additionally, some add-on mics, including the VideoMicro, can attach to dedicated cameras, including mirrorless or DSLR models, via a hot shoe mount (where you would typically attach a flash). Of course, you could just hold the mic in your hand, but it's more convenient to mount it on a camera. You can buy a specialized phone case with a cold shoe mount—which doesn't have any data or electrical connections—to secure the mic.
Instead of using a case, I was able to mount my microphone to my gimbal (see below) with a $25 attachment.

Get Smoother Video With a Gimbal
Gimbal systems stabilize a camera, minimalizing hand-shake and vibration. They do this by using gyroscopes, accelerometers, and tiny motors to continually adjust the camera's position, keeping it level.
These devices can be helpful even if you're standing still taking smartphone video of your child on a tire swing. However, they really start to shine when you pan across a scene, try to shoot something farther away, or—especially—record video while walking. Without a gimbal, it's easy to end up with slightly nauseating footage, like something from "The Blair Witch Project."
The problem is not as bad as it was a few years ago. Today's flagship smartphones now incorporate image stabilization, which automatically reduces much of the shaking that occurs. But even with my iPhone X, which has effective image stabilization, there was noticeable fuzzing in footage I shot while on the move.
The Osmo Mobile I purchased is made by DJI, a leading manufacturer of drones. The rig made my footage much smoother. For me, it was worth it, but at $200 the Osmo Mobile was a big investment. You can find cheaper models from the companies Zhiyun and Evo sold on Amazon for less than $150. And the second-generation Osmo Mobile 2, released in April, costs $129.
Gimbals aren't quite as easy to use as an external microphone. I found that setting up the required Bluetooth connection between the phone and the device was easy. That enables you to use controls on the gimbal handle to start and stop your recordings. However, centering the smartphone in the device (using a pair of knobs) took a bit of tria and error. It was especially tricky when I tried setting this up on a park bench or in a group of friends crowded into a bar.
Depending on the model you choose, the gimbal's companion app can add some useful features. One of the most appealing capabilities in my DJI Go app was subject tracking, which makes the gimbal automatically rotate to follow a subject as he or she moves across a scene. This worked great when I had a friend walk around the kitchen, though it couldn't keep up when my roommate's cat darted across the living room.

Add New Lenses to Your Arsenal
Lenses can augment the footage made with your smartphone, either by extending the focal length with a zoom, increasing the field of view with a wide angle, or magnifying small objects with a macro lens.
Clip-on smartphone lenses range in price from $10 to more than $100 for a bundle of two or three lenses. We previously tested a few add-on lenses in our labs and judged the images the lenses produced for sharpness, distortion, and color accuracy. We found that the optics were a mixed bag, but that the lenses generally were fun and easy to use.
Tan says using a longer lens can help by making the background seem closer to the subject, as well as creating a more accurate and flattering representation of someone's face. A wide lens can be helpful if you want to show more of the world around a character.
Some add-on lenses are compatible only with iPhones or other models, so be sure to check before you make your purchase. In some cases, the lenses require you to take your smartphone out of its case.
In my own experiments with a $30 kit that's no longer being sold, I used the clip-on zoom lens much less than I expected to. Instead, I turned repeatedly to the fisheye accessory more; the hyper-distorted images were much more fun to use in my smartphone videos.
To be clear, these add-on lenses won't improve the pure image quality of a photo. In fact, adding another lens on top of your built-in lens will tend to degrade your image quality rather than improve it. And you can often shoot good home videos without any accessories.
However, these lenses open up more possibilities and provide new ways to be creative.
For my money, an add-on microphone, lens kit, and gimbal were all worthwhile. But if you want to start with the smallest investment, it's hard to go wrong with some new clip-on lenses.
Smartphone vs. Point-and-Shoot
Does a smartphone have all the capabilities of a point-and-shoot camera? On the "Consumer 101" TV show, Consumer Reports' expert Nicholas De Leon puts them to the test.