Using iPhone Screen Replacement Kits
How hard can it be? To find out, we tried to repair a few phones with inexpensive screen kits we bought online. A cracked screen is an all-too-common problem for smartphone owners, and the high cost of repairs, which can run into the hundreds of dollars, only adds to the pain.
But for $50 or less you can do the job yourself using screen replacement kits that include all of the parts and tools you need to complete the task. And they're not just for iPhones, either. The DIY-minded can find kits for Samsung, Apple, and LG phones on Amazon, many with hundreds of positive customer reviews.
The (Relatively) Easy Part
I started with a $50 kit from a smartphone repair company called iCracked. (The company also makes house calls to fix iPhones for about $80 and up depending on your phone model and location.)

After watching a 30-minute demonstration video, I set to work. The phone opened up without much trouble. The iPhone 6 isn't designed to be watertight like more recent iPhone models, and its outer shell is basically held together with a few screws.
An iPhone's home button, front-facing camera, sensors, and microphone are all attached to the screen, so I had to remove those components from the broken iPhone and install them on the new one. Lesson No. 1: Some of these components are tiny and very fragile, and it takes a decent amount of pressure to pry them out.
There's also adhesive involved, holding the home button in place. iCracked advises using a hair dryer to gently soften it. This made me a little nervous, but the trick worked quite well. The button and its cable popped right off.
So far, so good—I figured I'd be done with the project by lunch.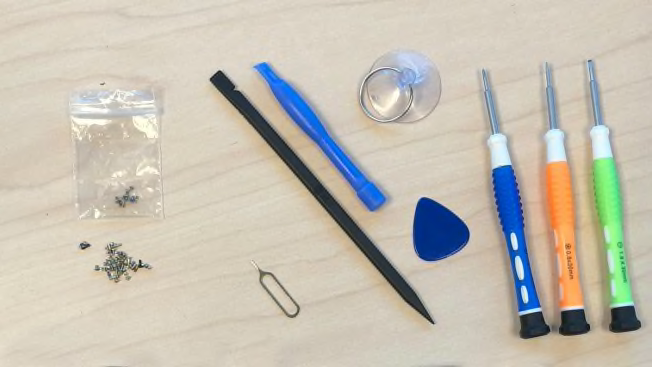 Next, I had to transfer those components to the new phone. In itself, that was a smooth process. The glue on the home button's cable attached to the new screen without a problem, and cables for other components snapped into place. The video instructions for the kits were fairly easy to follow.
The thing that set me back time and again was the familiar nemesis of any mechanic or handyman: stripped screws. That's bad enough in an engine cover or doorjamb. In a phone, it's even worse because many of the screws are the size of a pinhead. When they're so tiny you can't see the crossmarks on the head, and it's downright infuriating.

I have great vision and found them tough to see. If you wear reading glasses, you may want to get yourself a magnifying glass.
And, boy, there sure are a lot of screws in a smartphone.
Apple tells us that iPhones' specialized screws are designed to make the device more durable. But the company says it recognizes that iPhone users increasingly want to do their own repairs, so it's working on making future devices more DIY-friendly.
But for now, I needed to turn to the internet for help. You'd be surprised by the number of YouTube videos out there extolling tricks for extracting stripped smartphone screws.
It took a lot of effort, a pair of tiny pliers we had in our lab, and some help from co-workers (including one of our test engineers, who was chuckling into his sleeve), but I eventually got all the screws out. I wish I had a foolproof tip to make the job easier for you, but I don't.
I can tell you that the iPhone screen replacement kits I used came with magnetized screwdrivers that sucked the screws from their receptacles once they were loosened. This was a big help, but it also made it trickier to put them back in. It takes some effort to get such a tiny screw in a tiny hole. And often, once I did, the screwdriver would pull it out before I had a chance to actually screw it in. In fact, while trying to do just that, I managed to stab myself in the finger with a screwdriver.
And I sent more than one screw flying to the floor, never to be seen again.

So between the screws destroyed in the removal process and the handful I lost on the floor, I ended up ordering a replacement screw set, which cost $4.50 on Amazon and put me behind schedule.
My before-lunch project had officially stretched into a multi-day slog.
After I finished transferring over all those little components, I replaced the tiny screws and snapped into place the cables that connected the new screen to my phone.
Before screwing the phone's outer shell back together, I reconnected the battery and fired it up. It was alive! The camera still worked, as did the touch screen, home button, and microphones.
I was so excited.
And then I noticed what looked like a dark shadow in the top left corner of the screen. In an effort to troubleshoot, I reconnected the old display, which despite its crack had been in working order. A dark spot appeared on that screen as well, but this time it was in the top right corner.
After searching for advice online, I decided to check the cable connections and reboot the phone. No luck. I emailed iCracked customer service, which got back to me in a few days, advising me, among other things, to look for dirt between the display and the plate that secures it on the phone. Still no luck.
So I decided to start from scratch with a second iPhone 6 and one of the two kits I had bought on Amazon. This one was from a company called URepair. It cost $35 and came with many of the same tools the iCracked kit did, along with a similar video tutorial.
Aside from the display, which looked like it had been run over by a truck, the phone was in working order before I got my hands on it. It also contained fewer stripped screws, so the repair went much faster this time.
But the extremely poor condition of the shattered display made it a lot harder to remove and transfer the components. The screen basically crumbled when I removed it, leaving little shards of glass all over my desk and a few tiny pieces stuck in my thumb.
If your screen is in a similar state, you might want to think about wearing work gloves for this step.
When I fired up the nearly repaired phone this time around, the display was crystal clear. The cameras, touch screen, home button and microphones worked. I was thrilled.
Then the battery died. And it wouldn't recharge. Further, Apple's iTunes software wouldn't recognize the phone when I plugged it into my computer. I checked all the connections, reconnected the battery, and rebooted the phone several times. Nothing helped.
The co-worker who supplied that phone will soon be heading to a professional repair shop to get the problem fixed. At least that's the hope.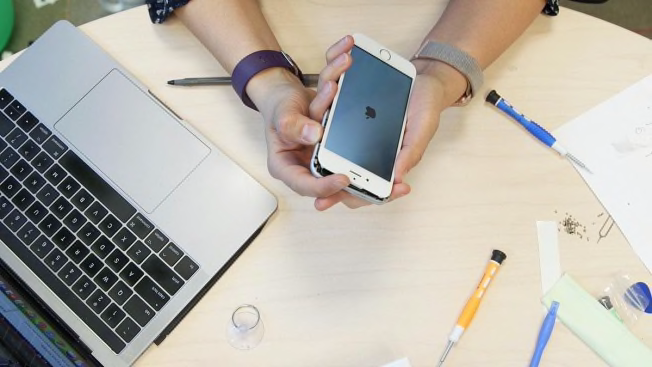 After going 0-for-2 on cracked screens, I decided to lay down my screwdriver. I'm not going to quit my day job anytime soon to work as a freelance phone fixer. I don't relish the idea of handing malfunctioning smartphones off to co-workers.
But I did learn some useful tips with this experiment.
1. Before you set out to perform DIY repairs on your smartphone, do a trial run on an old one. Even with clear instructions, it's easy to make a mistake that leaves the device inoperable.
2. Buy the replacement screws in advance. They don't cost that much and they'll save you time in the long run.
3. Be prepared to spend a few days on the project. That requires having a dedicated workspace in a low-traffic area of your home. If you start out on the kitchen table, all those tiny parts can easily get knocked around or lost.
4. Be organized. Very organized. Remember all those screws I mentioned? It's important to keep them from getting mixed up.
While they may look the same at first glance, they're different sizes. A screw that's too short won't hold your phone together. And a screw that's too long can drill down until it pierces the phone's motherboard—which could be one reason I ended up with two flawed phones in the end.
The technician in the iCracked video uses a magnetic board to stay organized. You can buy one through the company's website for as little as $10. I didn't have one, so I put the screws on a sheet of paper and labeled them, trying to diagram where they appeared on the phone. This went downhill pretty quickly. Just brushing the paper was enough to send them rolling out of place. To prevent this, I eventually started taping them down.
You may want to think about organizing the replacement screws, too. When I had to pull one from the tiny bag, they were all lumped together, so I often ended up guessing which to use.
One last thing: When you buy a screen replacement kit, keep in mind that you're not guaranteed to get parts of the same quality offered by the manufacturer or a certified repair shop.
While the screens in the kits I bought looked very nice, I had no way to tell what kind of glass was used to make them. And the appearance of cables and connectors on the replacement screen did not perfectly match those of the iPhones.
Officials at iCracked didn't return repeated emails requesting information about how they source those parts.
With all that said, even if I had received parts identical to the ones I owned and pulled off the repairs flawlessly, I'm not sure the DIY screen replacement would have been worth the time and aggravation to save roughly $75.
I will admit, though, that I found this project kind of fun, at least until I started running into problems. If you're a handy person who enjoys a good challenge, this might be your kind of thing. Just accept from the start that there's a decent chance you might damage or destroy your phone in the process.
As for me, I'm going to start shelling out for AppleCare+.
Replace Your Smartphone Screen at Home?
We depend on our smartphones for many things, but what happens when you drop your device on a hard surface? CR expert, Bree Fowler, reveals to 'Consumer 101' TV show host, Jack Rico, whether you can replace the screen at home or if it's better left to the professionals.