When you shop through retailer links on our site, we may earn affiliate commissions. 100% of the fees we collect are used to support our nonprofit mission.
Learn more.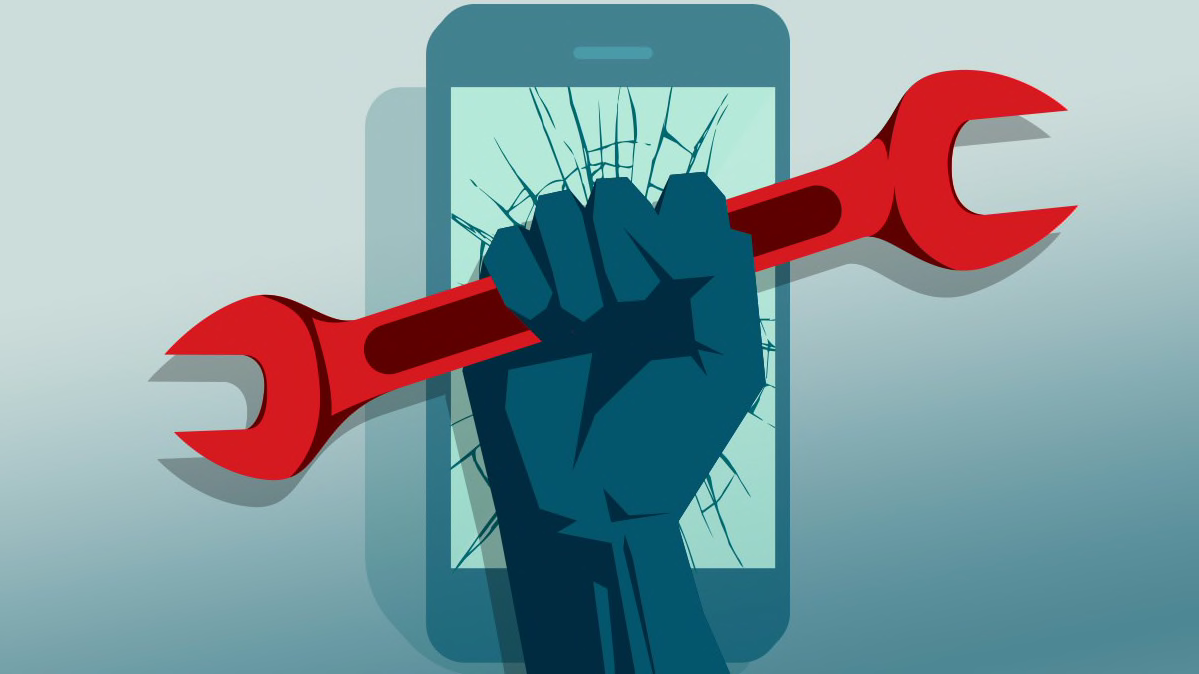 The push for right-to-repair laws in electronics is heating up in state legislatures across the country.
Basically, these laws address what happens when an electronic product such as a phone or gaming console breaks. Can you fix it yourself or get it fixed wherever you want? Often the answer to both questions is no, and your only real choice is to go back to the manufacturer for repairs.
The reason is that most electronic devices don't come with detailed diagrams of the innards, and many of the parts aren't available to buy—whether you're a consumer or a local repair shop.
According to consumer advocates, right-to-repair laws could help.
Update: On April 10, the Federal Trade Commission warned six unnamed companies that sell automobiles, video game consoles, and cellular devices about the language they use to dissuade consumers from attempting to repair their own devices. The FTC noted that unless companies make repair parts available (or have received a waiver from the FTC) they are generally prohibited from using language that suggests consumers will void their warranty if they remove a warranty sticker or use third-party repair parts.
More on Consumer Protection
In California, state Assembly Member Susan Talamantes Eggman, D-Stockton, recently introduced a bill requiring electronics makers to sell replacement parts and provide access to diagnostic tools and device schematics to consumers and independent repair shops. California is the 18th state to propose such legislation.
"Too often, people can't make simple repairs to the electronics and appliances they buy," says Maureen Mahoney, a policy analyst for Consumers Union, the advocacy division of Consumer Reports. "It should be easier for you to fix your devices yourself, or get them repaired by a professional you choose, without being penalized."
The freedom to repair your own electronics is laid out in the Digital Standard, a CR-led project to help set expectations for how manufacturers should handle privacy, security, and other digital rights.
'Wait, I'm Not Allowed to Fix Stuff?'
"We have the right to repair with cars," Kyle Wiens, CEO of iFixit, a website that publishes instructions on how to repair electronic devices. "You can take any car to your local mechanic and they'll be able to fix it."
But it wasn't always like that. Until 2013, carmakers routinely kept vital diagnostic and repair tools out of the hands of neighborhood mechanics, despite loud protests and attempts at state and federal legislation to make the practice illegal.
But then Massachusetts passed automotive right-to-repair legislation, and within a few months carmakers agreed to use the state's rules as a national standard.
That's why today, if your check engine light suddenly turns on, you can go to any of a number of repair shops that compete with each other and dealer service centers.
But often it doesn't work that way with consumer electronics.
Take the Nintendo Switch, Nintendo's latest video game console. According to Daniel Mastin, general manager of Videogamesnewyork, an independent video game retailer and repair shop in New York City, if a customer brings in a controller with a broken thumbstick, his or her only recourse is to buy a new controller. That's because Nintendo is the only company that produces these thumbsticks and it does not make these parts available to repair shops.
"There are no alternative thumbsticks out there," Mastin says. "You can't buy that replacement part. Other parts [for the system] you can, but there are certain things that just don't exist. [Right-to-repair laws] would force Nintendo to offer that as a part."
A Nintendo spokesperson said the company had "nothing to announce" on right-to-repair issues, and referred us to the Entertainment Software Association, the video game industry's trade group. The ESA did not provide a comment in time for publication.
To be clear, it's not like all electronics repairs are off-limits.
For instance, many shops—and consumers—can replace computer hard drives. If you crack your iPhone screen you can go to a repair shop or order the parts and try doing the repair yourself. (In 2017, Apple reversed an unpopular policy under which such work voided iPhone warranties.)
But Apple is frequently cited by those arguing in favor of right-to-repair laws. There's just one Apple store each in Alaska, Kansas, and Maine, while North and South Dakota and several other states have none. Consumers in those states might be able to find an authorized shop capable of making some repairs. But often, the only way to get an Apple product repaired is to take a lengthy road trip to one of the company's retail stores or to ship the phone or laptop off to the manufacturer.
"As a particularly rural state we are at a real disadvantage—we don't have an Apple store," says Vermont state Sen. Christopher Pearson, D-Chittenden, who introduced right-to-repair legislation earlier this year. Pearson says that when the camera in his iPhone (which he uses to scan documents for his own small business) malfunctioned, he was told by a local Best Buy it would take five to seven business days to get fixed. "My phone is my office: I can't just send it away for a week," he says.
Right-to-repair legislation on its own can't guarantee that local businesses will spring up to fix such products or turn more consumers into DIY-repair whizzes for electronics gadgets. But right to repair can force manufacturers to stop impeding those things from happening.
Apple is widely reported to have lobbied against right-to-repair laws in multiple states, even when tractors, not smartphones, were at the crux of the debate.
The company wouldn't comment on its lobbying efforts but told Consumer Reports that it is steadily expanding the capacity of authorized repair centers to handle same-day fixes for broken displays. Apple added that getting repairs at unauthorized centers could result in problems such as a Home button not working properly or excessive battery consumption.
Manufacturers: Right to Repair Puts Security at Risk
The Security Innovation Center, founded in late 2017, is among several groups that argue against right-to-repair laws. According to executive director Josh Zecher, SIC supports "a balance between allowing consumers to repair their devices and protecting our collective privacy and security."
The organization's partners include the Consumer Technology Association, an industry trade group that represents thousands of technology companies. (CTA did not respond to a request for comment.)
Zecher argues that many right-to-repair proposals across the country "would make consumers and businesses more insecure."
A letter sent by groups including the CTA and ESA to Washington state Rep. Jeff Morris, D-Mount Vernon, who sponsored that state's proposed right-to-repair bill during the just-ended legislative session, claims the bill could make it easier for criminals to carry out cyberattacks.
"The security of user information on these products is of the utmost importance to consumers that rely on them," the letter reads. "Industrial equipment, home appliances, smartphones, computers, servers, consumer electronics, medical devices, and other connected devices are at risk of hacking, and weakening of the privacy and security protections of those products will increase risks to consumers."
Morris, the chairman of the House Technology & Economic Development Committee, says he's skeptical of that argument.
"In our hearings when that was brought up, we asked to give specific examples in Washington state when that has happened, and none were ever provided to us," he says. "Did it happen actually? I don't know, but we requested that information from folks testifying in our committee, and they were not able to supply us with any examples."
What Happens Next
With so many states considering right-to-repair legislation, advocates suggest it's only a matter of time before one of them adopts a law. And they hope for a repeat of what happened in the auto industry.
"There was real fear on that part of the auto manufacturers that variations of [the 2013 Massachusetts law] were going to happen if they didn't get their act together and come to an agreement," says Gay Gordon-Byrne, of The Repair Association, an alliance of independent repair shops that supports right-to-repair legislation. "That's why we don't think we're going to have to do this for terribly long," she adds.
The recently introduced California bill is currently sitting in the State Assembly's Committee on Natural Resources, and while Eggman tells Consumer Reports she is unsure whether it will pass before the legislative session ends in August, she is optimistic that right to repair will ultimately win the day.
"I think eventually it happens," she says. "I don't see how we can continue as consumers to allow corporations to keep us tethered to them in the way that we are now. If I can get something fixed for $100 vs. buying a new one for $1,000, I would much rather do that $100 and be able to take my family on vacation."
"They're fighting their customers," Gordon-Byrne says of tech companies on the other side of the debate. "I don't think that's a winning strategy."
Replace Your Smartphone Screen at Home?
We depend on our smartphones for many things, but what happens when you drop your device on a hard surface? CR expert, Bree Fowler, reveals to 'Consumer 101' TV show host, Jack Rico, whether you can replace the screen at home or if it's better left to the professionals.