When you shop through retailer links on our site, we may earn affiliate commissions. 100% of the fees we collect are used to support our nonprofit mission.
Learn more.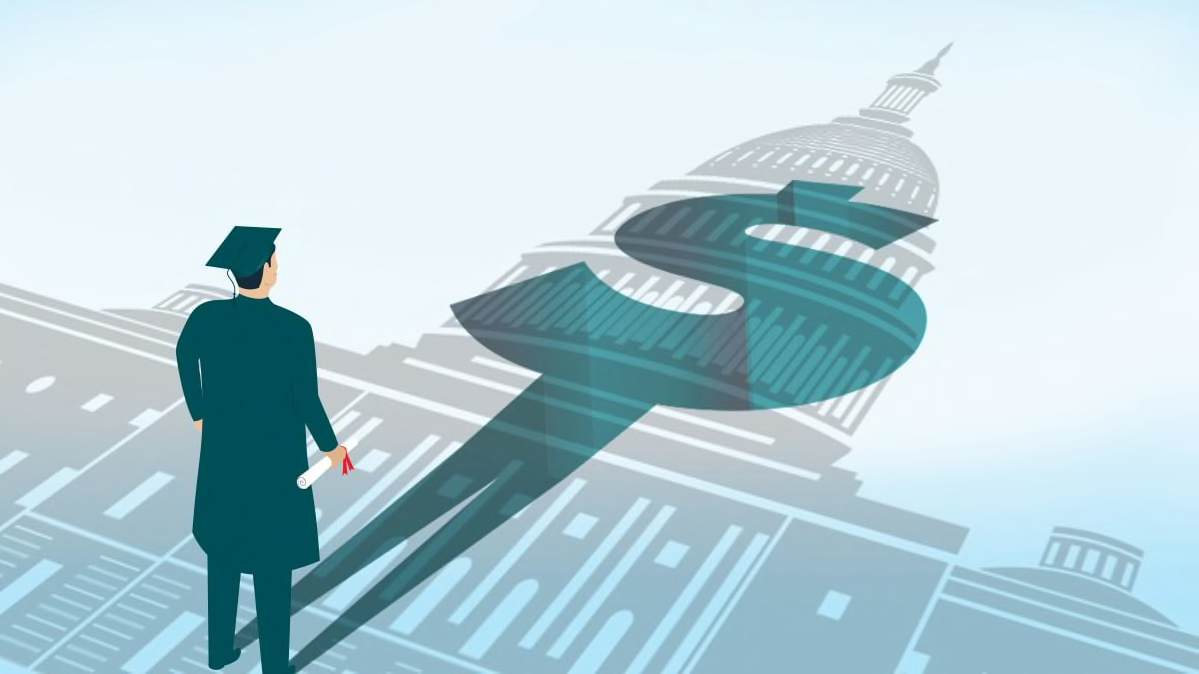 The Department of Education is fighting state efforts to regulate companies that manage student loans, a move consumer advocates say could leave borrowers more vulnerable to deceptive practices and mismanagement that make their loans more expensive.
The notice, formally announced Monday, was just the latest pushback against student loan servicer regulation since Betsy DeVos became head of the Department of Education last year. Consumer advocates say it underscores the need for student borrowers to be vigilant and know their options if they have problems with their loans.
The Department of Education announcement comes in the wake of some significant activity regarding student loan servicers at the state level.
About a dozen states (PDF) have recently passed or are working on legislation to more strictly oversee and license these private companies, which the Department of Education hires to handle federal student loan billing and are the main point of contact for student borrowers who are having problems paying their loans.
These companies have been the target of numerous lawsuits for allegedly mishandling loans, losing paperwork, and putting borrowers into inappropriate and costlier repayment plans. Several states have established ombudsmen offices to handle complaints, and others plan to.
The Department of Education argues that these state-by-state rules overstep federal authority, creating a patchwork of laws that adds administrative costs and could make education loans even more costly.
Read More About Managing Student Debt
Mark Kantrowitz, a student loan industry expert and publisher of the Private Student Loans Guru website, sees their point. "Having 50 different state rules could make things more complicated," he says.
Consumer advocates say discouraging states from overseeing student loan servicers would leave borrowers more vulnerable.
"Borrowers may be left with virtually no protections against harmful practices that can push them deeper in debt," says Suzanne Martindale, senior attorney for Consumers Union, the advocacy division of Consumer Reports, who has been representing consumer groups working with the Education Department on higher-education regulations.
Kantrowitz says that the Department of Education's declaration "is more favorable to the loan servicing companies than it is to consumers" and that there needs to be more regulation of servicers at the federal level.
A Pattern of Problems
The Department of Education announcement is just the latest in a series of changes by the Trump administration on student lending regulations.
In August, the Department of Education announced it would stop collaborating with the Consumer Financial Protection Bureau, an independent federal agency, in its oversight of loan servicers. It also delayed rules that would help protect students and taxpayers from misconduct by for-profit schools, where students often take out high levels of debt.
There have been some moves under DeVos to improve how education loans are handled. The Department of Education is continuing to explore ways to streamline its loan management system. It is accepting bids from contractors to build a single portal to manage loans and wants to reduce the number of repayment options so that it is less confusing.
Initially at least, there is expected to be minimal impact from the federal declaration, which is a "notice of interpretation," not a new rule. The concern is that it could be used to set a legal precedent and hold up efforts by states to fill what they say is a vacuum in federal oversight.
"It'll be up to courts to fight it out," Kantrowitz says.
What to Do If You Have Problems Paying Your Loans
As the push-pull between states and servicers goes on, if you need help with your student loans, here's what to do.
Keep good records. Make sure you know who your servicer is and what kind of loans you have, and keep records of what you owe and the payments you've made. If they're federal loans—most student loans are—you can find the name and contact info for your servicer in this national database. If you have a private student loan, try checking your credit report. You can get a free copy of your annual credit report at annualcreditreport.com.
Know your options. If you're struggling to make payments and have federal loans, there are a number of payment plans that can reduce your monthly bill. But the options can be confusing, and student loan servicers often give out bad information.
Use the Department of Education's Repayment Estimator to calculate your federal student loan payments under each repayment plan. Or try the CFPB's Repay Student Debt tool, an interactive guide that takes borrowers through their repayment options.
You might be able to enroll in an income-driven repayment plan, which can lower your monthly payment to as little as 10 percent of your discretionary income. To start making payments under an IDR plan, enroll online at StudentLoans.gov.
Private loans don't offer the same consumer protections and flexible payment plans that federal loans do. But some lenders may offer some options, such as temporary suspension of your payments, if you have trouble paying.
File a complaint. Many student loan servicers have their own ombudsman whose job it is to help borrowers resolve problems, according to Kantrowitz. Start there. If your servicer isn't helping you, you can file a complaint online or call the CFPB at 855-411-2372, whether you have federal or private loans.
For federal loans you can also file a complaint on the Department of Education's loan complaint site. Also check with your state to see what services they have in place to help borrowers.