When you shop through retailer links on our site, we may earn affiliate commissions. 100% of the fees we collect are used to support our nonprofit mission.
Learn more.
How great would it be if a state-of-art smartphone you love today could be easily upgraded to keep up with the advances of tomorrow? That's sort of the the idea behind the new LG G5, which has an ammo-clip-style removable bottom that allows you to swap in new audio or camera hardware in just a few seconds. This isn't as dramatic as the modular phone proposed by Google's Project Ara, whose every part can exchanged like Lego blocks. But it does offer an intriguing portal in which LG and third-party accessory makers can introduce significant, hardware-based upgrades that go beyond the traditional battery replacements and wireless charging options.
This modular design is just one of the compelling new features on LG's latest update to the flagship G series announced at the Mobile World Congress in Barcelona, Spain.
Here are the details on the new LG G5.
A new look and feel. The G5, which trades in the mildly elastic, plastic-backed design of its G-series predecessors for a sleeker, unibody glass-and-aluminum body, has a dual-lens camera for handling zoom shots with greater clarity.
The LG G5 is equipped with a Qualcomm Snapdragon 820 processor that promises 64-bit performance and has an integrated X12 modem that supports LTE download speeds of up to 600 megabits per second (Mbps). That's lots of oomph, but it's a bit wasted on many customers, because in the United States the LTE download speeds of the major carriers are only about 10Mbps.
The G5 is virtually the same size as the G4, measuring 5.9 inches x 2.9 x 0.3 inches, but it has a smaller display (5.3 inches vs. 5.5 inches). Its quad HD resolution is the same (2560x1440 pixels) as the previous phone's, which means it presents photos, videos, and web pages with more than 500 pixels per inch of detail.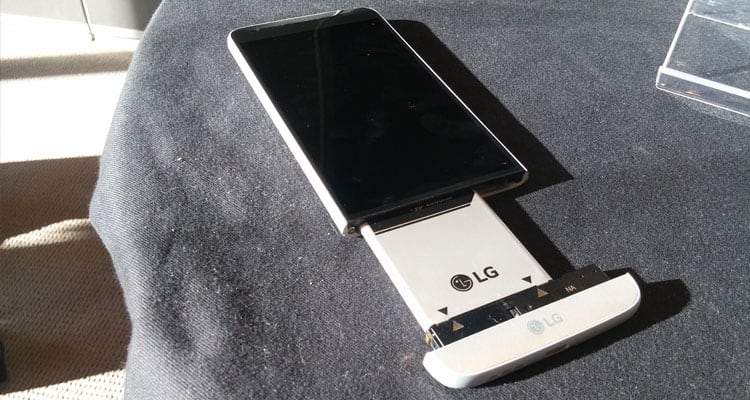 Easy and elegant accessory upgrades. Unlike the clunky aftermarket accessories that can make your phone look like a failing science project, the swappable modules on the LG G5 look like they're a natural part of the phone, as if that's how the phone came from the factory. And they might as well be factory components because they plug directly into the phone's core systems. What's more, they open the door to new speakers, data ports, physical controls and other improvements that would otherwise require the purchase of a new phone.
Case in point is the LG Cam Plus camera module option that will launch with the new LG G5. It comes with dedicated buttons for operating the shutter, flash, and zoom functions as well as an 1,100mAh battery that the phone will use first, before accessing the primary 2,800mAh battery.
Another module is the LG Hi-Fi Plus with B&O (Bang & Olufsen) PLAY, which LG says Bang & Olufsen helped engineer, to improve the audio quality of music, whether the files are on the phone, or streamed from external files such as a PC. In addition to the 32-bit Hi-Fi DAC upsampling technology (also on the LG V10) that purportedly adds depth to marginal-quality music, this module supports high-definition audio playback. It can be used either as a module with the LG G5 or as a separate Hi-Fi audio component by connecting it to any smartphone or PC. The module has its own headphone jack.
LG says more modules are on the way.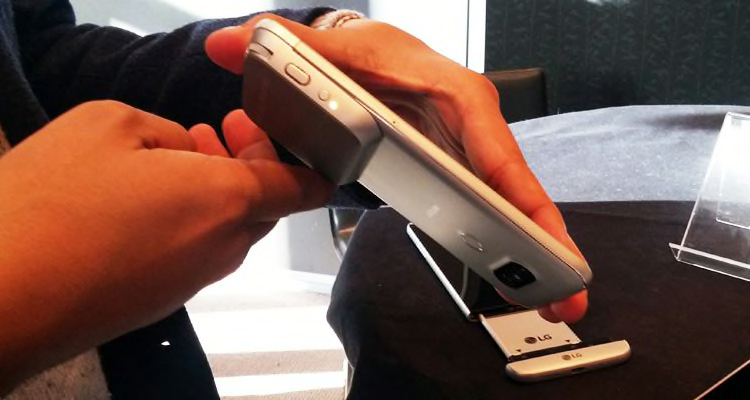 Wide-view camera. It's a fact that telescoping zoom lenses generally produce better images than digital-zoom schemes, which only magnify images that may not be that good in the first place. But they're bulky, so you won't find them on most smartphones except, perhaps, on the Asus Zoom smartphone we saw at CES 2016, which cleverly squeezes one into its interior.
The main 16-megapixel camera on the LG G5 addresses the zoom challenge using two lenses: One has a 78-degree viewing angle for tight shots, while the other has a 135-degree viewing angle to capture more of what's happening on the periphery. (LG says the viewing angle of the 135-degree lens is about 1.7 times wider than those of existing smartphone cameras and 15 degrees wider than the human eye's field of view, which means the camera will capture scenery you'd normally miss.) The camera automatically switches between them as you zoom in and out of a shot. This feature seemed to work well with still photos. What remains to be seen is how smooth the zoom transitions when you're shooting movies.
The camera also has a setting to automatically snap a picture as soon as its circuitry detects your subjects' faces.

Quick-charge battery. A 24-hour plus battery life is one of the G-series' great strengths, reached with the assistance of the phones' capacious 3,000mAh batteries. Alas, the G5's battery 2,800mAh battery holds less energy, but LG assured us it will still provide at least a full day of talk time. Our engineers, of course, will check this claim. The battery does support rapid charging, which LG says means the phone can be full charged 27 percent faster than earlier models could.
Always-on display. The LG G5 display has an always-on feature that shows the time, date, and battery status continuously when the display goes to sleep. Though not an must-have feature, this could could spare you from rudely handling your phone during a meeting to check on such things.
Availability. The LG G5 is expected to launch at all the major carriers this spring. It will come in silver, titanium, gold, and pink finishes. No info yet on pricing.
We'll have more on this exciting phone in the coming weeks.