Final Review: Samsung Galaxy S21, S21+, and S21 Ultra Smartphones
These new Samsung S Series 5G smartphones are some of the best models out there and cost less than their predecessors Samsung's latest flagship phones come with appealing new features. But what really makes the models stand out is the price.
The Galaxy S21 5G, S21+ 5G, and S21 Ultra 5G all retail for a couple hundred dollars less than their predecessors. And that helps make up for the fact that these phones aren't a whole lot different from last year's models.
In fact, in some areas of Consumer Reports' testing, they scored a tiny bit lower than the S20 versions. Specifically, we're talking about battery life and charging, as well as their cameras' performance.
And those tiny shortfalls were enough to keep the models out of the very top spots in our extremely tight smartphone ratings (available to CR members).
New Features and Hardware
The new Galaxy phones include the premium features you'd expect from any flagship phone in 2021, including supersharp OLED displays, an almost-not-there bezel that maximizes the screen real estate, and, of course, 5G connectivity. But there's new tech here, too.
All the new tricks covered in this section apply to all three phones, unless otherwise noted. The top-end Galaxy S21 Ultra includes its own set of new toys.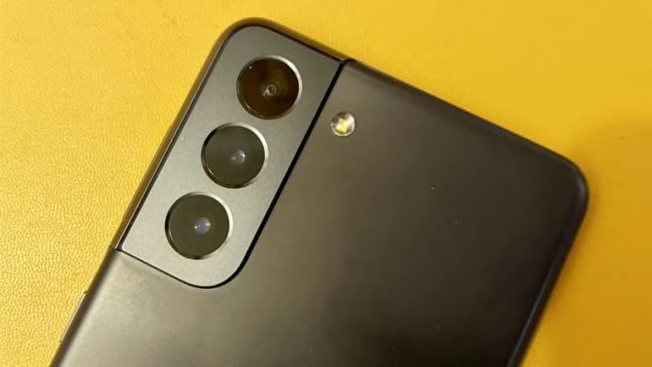 New camera tricks: Both the S21 and S21+ include three rear cameras with wide, ultrawide, and 3x telephoto lenses. That's the same as last year's models, but the cameras do a little bit more now.
For example, Director's View lets you see what your video shot would look like with all three of those cameras, shown in separate picture-in-picture viewfinders while you're shooting. Tapping on each viewfinder will let you switch seamlessly among the three cameras midshot.
Samsung says it has also improved its portrait mode, better separating your subject from the blurred background, while also adding new background effects.
Our imaging experts rated the cameras of all three phones as Very Good overall. The S21 Ultra was the top finisher, cracking our top five for camera performance, while the other two still ranked among the top 15 phones for that attribute.
Faster chip: The phones are powered by Qualcomm's new Snapdragon 888 5G chip, which Samsung claims is the fastest processor the company has ever used in a phone. It promises performance increases of 20 percent in its central processing unit and 35 percent in its graphics processing unit.
CR testers give top scores to the performance of the new S21 phones—but that was true for last year's models, too. There's a good reason for that: It's far from clear whether the typical phone user will ever perceive the differences among the processors in today's top-rated phones.
"Smarter" battery: The batteries in the S21 and S21 Ultra aren't any bigger than the S20 versions, but according to Samsung the S21+ battery has grown by 300 milliamp-hours to 4,800 mAh. Samsung says that better power management will help the batteries in all three phones last longer.
But in our testing, the new phones didn't last quite as long as the comparable S20 models did. The S21 made it just 30 hours on a single charge, down from the 37 of the year-ago phone. Meanwhile, the S21+, with its larger battery made it 37 hours, 3 less than the S20+.
And the supersized S21 Ultra went for 38 hours, down from last year's 40.5.
Charging speed: CR's battery and charging scores encompass more than just how long a battery lasts. They also take into account factors including how fast a phone can fuel up. And that can depend not just on the phone but also on the charger used with it.
Most premium phones include high-speed charging technology that lets you top off their batteries quickly. But you need to plug them into a high-powered wall adapter to do that, instead of the low-powered chargers that more people may be familiar with.
Since Samsung and Apple have stopped including any adapters with their phones, CR has to choose what kind of adapter to use in our testing. We've switched from conventional chargers to high-speed ones, assuming that people who spend upwards of $800 on a premium phone will probably also spend $20 or so for a high-powered adapter to charge it.
This affects the scores for not only the Galaxy S21 phones but also the iPhone 12 models, lifting them higher in our ratings. (Note that phones that do include a fast charger get a small boost to their Overall Scores.)

Extras Included in the S21 Ultra
With a starting price of $1,200, the S21 Ultra is pretty expensive, even if it is less so than last year's top model. In addition to the bigger display and battery that you'd expect with a phone this size, Samsung also saved some cool new features for this model.
But just a heads-up: This is a wrist snapper of a phone. While it weighs just 8 grams more than last year's version and its 6.8-inch display makes it technically a tiny bit smaller, the phone's new camera hardware makes it feel very top-heavy.
I found it uncomfortable to hold the S20 Ultra with one hand for a long period of time—it actually strained my wrist.
But if you have bigger, stronger hands than I do, the weight might not be a problem. And the extra features Samsung includes in this version might be enough to entice some people anyway.
Extra telephoto camera: Like the cameras on the S21 and S21+, our testers rate the S21 Ultra's as Very Good. But this version packs in an extra camera that you don't get with the others.
The 10x camera from last year's S20 Ultra and Note20 Ultra is included, but you also get the 3x camera found on the S21 and S21+.
In addition to giving you another option for close-up photos, Samsung says the two lenses can work together for those really long-distance shots to give you a better, less fuzzy, result.
Previous versions of Samsung's 10x camera relied purely on software to get you closer to the action once you passed the optical zoom maximum of 10x. And when you're talking about smartphones in general, those types of "zooms" often result in out-of-focus images.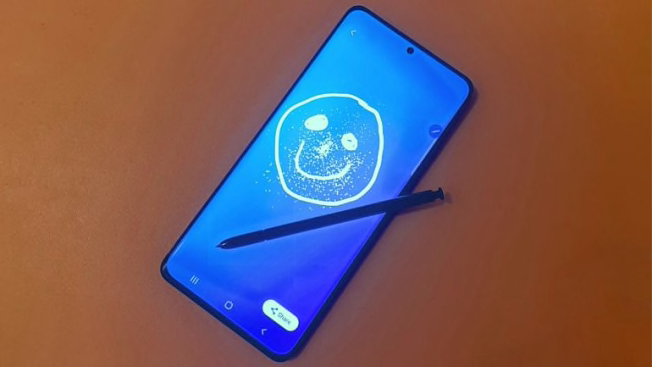 S Pen compatibility: I had a lot of fun with this feature. If you happen to have an old S Pen laying around, you can use it with the S21 Ultra. New versions of the pen to go with the S21 Ultra will also be available. The standard version is available now for $40, and a Pro version is set to come out later this year.
A heads-up that this feature is mainly designed for the S Pens used with Samsung's tablets, which include their own charger. All I had on hand was the S Pen that went with my Galaxy Note20 Ultra. While some of the S Pen's features, like gestures, didn't work on the S21 Ultra, I still found it handy. I was able to use it to do many of the same things I do with my Note20 Ultra phone, like tap on icons, create notes, doodle on my lock screen, and scroll through emails.
The downside? Unlike with the Note20 Ultra, which lets you slide the pen inside to charge and store it, there's no place in the S21 Ultra to put an S Pen. So if you're going to use this feature, you'll probably want to buy a phone case that includes a spot for stowing it.
Brighter screen: Smartphone screens can be tough to view in bright-light situations, so the companies that make them keep boosting their brightness. In this case, Samsung says it has raised the S21 Ultra's maximum brightness to 1,500 nits, up from 1,200 nits in last year's version. (To be clear, both numbers are super-high.)
Top-of-the-line displays aren't a new thing for Samsung. Its flagship phones consistently receive top ratings in this area from our testers, and the S21 Ultra is no exception. In our testing, the S21 Ultra's display did a little bit better than the S20 Ultra's did. But, arguably, at this level of excellence it's probably tough to tell the difference with just the naked human eye.
Are the S21 Smartphones Worth Buying?
There isn't really anything groundbreaking about this year's crop of Samsung Galaxy S21 smartphones. Especially when you're looking at the S21 and S21+: They're about the same size, with largely the same high-end cameras, big battery, 5G connectivity, and OLED displays as the S20 models.
And, while, like Apple before it, Samsung says the elimination of the wall adapter is a nod toward sustainability, I think many people will find it irritating. Wall adapters and charging cords have a way of breaking and disappearing. And I doubt many people have a spare high-powered charger just laying around their home.
In order to take advantage of the quick-charge capabilities of Samsung's new phones you're probably going to have to buy one separately. (For what it's worth, the models also lack a memory card slot for expanded storage.)

But you know what? When you factor in the $200 price cuts, I'm okay with that. For the money I think the new S21 phones represent a good deal.
And when you compare them with the competition, especially the iPhone 12 models, you really can see that Samsung packs a lot in for what you pay.
Of course, if you're like many people and practically married to either the Android or Apple operating systems, that's a moot point. The addition of a telephoto camera and more storage probably won't get a lot of Apple fans to forsake their iPhones. They'll just make do, or pay an additional $200 to move up to an iPhone 12 Pro.
But if you're an Android user looking for a flagship phone at a not-so-premium price, the S21 might fit the bill. There's a lot under the hood for the money, especially when you compare it with other lower-priced Samsung options, such as the Galaxy A71 5G and Galaxy S20 FE 5G.
Meanwhile, if you're willing to spend more and want a supersized device with a bigger screen and battery, the Galaxy S21 Ultra, which throws in an extra camera and S Pen compatibility, might be what you're looking for.
Either way, you're going to pay less than you would have last year. And these days, that feels like as much of an innovation as anything else.
Correction: An earlier version of this article, published March 3, reported test results later revised by our labs. The article and our ratings have been updated to note that the cameras on the S21 Ultra outscored those on the S21+; the battery life in the S21+ is 37 hours and the battery life in the S21 Ultra is 38 hours; and the display on the S21 Ultra scored slightly higher than that on the S20 Ultra.