When you shop through retailer links on our site, we may earn affiliate commissions. 100% of the fees we collect are used to support our nonprofit mission.
Learn more.
The Samsung Galaxy S7 and S7 edge seem to have most, if not all, of the ingredients for being the smartest-designed smartphones on the market. Not only do these Galaxy S7 devices claim to fend off damage from accidental dunks in water but they also do so without the flimsy-seeming flaps that get in the way when you're trying to plug in a USB cable. Their large-capacity batteries promise long runs between charging sessions, and their displays minimize phone fiddling by continually showing you the time and other notifications even after the display goes to sleep.
And then there's the affordable, do-it-yourself storage upgrades via Micro SD memory cards. Finally there's a new camera, which Samsung says is twice as bright and four times as fast as the already good one on its previous models. This despite the camera downsizing in resolution from 16 megapixels to 12.
Our full assessment of these models' camera, water resistance, battery life, and more will have to wait until we finish testing the retail versions we bought. In the meantime, here are additional impressions from the Galaxy S7 edge press sample I've had in my hands for the past few days.
Relative Comfort
The softer, rounder edges do appear to make these glass-and-metal phones more comfortable to hold, particularly when comparing the Galaxy S7 edge to last year's Galaxy S6 edge model. But despite its softer edges, the S7 edge, whose 2.7-inch width is 1/10 of an inch narrower than the S6 edge, is still a big phone. And that makes reaching app icons or menus on the upper parts of the screen a challenge for anyone without extra-long fingers.
Photos That Won't Keep Still
The Samsung S7 and S7 edge have new camera hardware but their menus and picture options remain largely the same, except for a mildly interesting photo effect called Motion photo. This feature, which is similar to Live Photos on the iPhone 6s models, breathes life into still photos by turning them into GIF-like movie clips lasting several seconds.
It's not magic. Rather, the camera constantly buffers a few seconds of video; once you press the camera shutter it grabs a snippet of that video. Motion photos can be viewed only on these new Galaxy S7 models, and you can share them with other Galaxy S7s. For now, if you send a Motion photo to friends with any other type of smartphone, they'll see only a still image.
Beefier Batteries
Samsung beefed up the storage capacity of the batteries in the new S7 models. The batteries on the Galaxy S6 and S6 edge were 2,550mAh and 2,600mAh, respectively; their battery life each earned a Very Good in our Ratings. Not too shabby. But the extra capacity of the S7 (3,000mAh) and S7 edge (3,600mAh) could mean these devices will keep on working long after you say goodnight. Our lab testing will provide the full story.
Better Fingerprint Reader
Fingerprint readers are one of the easiest ways to safely unlock a phone screen or sanction a transaction, and Samsung smartphones have had this feature for several generations. Yet these fingerprint readers have always been, shall we say, a bit more temperamental than the iPhone's Touch ID. You had to swipe your finger a certain way. But with the S7, resting your finger on the home button unlocks the screen. In my informal tests, it worked quite consistently.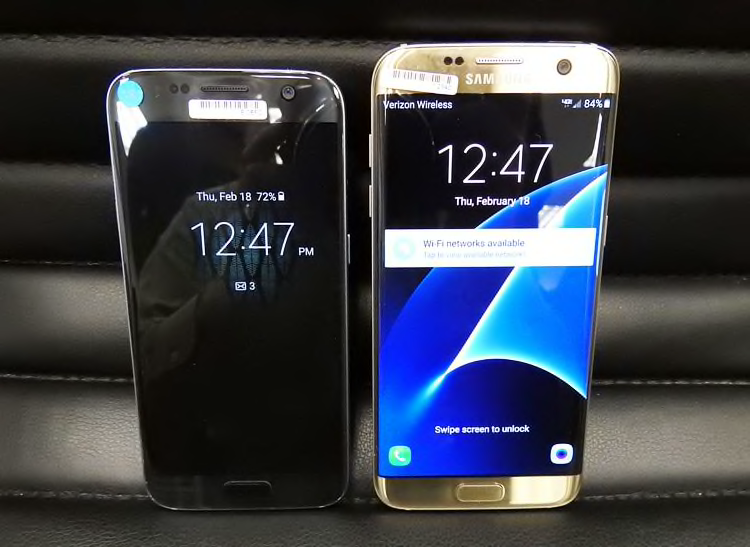 Missing Notifications
It's cool that these Galaxies can continuously show the time, the date, and app notifications after the display goes to sleep. This feature, called Always On, is also on the upcoming LG G5. But I was a little disappointed with Samsung's implementation of Always On. There's currently no notification support for third-party apps like Facebook, or even the weather.
There are also limits on what you can see. For instance, you have to choose between Calendar and Clock. Calendar mode shows you all the days of the month, plus the time and remaining battery life (as a percentage). Clock shows you the date and battery life and adds message notifications. Most people will probably find Clock view the most useful, but Samsung could make a good thing better by adding alternating views and notification support for popular third-party apps.
A Small Disconnect
Many consumers are holding onto their smartphones longer because, frankly, improvements from one year's model to the next have become somewhat incremental. These Samsungs seem to have what it takes to please their owners for a long time.
And that's why it's a shame that Samsung didn't equip them with a USB Type-C port, the connector you're going to see on a growing number of smartphones, tablets, and computers, including those from Apple. A USB Type-C connection has significant advantages over USB 2.0, which is being phased out. For instance, it can simultaneously charge a phone while providing dramatically faster data connections (10 gigabits per second vs. 0.5 gigabits per second), which you'll appreciate if your streaming hi-res video to your Ultra HD TV or transferring several gigabytes of files off your phone to a computer.
And, just like the Lightning connector on an iPhone, USB Type-C connectors can be inserted into the phone no matter which way you hold it. That eliminates the fumbling and squinting that has become a ritual on phones that use micro-USB cables.