When you shop through retailer links on our site, we may earn affiliate commissions. 100% of the fees we collect are used to support our nonprofit mission.
Learn more.
The first Samsung Galaxy S8 and S8+ smartphones reached consumers this week, and Consumer Reports has purchased eight of them (four of each model). Those phones are in our labs, and we have results on the camera performance, display quality, and other characteristics.
We also have information on the reddish tint that affects some of the displays. This is something consumers in Korea started complaining about when the phone rolled out there several days ago.
For Samsung, a lot is riding on this phone. It's the company's first major introduction since the fall when the Samsung Galaxy Note7 smartphone was recalled—not once but twice—after a series of battery fires.
And so far, the new phones are promising. These are elegant models with extensive, rich-looking displays that extend right to the curved edges. They have big screens, 5.8 inches for the smaller phone and a whopping 6.2 inches for the S8+, yet they don't feel overly big in your hand because of their long, narrow shape. For more details on their look and feel, including the somewhat awkward positioning of some of the buttons, see the initial report we filed back in March.
Full Consumer Reports test results will follow once our battery-life testing is complete in the coming days. But here's what we've found so far.
Red Tint: Our Phones Showed It
Consumers in Korea started reporting early this week that some Galaxy S8 phone displays were showing a red tint, making for juicy headlines in technology columns around the world. When we opened our boxes and turned on the phones, we saw what people were complaining about. Out of our sample of eight phones, four did appear somewhat reddish in comparison to the others. (Learn how to fix the red tint on a Samsung Galaxy S8 smartphone.)
To see how much that mattered, our imaging experts examined a pair of phones—one with the reddish tint, one without—while they were displaying the same test photograph under varied lighting conditions. They discerned a difference between the photos on the two displays, but even the red-tinged photo looked appealing and natural. It wasn't noticeably distorted.
It's unclear how much consumers might object to the red tint, especially if they weren't looking at two phones side by side. In any case it's easy to adjust the color balance. Go to the Display submenu of Settings, and then tap Screen Mode. This will allow you to access sliding controls for red, green, and blue levels, and you can play with those until the display looks right to you.
Samsung acknowledges that some S8 phone displays will look different from each other, citing "natural variations." However, a spokesman said, "Samsung has listened to feedback and has decided to release a software update as early as next week which will provide customers with a further enhanced ability to adjust the color setting to their preference."
Consumer Reports will check out that update once it's available.
Camera: One of the Best We've Seen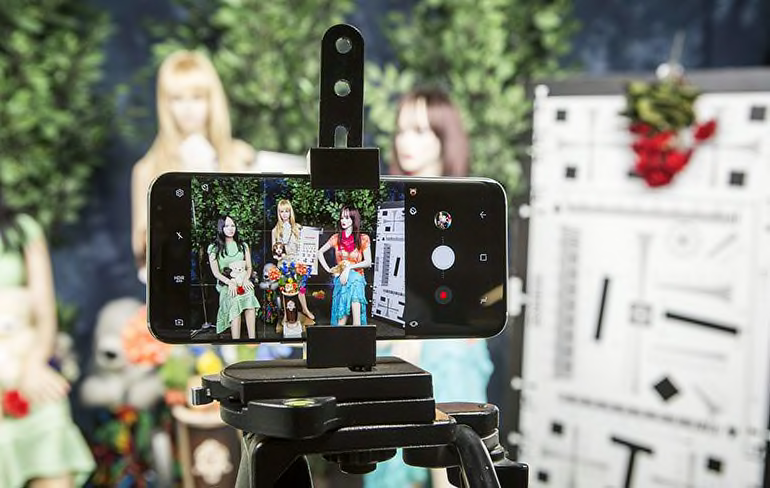 Samsung says the S8 phones' 12-megapixel main camera should provide better color accuracy and improved low-light performance compared to the Galaxy S7 generation of phones. Our tests found that the new phone's camera is among the best we've ever tested. Images captured in low light are less grainy or noisy than those taken with the S7, and low-light videos have more vibrant colors.
One issue our testers encounter with most smartphone cameras is over-sharpening. Phones use software to sharpen soft images, but when the software overdoes it, the result is a white line or halo that appears between abutting objects of different colors. (An example would be a black hat resting on blond hair.)
The Samsung Galaxy S8 phones are admirably deft in this respect. Over-sharpening is less of a problem than on the S7 generation of smartphones, and less pronounced than on some of the S8's competitors, notably LG's flagship, the LG G6.
Water Resistance: Passing the Dunk Test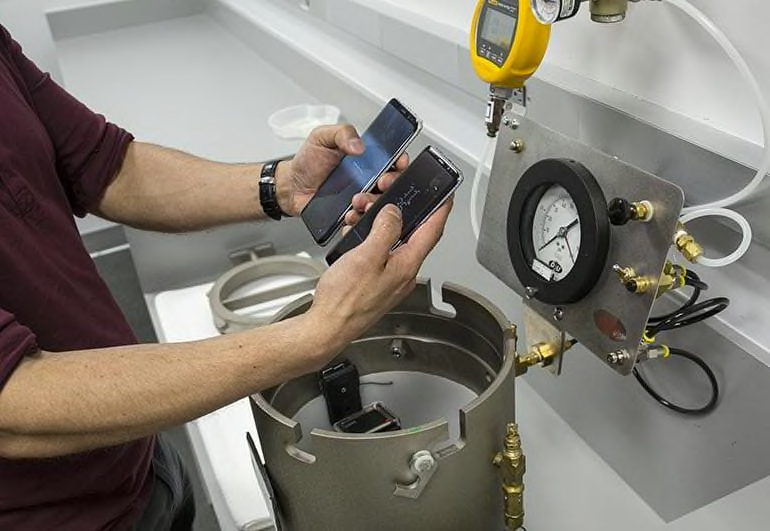 One of the most welcome trends in smartphone design recently has been the rise of water resistance. Many an older phone has suffered a watery death in a kitchen sink or bathtub.
The Samsung Galaxy S8 specs promise the phone will handle 30 minutes of immersion in about 5 feet of water (1.5 meters, to be precise). That's the same as the Galaxy S7 and about 2 feet deeper than many of the other water-resistant phones in our ratings, including older flagship Samsung models and the Apple iPhone 7 and 7 Plus.
And yes, the Galaxy S8 phones we tested in our pressurized tank lived up to their promise. The phones operated normally right after we retrieved them from the water, and they were still working 24 hours later.
Scratch Resistance: Better Than the S7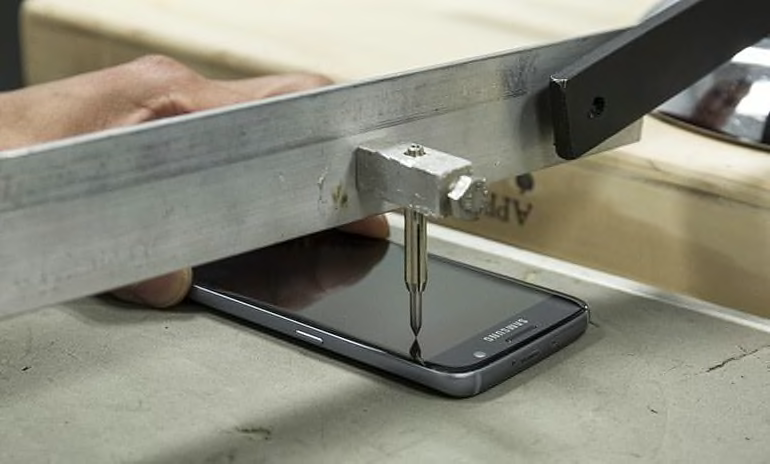 Once you take a shiny new phone from the box, it's often just a matter of days before the display and case are marred by scratches. The Samsung Galaxy S8 and S8+ are protected front and back by Corning Gorilla Glass 5, and we wanted to see how well these surfaces might stand up to the keys and other abrasive items in the average pocket or handbag.
In our scratch tests, the S8s performed well. They resisted our scrapes using ever-harder materials until they were exposed to a level 8 pick on the Mohs Hardness Scale, which is as hard as a masonry drill bit—something few smartphones are likely to encounter in a purse or pocket. This is an improvement over the Galaxy S7, which remained scratch-free until we dragged a level 7 pick across its screen. A level 7 pick is about as hard as a steel nail.
We'll have our final test results and updated smartphone ratings in the weeks to come.