When you shop through retailer links on our site, we may earn affiliate commissions. 100% of the fees we collect are used to support our nonprofit mission.
Learn more.
Samsung's sleek new Galaxy S8 and S8+ smartphones, unveiled today, have an unusual shape, a proprietary new digital assistant, improved cameras, and a clear mission: To replace the successful S7 models as some of the premier smartphones on the market while burying the bad memories of the Note7 phone recalls that stemmed from battery fires last fall.
Both phones can be preordered starting on March 30 and will be available to consumers starting April 21.
The most striking feature of the Galaxy S8 and S8+ is the displays that stretch beyond the typical aspect ratio of 16:9 to 18.5:9 (roughly two to one). Why so tall? This shape allows Samsung to give the phones more screen area without making them too wide to operate comfortably with one hand. Samsung isn't the first to go in this direction. We saw a similar shape in the LG G6, which was announced in February.
The displays of these new Samsungs measure 5.8 inches (S8) and 6.2 inches (S8+). Technically, they're a whopping 18 percent larger than those on their immediate ancestors, the S7 and S7 Edge, whose displays were respectively 5.1 and 5.5 inches. We found that images don't look all that much bigger, though you do get more text on the screen in portrait mode.
Also debuting with these phones is Samsung's new virtual assistant, Bixby, which Samsung says will provide a new way to interact with your phone. Samsung says Bixby is primarily there to handle calls and texts, as well as other app-dependent tasks beyond the reach of Google Assistant. But as many Android phone users know, Google Now and Google Assistant already handle many tasks of this kind. Interestingly, Google Assistant will also come preinstalled on the new S8s.
Features from previous Galaxy S phones, such as rapid and wireless charging, continue into the new models. And these phones purportedly comply with the IP68 standard, able to survive a 30-minute dunk in about 5 feet of water.
Samsung says the phones' 12-megapixel main camera has been tweaked to provide better color accuracy and improved lowlight performance. And the front "selfie" camera has been upped to 8 megapixels from 5 megapixels.
Consumer Reports will thoroughly test these models, including their cameras, when they become available for purchase next month. In the meantime, here are my impressions of some of their key features.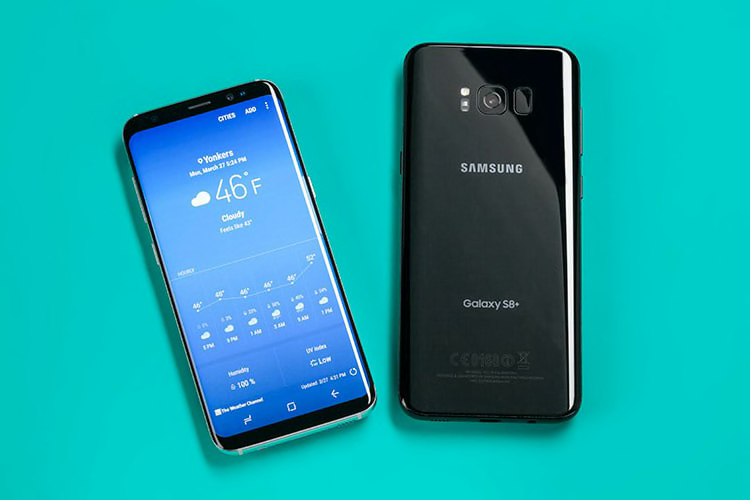 The Cool . . .
Wide, borderless screen. That cinema-screen shape of the new S8 display, besides being more accommodating to Hollywood movies, provides room for an additional, sixth row of apps per screen than the five displayed on a standard 16:9 Android display.
The dazzling displays of both phones are quadHD, with a resolution of 2960x1440, slightly higher than the already-sharp resolution of the S7 phones. That means a pixel density of an astounding 570 pixels per inch (ppi) for the S8, and 529ppi for the S8+. (That's more detail than can probably be picked up by an unaided human eye.)
It also gives you two generously sized squares for viewing the contents of two apps in what Samsung calls Split Screen View. In itself, the split screen is nothing new for Samsung phone. But the extra-long display comes in handy. For instance, while you're using the camera app, you can open the Gallery app to easily review the pictures you've already taken. You can easily reapportion app screen space by sliding the line that divides them with your finger. The S8+ has an additional feature: When you're viewing emails in landscape mode, it splits the view to show the list of your emails on the left side of the screen, and the contents of any email you select on the right.
Hello, Bixby. Samsung's proprietary digital assistant wasn't yet fully operational on the press samples the company provided for this review. But during my informal tests it appeared that most of Bixby's job assignments were already being competently handled by Google Assistant.
You can summon Bixby by pushing a button on the left side of the phone or swiping right on the home screen. Samsung says voice control won't be available on Bixby when the phones go on sale, but will come via an update later in the year. Samsung's popular voice-activated assistant, S Voice, won't be available on the new phones.

Samsung says that Bixby uses "contextual awareness" to help you access features and perform tasks based on what you're doing and where you are. And the company says you can use Bixby to do things like set reminders, make phone calls, as well as dictate and send messages. Bixby can also show you upcoming calendar appointments, news based on your interests, restaurants you may want to try, and more on its magazine-like feed.

Those features seem to merely copy Google Now, which is available on all but the oldest Android phones, and can even be installed on Apple iPhones. And many tasks that Bixby will eventually be able to do can already be aptly handled by Google Assistant, which also comes preinstalled on these new Galaxies.
Bixby does have one advantage over Google, in that it will be embedded in Samsung apps loaded on the S8 phones. On the S8 camera app, for instance, you can summon Bixby by tapping an eyeball-like icon on the viewfinder. Bixby will then scan whatever the camera happens to be pointed at, say, a can of Coke, and give you the choice of shopping for it on the internet or looking for similar pictures on Pinterest.
It's kind of like the Firefly feature in the Amazon app, and it seemed to work rather well with well-known brands. But these are not killer features, or even ones you can't get from other sources. We'll have to wait until more Bixby services come online to judge whether it is really useful.
Sound enhancements. While a lot of attention will be focused on what the S8s will show you on their impressive displays, these phones also have several features to enhance what you hear.
The first is a mechanism for calibrating the phone's sound output to compensate for minor hearing loss that can occur, for instance, as people age. The easy way to take advantage of this is to select one of three presets: for people under 30; people between 30 and 60; and people over 60.
If you have a little extra time, you can take do a personalized calibration using any pair of headphones. The app sends a series of low- and high-frequency beeps to both ears, and asks you to indicate whether you can hear them. It will prompt you for a yes or no answer after each beep. The exercise takes several minutes, involves several dozen beep tests, and will even roughly grade your hearing. These enhancements only work with headphones; in my informal testing I wasn't able to hear a difference.
Other enhancements include locking the phone's volume limiter with a passcode. Previously anyone—say, a child—could easily override this hearing-protecting control by going into phone settings. There also a hearing aid switch, as well as an equalizer, a surround-sound simulator, and several other controls for fine-tuning the sounds that emanate from these phones.
. . . And Not So Cool
Misplaced button. Besides making the phones taller, Samsung pushed the active part of the screen quite close to the phone's edges. But accommodating these "borderless" screens, which Samsung dubbed Infinity Display, meant moving a few things around.
For instance, engineers replaced the physical home button/fingerprint scanner with a virtual home button at the bottom of the screen, and moved the fingerprint scanner to the back of the phone, next to the rear camera.
These changes had some drawbacks. The fingerprint scanner is just a few millimeters to the right of the main rear camera, which I found hard not to touch by accident. And that meant spending extra time wiping the lens for fingerprints before taking pictures.
I found the best way to avoid camera-lens smudges was to use the S8's nifty iris scanner to unlock the phone. This feature was ported over from the ill-fated Note7, and it works like this: When you hold up the front of the phone about 2 feet from your face, an LED on the top left side of the phone shines an infrared beam at both your eyes, while a special camera on the upper right side of the phone captures the unique patterns in your irises, confirming that it's you. The iris scanner, however, takes about a second longer to unlock the screen and doesn't work very well in sunlight or very dark rooms.

As for the new virtual button at the bottom of the S8s' display, it worked just fine and seemed ready whenever I needed it. It's situated between the virtual Back and Recent Apps buttons, which were also readily available. One quibble: As with the virtual buttons on other smartphones, it won't respond if you're wearing gloves.
Sleek, yet slippery. With their curved, tapered-edged displays and glass and polished aluminum construction, the S8s are easily the sleekest Galaxies to grace the Samsung universe. Their fronts and backs are, Samsung says, protected by Coring's Gorilla Glass 5. According to Corning, it should survive if dropped onto a hard surface from about 1.6 meters—80 percent of the time.
Let's hope that's right, because these super-smooth phones threatened to slip out of my hands more than a few times in the week I handled them, twice over a concrete sidewalk.
We'll buy the two Galaxy S8 models when they become available this spring, and put them through our full testing regimen for battery life, display quality, and more.
Editor's Note: This article has been updated with information on availability.
Smartphone Stress Test
Do smartphones generally live up to manufacturers' claims when it comes to durability? 'Consumer 101' TV show host, Jack Rico, goes inside Consumer Reports' labs to find out how CR tests products for resistance to drops and tumbles.