When you shop through retailer links on our site, we may earn affiliate commissions. 100% of the fees we collect are used to support our nonprofit mission.
Learn more.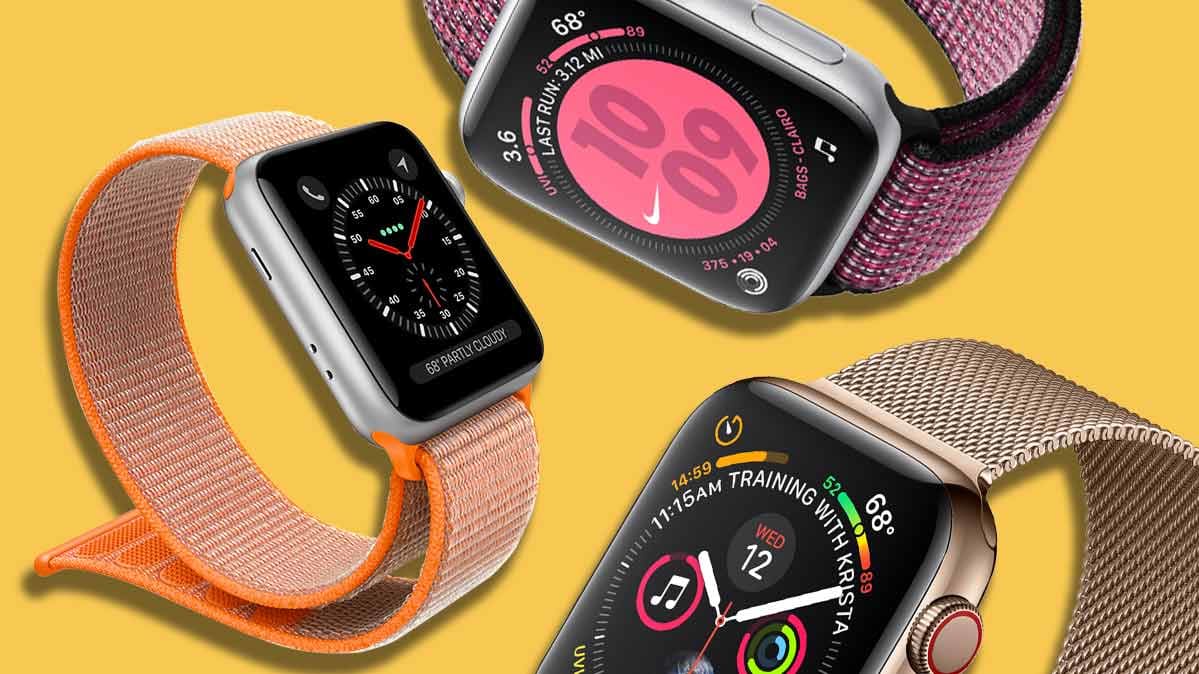 Apple Watches aren't cheap, but they appeal to people in all walks of life, which makes them one of the hottest gifts this holiday season.
The question is: Which Apple Watch should you buy?
While the newest model, the Apple Watch Series 5, sits at the top of Consumer Reports' smartwatch ratings, it costs twice as much as the admittedly less fancy Apple Watch Series 3.
And even though the well-rated Apple Watch Series 4 has been discontinued, many retailers are offering it at deep discounts to shed their stock.
If my own family is any indication, a lot of shoppers out there are still crunching the numbers trying to decide which of those models to choose.
My sister settled on a GPS-only Series 3 for her husband. But now she's having buyer's remorse, tempted by the option with cellular capabilities.
My mom, an active retiree (though not much of an athlete), was determined to take advantage of Black Friday discounts to purchase her first Apple Watch. She started off shopping for a Series 3 but then got swayed by the Series 5 on display at her local Apple Store. After much debate (and a seemingly never-ending string of phone calls and texts to me), she ultimately bought the Series 4 on sale at Best Buy.
The bottom line is, as with any big tech purchase, the right choice really depends on whom you're shopping for and how much you want to spend.
Here's a closer look at what each Apple Watch model has to offer.
And because the model isn't going away anytime soon, you can pick from a wide assortment of finishes and bands. You can even go to Apple's website and build your own watch, preview what it will look like, then order it.
On the downside, the odds of getting a deal on one of these is slim to none. But if you're leaning toward a model with cellular service, check with your wireless carrier. As with phones, they sometimes offer discounts if you finance the device through them.
Apple Watch Series 4
When they were released a year ago, these watches represented a significant redesign. Changes included larger 40mm and 44mm displays, smaller bezels, and a slightly sharper overall look.
They also offer fall detection and Apple's do-it-yourself electrocardiogram sensor. And there are more sports-tracking features on this model than on the Series 3.
When you compare the Series 4 with the Series 5, there aren't a lot of big differences. So it's no surprise that Apple discontinued the the older model after unveiling the new watch's always-on display, international emergency calling, and compass app.
Black Friday shoppers snapped up much of the remaining inventory, but if you shop around, you may still find one—at a nice price, too.
Apple Watch Series 3
Introduced in 2017, the Series 3 is a bit smaller than the other options. It comes in 38mm and 42mm sizes. And the bezels—the black border surrounding the displays—are a bit larger.
So what you get is a noticeably smaller watch face. And that makes it just a little bit harder to do things like view photos or read email, even if you have good close-up vision.
The Series 3 also predates some current features, including fall detection and Apple's do-it-yourself electrocardiogram, which were introduced with the Series 4, and the always-on display, international emergency calling, and compass app rolled out with the Series 5.
Other Factors to Consider
Do you need cellular? All three models can be purchased with GPS alone. Adding cellular raises the sticker price by about $100, plus the roughly $10-per-month fee for the wireless plan.
I tend to think most people don't need a watch with cellular. My sister, the same one considering a cellular watch for her husband, has a Series 3 with cellular. That's because she's a runner who likes to leave her phone behind but wants to be reachable and to stream her favorite workout mix. And that makes sense.
As for me, I never seem to be out of Bluetooth range of my phone. If I really wanted to, I could take a call through my watch via that connection or the home and office WiFi systems I'm perpetually attached to.
And while my sister can conveniently use the wireless headphones she's already wearing to take a call while on the run, most others would pause before speaking directly into their watch for long with everyone nearby within earshot.
Is bigger better? Regardless of which model you're considering, most women will probably gravitate toward the smaller sizes. The bigger watches cost a little bit more, and while most men tend to buy the bigger size, I know at least one who thought a 40mm Series 4 was just right for him.
Fancy finishes. The starting prices listed in this article are for the basic aluminum finish. But you can go fancier. I'm partial to the gold stainless steel finish available for the Series 5 that starts at $700.
There's also a white ceramic version with a leather band and a Hermes-designed option, both of which will cost you upward of $1,400.
Beyond the Apple Watch. Yes, Apple's smartwatches are great, but we recommend models made by companies like Fitbit and Samsung, too. As always, Consumer Reports members can consult our ratings for full test results on more than 30 options.
And if you're more into counting steps than reading email, making calls, or checking the latest sports scores, you might want to think about a fitness tracker. They have fewer features, but they're often cheaper than smartwatches.