About 25,000 house fires and 300 deaths are attributed to space heaters each year, mostly caused when a heater is placed too close to curtains, bedding, or upholstered furniture. In addition, 6,000 people end up in the emergency room with burns from touching a heater's hot surface. Here are the safety features to look for when buying a space heater and how to safely use one when you get it home.

Safety Features
Safety is an important aspect of our space heater tests. A heater that rates poorly on our fire safety test can cause cotton to ignite when operated on its hottest setting. Models that rate poorly on our hot surface test can get hot enough on the highest setting to cause burns. Heaters with a score of very good or excellent stay cool enough to safely touch. Here are safety features to look for:

Certification. Make sure the heater you buy carries a safety certification label from an independent testing organization, such as the UL mark from Underwriters Laboratories, the ETL label from Intertek, or certification from CSA International.
Shut-off features. A smart sensor that shuts off a heater when it overheats is a must. You'll also want a tip-over switch that does the same if the heater is knocked over.
Ground fault circuit interrupter plug. Most space heaters do not come equipped with a GFCI plug, which prevents electric shock, so manufacturers warn that they not be used around water.
Sturdy cord. Most space heaters come with a cord that's 6-feet long. Never use an extension cord with an electric heater.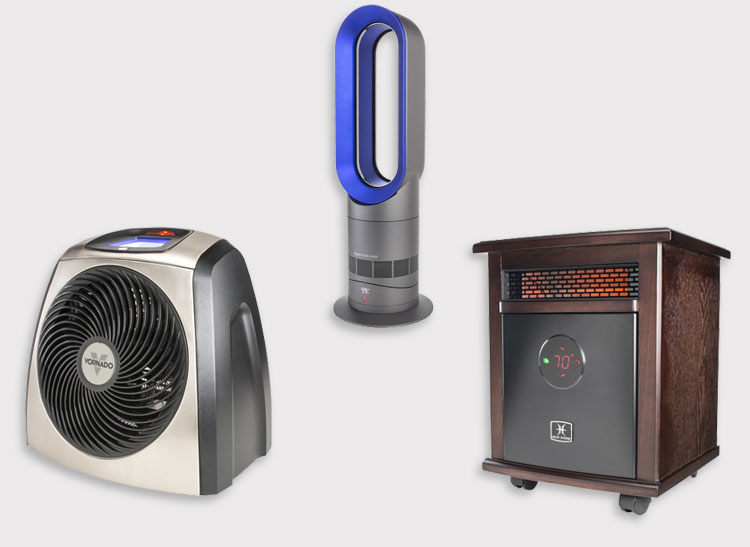 Safe Operation
Half of all home heating fires happen during the months of December, January, and February. Our experts, as well as the pros at the Association of Home Appliance Manufacturers and the National Fire Protection Association, offer the following safety tips:
Place the heater on a hard, level, and nonflammable surface. They are intended to sit on the floor and not a table.
Establish a three-foot kid- and pet-free zone around the heater and never put a space heater in a child's room.
Keep the space heater at least three feet away from such combustible materials as furniture, bedding, and curtains.
Don't use a heater in a workshop or garage near paint, gas cans, or matches.
Turn it off when you leave the room or go to bed.
Unplug the heater when not in use by pulling the plug straight from the outlet. Check the cord for damage periodically and don't use it if it's frayed or worn.
Don't plug another electrical device or an extension cord into the same outlet as the heater, which can cause overheating.
Install working smoke alarms on every level of your home and test them monthly.

Looking for a Space Heater?
When choosing a space heater, think about what type of heat you're seeking. If you just want to bathe yourself with heat, get a space heater that did well in our tests for spot heating such as the Dyson AMO5, $400, and the larger Honeywell HZ-980, $190. For heating an average-sized room consider one of the four that did best in the room heating tests, including the Vornado TVH600, $200, the Vornado ATH1, $130, the Heat Storm Sahara, $200, and the larger Heat Storm Logan, $200. Our top-rated space heater, the Dyson AM09, $450, aced both tests as did the Heat Storm Mojave, $160, and the DeLonghi DCH1030, $42, a CR Best Buy.
Shopping links are provided by eBay Commerce Network and Amazon, which makes it easy to find the right product from a variety of online retailers. Clicking any of the links will take you to the retailer's website to shop for this product. Please note that Consumer Reports collects fees from both eBay Commerce Network and Amazon for referring users. We use 100% of these fees to fund our testing programs.