When you shop through retailer links on our site, we may earn affiliate commissions. 100% of the fees we collect are used to support our nonprofit mission.
Learn more.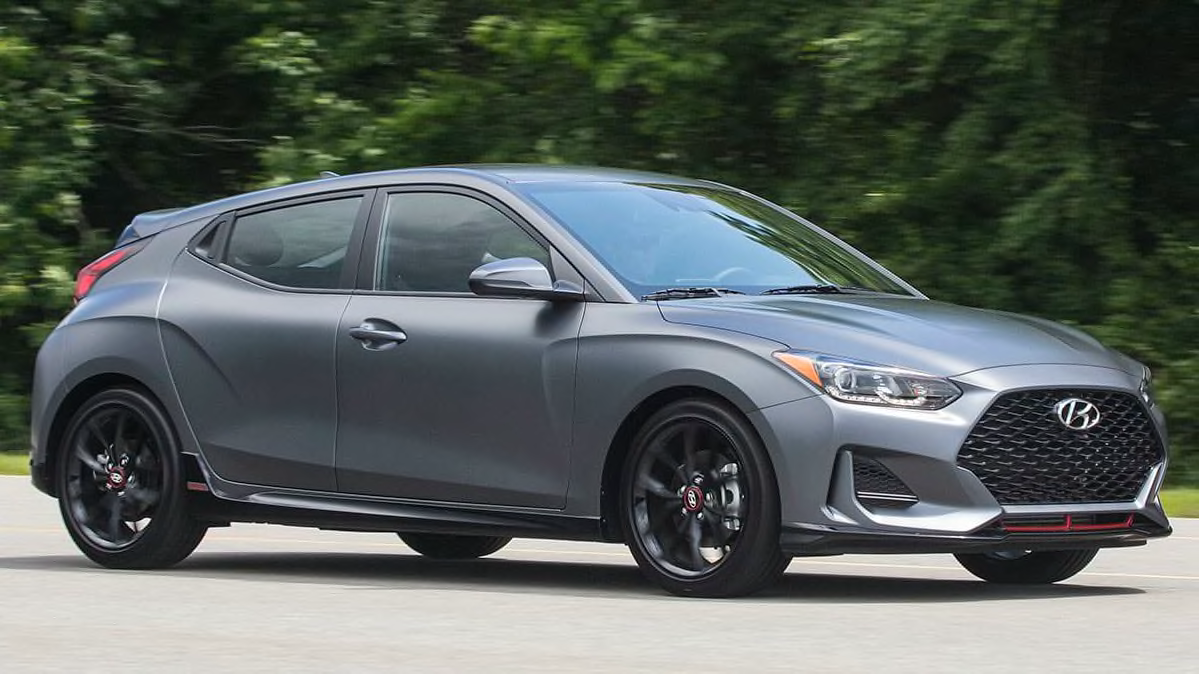 Update: Since this first drive was published in July 2018, we have purchased and evaluated our own Veloster, and added a quick drive video.
At a time when automakers are doubling down on SUVs and moving away from coupes, Hyundai rolls out a new Veloster. This distinctive sportster has been redesigned for 2019, bringing subtle improvements throughout, while remaining true to the original Veloster's unique packaging and eye-catching silhouette.
Starting at $18,500, the Veloster provides an extroverted choice for small-car buyers seeking something fun and distinctive on a budget. The 2019 Veloster line covers more territory than before, with a range of powertrains and trim levels that span from mild to wild.
The base Veloster is powered by a 147-horsepower four-cylinder engine, reflecting a 15-hp gain over the first-generation car. The mid-level powertrain is a turbocharged 1.6-liter with the same 201 horsepower as before. To appeal to the Fast and Furious crowd, there is a new Veloster N coming, with a complete performance package and potent 275-horsepower, 2.0-liter four-cylinder engine.
To sample this new model, we rented an Veloster from Hyundai, fitted with the turbocharged 1.6-liter engine and a manual transmission, before we buy our own to test. This pre-production car was uniquely outfitted with some equipment that either won't be offered in the U.S., or might not be available in this combination.
What we rented: 2019 Hyundai Veloster 1.6T R-Spec
Powertrain: 201-hp, 1.6-liter turbocharged four-cylinder; six-speed manual transmission; front-wheel drive
MSRP: $22,990
Destination fee: $885
Total cost: $23,875
How It Drives
The Veloster looks like fun incarnate, and the driving experience lives up to the promise made by the styling. The midlevel turbo engine delivers enough power to be engaging. The transmission is controlled by a manual shifter that pairs well with the engine's power band. This combination makes the Veloster an engaging and entertaining machine that suits the nimble handling.
The ride is well mannered for a small car, but ultimately, the Hyundai isn't the choice for long-distance travel. The Veloster is more suited to to be a local runabout. The overall feel is light and youthful.
Common with cars of this ilk, there is noticeable road and wind noise.
Inside
The Veloster makes the most of its diminutive dimensions, though there are some inherent space limitations in such a tiny car. Low, sculpted seats hold front occupants, with their grip enhanced by a canvas-like upholstery. Some drivers found these a bit narrow in the torso, much like the legroom that can have the right knee rubbing on the center console.
The familiar infotainment system used throughout many current Hyundai models is easy to reach and operate, aided by physical buttons. Android Auto and Apple Carplay connectivity is standard. Phone pairing is notably quick. The phone itself can rest in a convenient shelf, forward of the shifter, where there are optional wireless charging pad, USB, and AUX ports.
The passenger side has an extra door that provides access to the surprisingly accommodating rear seat. Access is challenged by the roof angle and modest door opening. Naturally, larger passengers may find the rear seat confining, but two average-sized adults can sit there in a pinch.
The rear cargo area is not the flat, low floor common in small hatchbacks and SUVs. Instead, the Veloster has a deep storage well that can swallow groceries, sports gear, and luggage. It can hold quite a bit of daily essentials, but, of course, this is not the vehicle for a warehouse store run.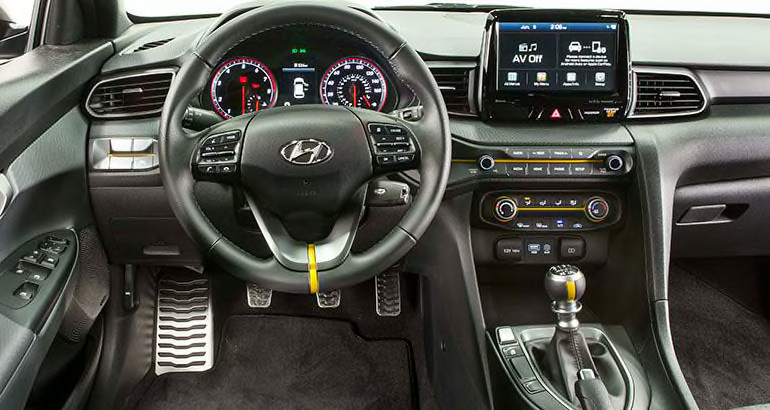 Safety and Driver-Assist Systems
Every Veloster comes with forward-collision warning with automatic emergency braking, as well as lane-keeping assist and a driver monitor that watches for signs of distraction and fatigue.
Stepping up one trim level to the Premium adds blind-spot and rear cross-traffic warnings. Moving through the trims adds more features, such as adaptive cruise control and pedestrian detection.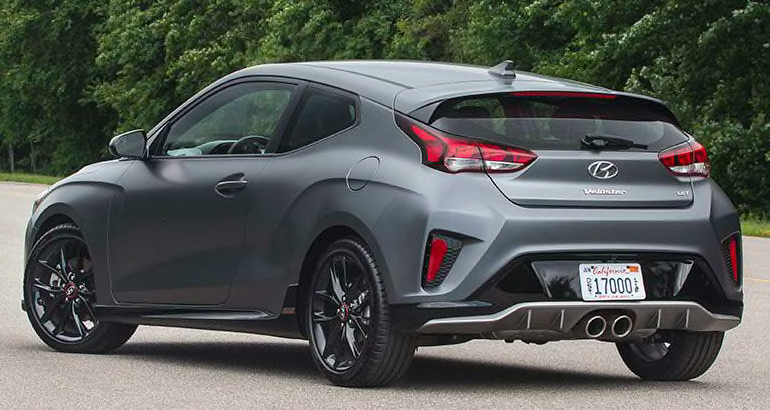 Bottom Line
The Veloster is a playful sport coupe that proves fun, with unusual styling. The evolutionary design makes the car instantly recognizable, complete with the third, curbside door and hatchback. It capably combines affordability, performance, and some practicality. Less sophisticated than a Volkswagen GTI, but comparable to a Honda Civic Si, the Veloster has its flair and appeal.
Our pre-production car's styling was enhanced by matte paint, creating a enthusiast-tailored appearance that will not be offered for the U.S. A matte finish looks cool, but it requires special care, to the point that most buyers would be better served by a conventional paint scheme with a protective clear coat.
See the complete Hyundai Veloster road test.