Preview: Reborn 2022 Subaru WRX Moves the Needle
This rally-inspired sedan brings more performance, safety, and convenience features
Subaru has revealed its all-new WRX performance sedan ahead of the more mainstream, redesigned Impreza that it is based on. With this redesign, the WRX will now use the automaker's global platform used for every car and SUV, except the BRZ.
It sticks close to the established formula, with this next generation best defined by advances in performance and technology. It adds a new top GT trim, better positioning the car as an alternative to more premium models.
What it competes with: Honda Civic Type R, Hyundai Veloster N, Volkswagen GTI, Volkswagen Golf R
What it looks like: A modest, though modern, evolution of the current car
Powertrain: 271-hp, 2.4-liter turbocharged four-cylinder engine; six-speed manual or continuously variable transmission; all-wheel drive
Price: $28,000-$45,000 (estimated)
On sale: Early 2022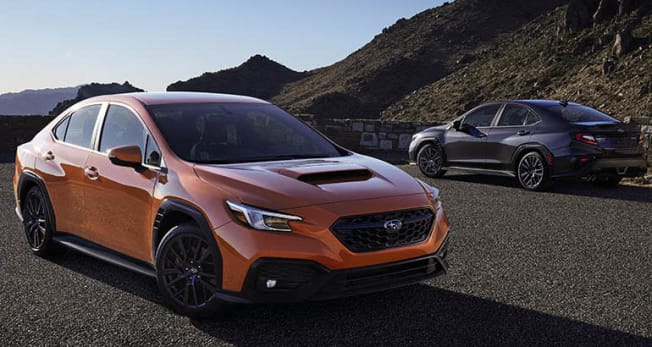 The WRX returns to a much different market from the one it once played in. In the early 2000s, there were numerous factory-tuned small cars for enthusiasts to choose from, but over time, SUVs came to rule the land, and one by one, models like the Lancer Evolution, Chevrolet Cobalt SS, and Dodge Neon SRT faded from dealerships. But there is a performance revival underway, with cars like the second-generation Subaru BRZ, Nissan Z, and Toyota GR86 and Supra continuing to offer hardcore driving enthusiasts modern choices, with a bit of retro flair.
The new WRX promises to improve upon the current, highly entertaining car best defined by its blistering acceleration and tenacious cornering grip. The WRX always stood out for having four doors, a trait that makes it more practical than the alternatives. Through the generations, the WRX ride quality has varied widely. We hope it strikes a good balance with this next generation.
The overall promise is a car that is true to its roots but moves the needle in terms of performance, convenience, and safety features. Sounds good to us.
The body is decidedly evolutionary. The extroverted personality is broadcast through the bold fender flares and hood scoop—long-held WRX styling traits—and striking wheel arch trim. Look beyond these enhancements, and you can readily picture how the regular Impreza will appear when it is introduced.
Subaru explains that particular attention was paid to aerodynamics, crafting how the air flows around the vehicle and smoothing the underside for efficiency.
The black interior, accented with red stitching throughout, looks more modern because of the large, tabletlike center display for the infotainment system. The 11.6-inch screen is used for audio and climate controls, and other vehicle features. It's compatible with Android Auto and Apple CarPlay. We found this system to be a bit slow to respond and tedious to use in the Subaru Outback. The optional navigation system is powered by TomTom, and there is a Harman Kardon stereo upgrade available with 11 speakers and a 576-watt amplifier. We hope the emphasis on touch controls doesn't leave drivers wishing for the easy and quick interaction of a simple button for common features such as climate adjustments.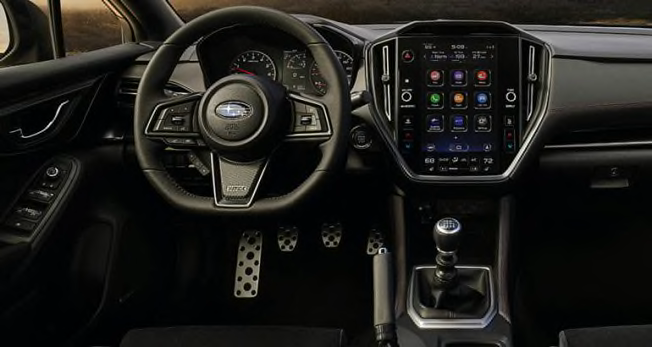 The instrument panel looks decidedly traditional, rather than having a large color display like many new models are doing.
Aluminum pedal covers and the flat bottom of the steering wheel signal the car's rally roots.
The GT trim brings Recarco race-style front seats, with the driver seat having eight-way adjustments.
The WRX features a new 2.4-liter turbocharged flat-four engine. Its peak power increases slightly, from 268 to 271 hp. More significantly, torque is more widely available. The larger displacement engine (the outgoing WRX used a 2.0-liter engine) and turbo tuning promise increased responsiveness and acceleration, according to Subaru, aided by advances with the two available transmissions.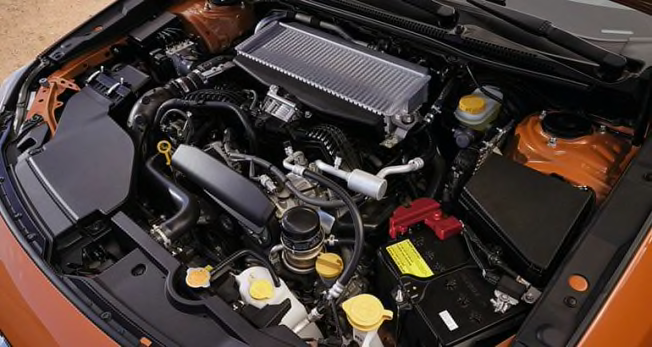 Buyers can choose between a six-speed manual and a continuously variable transmission with paddle shifters by the steering wheel for eight-step manual gear selection. Subaru claims that the automatic provides upshifts that are 30 percent quicker and downshifts that are 50 percent quicker than before.
Selectable performance modes allow the driver to tweak the car's personality to the mission at hand, from commuting to track-day fun, affecting how the engine and automatic transmission respond. A transmission fluid cooler is available to improve durability.
Subaru says that the car has 28 percent more torsional rigidity, meaning resistance to the body flexing. A stiff structure makes it easier to tune the suspension for the desired balance of ride and handling. The suspension weight has been reduced to further aid dynamic performance, along with a new electric steering system and ventilated disc brakes at each corner.
The GT trim uses exclusive 18-inch wheels (up from the standard 17-inch wheels), wrapped in summer performance tires. Its driver modes allow steering and suspension adjustments, as well.
Safety and Driver Assistance Systems
The EyeSight suite of active safety features is standard on models with an automatic transmission, including forward collision warning, automatic emergency braking, lane departure warning, lane centering assist, and adaptive cruise control.
The GT trim adds an advanced version of the adaptive cruise control and automatic emergency steering, which can help with steering control to avoid collisions at speeds up to 50 mph.
Once again, EyeSight is not available with a manual transmission.