When you shop through retailer links on our site, we may earn affiliate commissions. 100% of the fees we collect are used to support our nonprofit mission.
Learn more.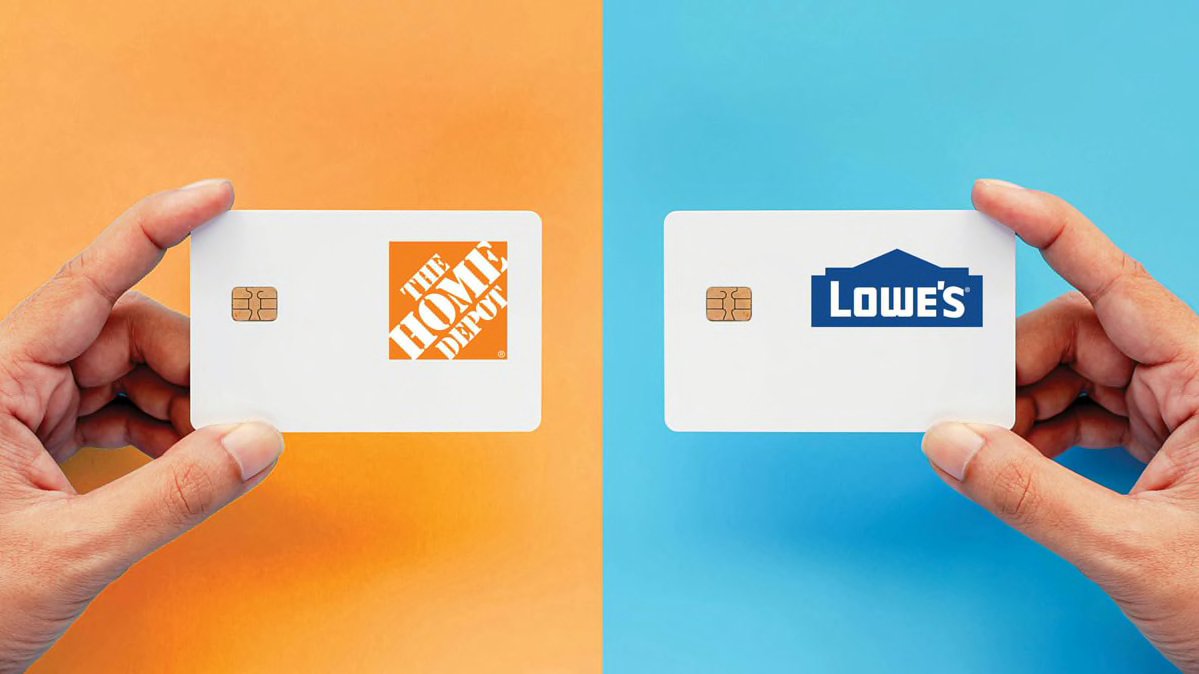 If you need to stuff a very big stocking with a major appliance, the promotions that Home Depot and Lowe's offer to new credit card holders can be a nice gift for yourself.
Through Jan. 29, Home Depot is offering new holders of its Consumer Credit Card $25 off a first online or in-store purchase of between $25 and $999, or $100 off a first purchase of $1,000 or more.
With the Lowe's Advantage Card, through Feb. 1 you receive $30 off for your first purchase (in-store only) of $50 to $599.99, or $100 off for purchases costing $600 or more. Exclusions from these promotions include appliance brands such as Bosch (for its Benchmark series), Fisher & Paykel, Liebherr, and Weber.
But beyond the promotions for new cardholders, which credit card gives you the best benefits year-round? We combed through the fine print to compare these two credit cards in detail, assessing interest rates, annual fees, regular purchase discounts, and more to help you determine the better card for you.

Vitals
Home Depot and Lowe's credit cards have some key similarities. Both allow all cardholders to defer interest for six months on receipts totaling $299 or more. (Both require a minimum monthly payment during those six months: $28 or 1 percent of the purchase, whichever is larger.) Purchases totaling less than $299 incur interest if you don't pay your bill in full.

Both cards also provide other perks and temporary financing promotions throughout the year. For instance, Home Depot is currently offering 10 percent off of the purchase of installed fencing through Jan. 8, 2020.
Lowe's is extending its six-month special financing to 12 months for appliances costing $299 or more that are purchased through Feb. 1, 2020. A Lowe's spokesperson said the retailer periodically offers 10 percent off days for cardholders. Neither card allows you to earn mileage or points for purchases, though.
One more thing these two cards have in common: They may be easier to qualify for than bank-issued credit cards, says Bruce McClary, spokesperson for the nonprofit National Foundation for Credit Counseling (NFCC), based in Washington, D.C. As with other store cards, "approval guidelines are sometimes more flexible," he says.
Feature by Feature
Interest Rate
Lowe's annual percentage rate (APR) is 26.99 percent for all new cardholders, regardless of credit score. Home Depot's ranges from 17.99 to 26.99 percent, depending on your creditworthiness. These aren't such great rates, considering that the average annual percentage rate for new credit card offers is currently around 17 percent, according CreditCards.com, a website that tracks rates weekly. We give Home Depot a slight edge because it's possible you could get a lower APR with its card.
Annual Fees
Neither Lowe's nor Home Depot charges an annual fee. It's a tie here.
Unauthorized Charges
Neither card holds you responsible for paying unauthorized charges. That's better than what's required by federal law, which says cardholders can be liable for up to $50 of an unauthorized charge. Again, it's a wash between the two cards.
Regular Purchase Discount
Lowe's offers a 5 percent discount on most cardholder purchases, regardless of how much you spend. You can't combine it with certain other discounts, sales, or promotions—including the six-month deferred-interest option—but assuming your purchase qualifies, it's a nice perk. Home Depot doesn't offer anything similar. Lowe's wins here.

Financing Options
At Lowe's, if you make a total purchase of $2,000 or more, you can get fixed monthly payments at 7.99 percent for up to 84 months. (Your credit limit depends on your creditworthiness.) You don't get the 5 percent everyday discount on your purchase if you take this option.
Home Depot's card does not offer the flexibility to possibly pay a lower fixed interest rate for large purchases. If you want a lower fixed rate, you'll have to apply for a separate Home Depot Project Loan card. The terms are the same as Lowe's—7.99 percent for up to 84 months—and the credit limit is $55,000. Lowe's takes the lead here because you don't have to apply for a new card to get low, fixed-rate financing.
Return Policy
Aside from the fact that you might not need a receipt to return items that were charged on your Lowe's credit card—Lowe's says in most instances your receipt can be retrieved—cardholders get the same terms for returns as everybody else. That's 90 days to return or exchange an item for most purchases; 30 days for major appliances, outdoor power equipment, and paint, among other items.
Home Depot gives cardholders up to a year to return items purchased with its card, though it also has exceptions that require a 30-day return, including furniture, area rugs, generators (other than some kinds of generators), gas-powered equipment and tractors, TVs, and computers. Cardholders don't need to have a receipt for returns. Because Home Depot's return policy is four times as long as Lowe's, it is the victor here.

The Winner
Both the Lowe's and Home Depot credit cards have their advantages. But for its 5 percent cash back and added financing option for large purchases, the Lowe's card edges out Home Depot's to be the winner. Home Depot offers its cardholders better terms for refunds, though. So if that's important to you, you might want to consider the Home Depot card instead.
Keep in mind that both cards have high interest rates, so you'll want to pay off your balance each month if you can.
And don't forget: You can also check out regular bank credit card options. At websites such as Bankrate, CreditCards.com, and LowCards.com, you may be able to find some cards with lower interest rates that offer incentives like Lowe's 5 percent cash back that you can use at any retailer.
In any case, don't be tempted to apply for a bunch of credit cards because of their holiday promotions. Issuers will check your credit report every time you apply to help decide whether you qualify, and that can lower your credit score. "It's best to wait at least a month or two between opening accounts," says McClary at the NFCC.

Credit Card Face-Off: Home Depot vs. Lowe's
The Home Depot
Consumer Credit Card

Lowe's
Advantage Card

Interest rate
17.99-26.99%
26.99%
Annual fee
None
None
Cardholder liability for unauthorized charges
$0
$0
Interest deferral
For total purchases of $299 or more, 6 months of deferred interest as long as you make the minimum payment each month.
For total purchases of $299 or more, 6 months of deferred interest as long as you make the minimum payment each month.
Regular purchase discount
No regular per-purchase discount for cardholders.
5% off most purchases. Can't be combined with certain discounts, sales and promotions—including the 6-month deferred interest option.
Fixed-rate financing
None. Cardholders must apply for a separate, Home Depot Project Loan credit card.
For total purchases of $2,000 or more, 7.99%, fixed-rate financing for up to 84 months; you cannot use the everyday 5% discount on these purchases.
Return Policy
Up to 1 year. Some items, such as furniture and generators, must be returned within 30 days.
Up to 90 days. Some items, such as major appliances and liquid paint, must be returned within 30 days.