Lawn Mower & Tractor Buying Guide
A great lawn mower or tractor won't do the work for you, but it will make yard maintenance easier and more efficient. Thanks to our extensive tests, Consumer Reports is uniquely qualified to help you shop for that great mower—one that fits for your lawn size and terrain, performs superbly, and works reliably season after season. Each year our professional testers cut acres of grass with a variety of mower and tractor types to find the top performers. We also survey our members on their mower and tractor repair experiences to identify the most reliable brands.
In recent years, mower manufacturers have upped their energy-efficiency game. They've introduced numerous new battery-powered mowers, which are more eco-friendly than gas models because they run on electricity. Most battery mowers are well-suited for yards of a quarter of an acre or less, and many perform as well as their gas brethren. Some models can even mow a half an acre on just one battery charge. And they're not as noisy as gas models, which can be important if you have neighbors close by.
Whether you have a tiny patch of grass or acres of lawn, you'll need a capable mower. Consumer Reports tests mowers and tractors for mulching, side-discharging, bagging, ease of use, and maneuverability. We also evaluate features that save you time and effort. 
Our tests show that you don't have to pay top dollar to get a great mower or tractor. Some models cost hundreds—even thousands—of dollars less than our top-scoring machines, yet they perform almost as well. But our tests also show that paying just a little more can often buy a lot more mower, especially at the lower end of the price spectrum.
How CR Tests Lawn Mowers & Tractors
To get you ratings and reviews of the latest models by early spring, our testers travel in late winter to Florida to conduct tests at grounds we specially prepare each year. We plant 1,800 pounds of grass seed (predominantly annual rye, prized for its dense growth). Then we cut 500,000 square feet of grass using three modes—mulching, side-discharging, and bagging (for a total of 3,000 pounds of clippings). We mow both level turf and slopes to get a feel for each and every model. We also review the convenience features on every model we assess.
The Overall Score for each model in CR's mower ratings incorporates all that performance data, along with predicted reliability and owner satisfaction ratings from our latest member surveys. The surveys, fielded in the fall of 2019, 2020, and 2021, leveraged data on more than 44,000 lawn mowers and tractors that members purchased between 2011 and 2021.
Types of Lawn Mowers & Tractors
Your options for the best walk-behind or riding lawn mower range from $170 gas push models to lawn tractors and zero-turn mowers that can cost upward of $5,000.
If you're worried about noise, know that our tests show gas mowers are much noisier than their battery-powered counterparts. Almost all the gas-powered machines we've tested emit more than 85 decibels at the user's ear, and only a few are somewhat quieter. For all types, we recommend hearing protection.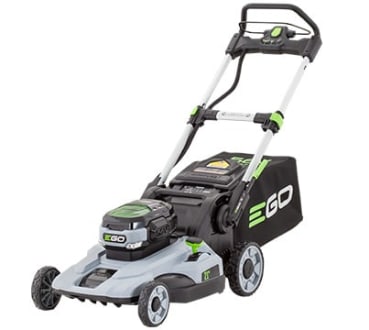 Battery Lawn Mowers
No longer second-class citizens, the best battery-powered electric mowers cut grass just as well as their gas counterparts. Battery mowers utilize rechargeable lithium-ion battery packs and are available in both push and self-propelled varieties. They are much easier to store and maintain than gas mowers, but their relatively short battery run times make them better suited to smaller yards. Our run times with battery mowers are generally 30 to 45 minutes, regardless of the capacity of the battery. However, battery technology continues to improve, and some of the best performers can provide 60 minutes or more of run time.
Pros: Most battery mowers cut a 20- or 21-inch swath, and their batteries are interchangeable with other outdoor power tools from the same brand. They also start with push-button ease, produce no exhaust emissions, and run more quietly than gas models. They don't require oil changes or frequent tuneups.
Cons: They have a limited run time—usually enough to cut 1⁄3 acre. Battery-powered self-propelled models use up to 20 percent of the battery charge to power the wheels, so you won't be able to cut as much grass unless you buy a larger or additional battery. And they're pricier than gas models, though you'll recoup that cost over time.
Upkeep: Battery mowers require little upkeep beyond blade sharpening.
Best for: Yards of ⅓ acre or less.
Battery Mowers Ratings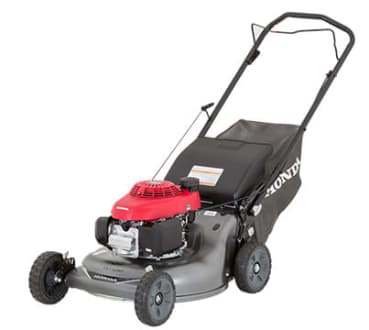 Gas Lawn Mowers
Tried-and-true gas-fueled mowers aren't limited by rechargeable batteries and can cut much larger yards in one go—assuming you have enough gas on hand. They come in both push and self-propelled varieties and usually cost less than their electric counterparts, though you might spend more in the long run on fuel and maintenance.
Pros: Most gas mowers cut a 21- or 22-inch swath, can handle long or thick grass and weeds, and can bag, side-discharge, and mulch clippings. They also cost less and run much longer than their battery-powered counterparts.
Cons: Gas mowers are noisy (use ear protection), produce emissions, and require more frequent maintenance.
Upkeep: Gas mowers require regular tuneups, oil changes, and blade sharpening.
Best for: Yards from ¼ to ½ acre.
Gas Mowers Ratings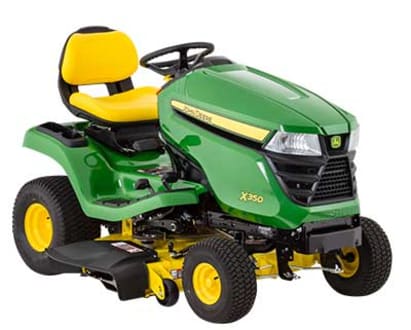 Lawn Tractors
These gas-powered machines can cut two to three times faster than simple push mowers, making them best suited for larger lawns. Models with hydrostatic transmissions are easier to use and provide smooth operation.
Pros: Most models mow a 42- to 48-inch swath (though wide-deck models cut 54 inches or more in a single pass) and can bag, mulch, and side-discharge clippings. Steering them is easy and familiar because they use a wheel, just like a car. The best models have comfy, high-backed seats and make it easy to engage the blades and adjust your cutting height.
Cons: Bagging kits cost extra and tend to be expensive—a major reason the majority of tractor owners mow in side-discharge mode. And even today's cleaner machines create exhaust emissions and require lots of storage space. And tractors have a wider turning radius and lower top speed than zero-turn mowers.
Upkeep: Gas mowers require regular tuneups, oil changes, and blade sharpening.
Best for: Yards larger than ½ acre.
Riding Lawn Mowers & Tractors Ratings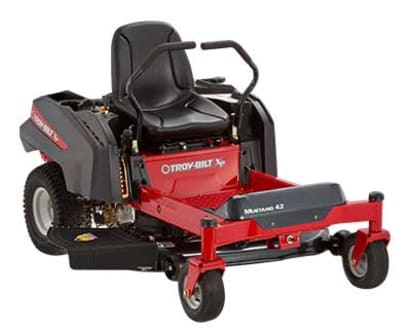 Zero-Turn Mowers
Think of these like souped-up tractors. Rather than a wheel, you control a zero-turn with a pair of levers—pushing one forward and the other rearward causes the mower to turn in place. They also have nimble handling and higher top speeds than tractors.
Pros: These are similar to the mowers landscapers use, with a rear engine and rear-wheel steering. They're easy to maneuver around obstacles, such as trees and flower beds. Some new models have a steering wheel. They can side-discharge, bag, and mulch clippings, and typically mow a 42- to 50-inch swath. Their nimble handling and high top speed make it easy to get across your property quickly. Typically, zero-turn mowers are gas-powered, but a few battery-powered zero-turn mowers have entered the marketplace in recent years.
Cons: Zero-turn mowers cost more than most tractors, and not all of them cut as well as tractors. Rear steering wheels can tear up grass during turns. They're not well-suited for hilly properties because they can lose traction and be hard to control on slopes. Their lever controls also require practice. And though they offer a higher top speed, that won't necessarily save you time—you'll still want to go 3½ to 4 mph to get an even mow. Bagging kits can be pricey, and because a much smaller fraction of users opt for that option, we no longer test a zero-turn mower's bagging performance.
Upkeep: Gas engines require tuneups and oil changes. Electrics need at least blade sharpening.
Best for: Yards larger than 1⁄2 acre without too many hills.
Zero-Turn Mowers Ratings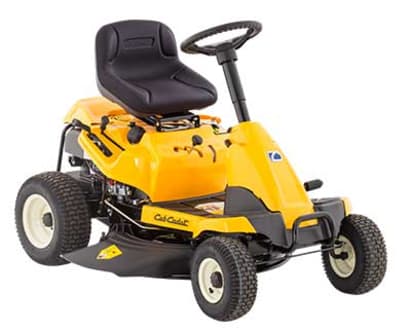 Rear-Engine Riders
Bridging the gap between walk-behind mowers and tractors, rear-engine riders are typically cheaper than tractors but don't cut as well. They also don't cut as quickly, because they have narrower decks, typically around 30 inches wide.
Pros: Many of the usual lawn-tractor behemoths require more storage space than you might have, but this type of rider is more compact. It's also cheaper: Some start at $1,300, a few hundred dollars more than most of the best self-propelled mowers.
Cons: Even the top-scoring models won't cut as well as some of the lowest-scoring tractors in our ratings. They also usually cut in 30-inch-wide swaths—more than a walk-behind mower, for sure, but far less than the 4 feet many lawn tractors will mow. Many have a jerky gear drive rather than the smooth hydrostatic drive on most tractors. We've also found that those in our tests aren't great at fully filling a bag. You also might not get higher-end features, such as a high-back seat or cruise control.
Upkeep: Gas engines require regular tuneups and oil changes. Electrics need the blades sharpened annually.
Best for: Yards from ½ to 1 acre.
Battery Riding Mowers Ratings
What to Consider Before You Buy
Walk-Behind Mowers
Push vs. self-propelled: Push mowers tend to be more affordable. Self-propelled models draw energy from the engine (or motor on electric models) to power the wheels, which makes them easier to maneuver if you have a larger lawn or live on a sloped lot. All-wheel drive offers the best traction on slopes, followed by rear-wheel drive. Front-wheel drive, which you'll see on most models, is still well-suited for flat parcels though is not the best choice if you bag clippings. As the bag fills, it can cause the front wheels to lose some traction.
Yard size: Consider the size of your yard to find the perfect walk-behind mower. Gas self-propelled mowers will be best for larger yards, and push mowers (electric or gas) are better for smaller yards. Check out our guide to finding the right mower for your yard size.
Washout port: You should clean the underside of your mower after each cut. When it's time to do so, a washout port makes it easier: It accepts a hose connection for clearing clippings beneath the mower deck without the need to tip the machine.
Electric start: On gas models, this feature lets you start the engine with push-button ease, rather than yanking a pull cord. All electric mowers start this way.
Folding handle: Models with a folding or collapsing handle require less space to store.
Upright storage: Almost all electrics can be stored vertically in a cramped garage. Some gas models have special engine seals that allow for upright storage, too, without the risk of oil or gas leaking out.
Uniform wheels: Some mowers boast larger rear wheels. Skip them. In our tests, mowers with uniform wheels are easiest to maneuver.
Interchangeable battery: Some power tool manufacturers are making string trimmers, leaf blowers, chainsaws, and even snow blowers that can all accept the same battery that powers their lawn mowers. That can save you money if you can buy the second tool without a battery. (But getting the second battery effectively increases your battery mower's run time.) Check for battery mower brands that offer this interchangeability—and that sell other highly rated, battery-compatible power tools.
Riding Mowers
Landscape needs: Get a riding mower or tractor that best matches the size and slope of your property. And if your yard resembles an agility-training obstacle course, you might want to consider a zero-turn mower; that type is favored by professionals.
Hour meter: This indicates how long the engine has run and can help track when it's time for an oil change or other maintenance. A few models can link to a smartphone app via Bluetooth to keep track of maintenance and order parts.
Ability to check fuel: A tractor with a cutout that allows you to see your fuel level—preferably from the seat—is ideal.
High-back seat and cup holder: The first is more supportive and comfortable than a conventional seat, and the second is for when you're sweltering in the hot sun—you'll appreciate it.
Cruise control: As with a car, cruise control lets you lock in a ground speed with a riding mower.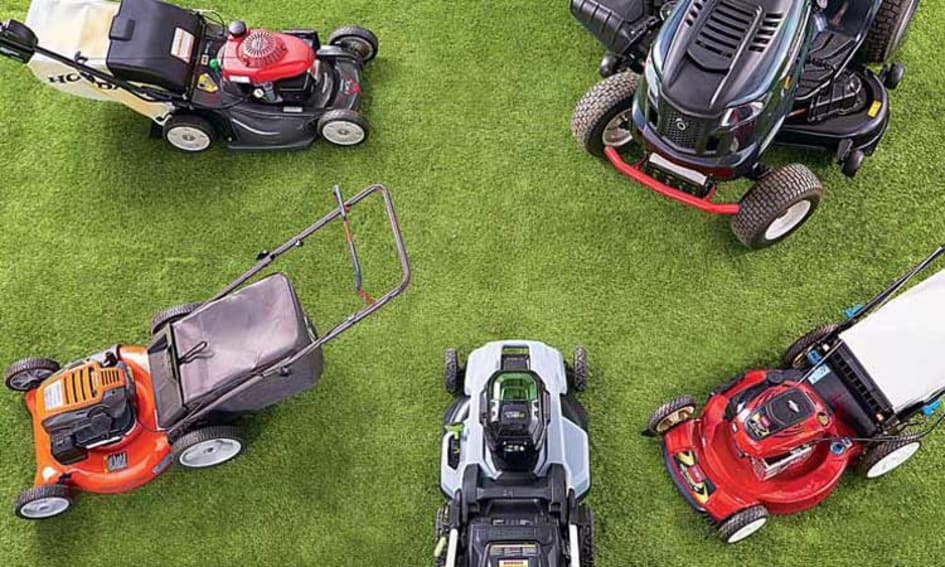 Features We Favor on Lawn Mowers & Tractors
Depending on how much you want to spend, there's a wide selection of mower features and options available. Don't load up on any you won't use—it's best to cut costs as well as the grass. 
Lawn Mower & Tractor Brands
Black+Decker manufactures battery-powered and corded lawn mowers. With deck sizes that range from 12 to 20 inches, Black+Decker push mowers are suited for smaller yards. They're sold at Home Depot, Lowe's, and Walmart. Prices range from $120 to $400.
Craftsman is one of the market leaders in mower and tractor sales. All Craftsman mowers are made by MTD. Craftsman lawn tractors run the price spectrum from rear-drive models priced around $1,300 to fully featured, hydrostatic drive units that cost more than $2,000. Most Craftsman lawn tractors feature Briggs & Stratton engines, and the 42-inch-deck models are among the most popular. The majority of Craftsman walk-behind mowers are gas-powered, but the company also offers corded and battery-powered electric models. Most models feature a Honda or Briggs & Stratton engine and have side-discharge, rear-bag, and mulching modes. Craftsman also markets a line of garden tractors and zero-turn mowers. Craftsman products are sold at Ace Hardware and Lowe's.
Cub Cadet produces and markets lawn mowers, tractors, and zero-turn mowers. Cub Cadet makes both self-propelled and push mowers with engines made by Cub Cadet and Honda. Models are sold at Home Depot and independent dealers. Cub Cadet's parent company is MTD.
Ego manufactures 20- and 21-inch push and self-propelled mowers, all operating on 56-volt batteries. The mowers are sold at Lowe's, and Ego's prices range from $350 to $750.
Honda is a prominent engine maker and sells a premium line of lawn mowers. Honda lawn mowers are known for innovative features and tend to come at top-dollar prices. Honda makes gas-powered lawn mowers with unique drive systems, mulch control, and steel and plastic decks. Honda does not make electric mowers. Honda mowers are among the most expensive on the market and are sold through dealers and at Home Depot.
Husqvarna makes tractors and zero-turn mowers for the U.S. consumer and commercial markets. Husqvarna has a large dealer base, and Lowe's and Sears carry the brand. Husqvarna lawn tractors are fully featured and have deck widths in the widely sold 42- to 54-inch range. Most models have hydrostatic drive systems and Briggs & Stratton engines.
John Deere makes and markets one of the best-selling lines of lawn tractors at retail. John Deere lawn tractors are fully featured and have deck widths from 42 to 54 inches. Most models have hydrostatic drives and Briggs & Stratton engines. John Deere lawn tractors are sold at dealers, Home Depot, and Lowe's. The company also markets a line of garden tractors and zero-turn mowers.
Murray is owned by Briggs & Stratton, one of the top engine makers. Its walk-behind mowers are aimed at the value segment of the market.
Ryobi is a leader in the battery-powered and corded outdoor power tool market. Ryobi manufactures push, self-propelled, ride-on, and zero-turn mowers. Walk-behind mower prices range from $200 to $600. Ride-on prices range from $2,400 to $5,000. Ryobi lawn mowers are sold at Home Depot.
Simplicity and Snapper are owned by Briggs & Stratton, one of the top engine makers. They are sold by independent dealers and are premium-priced compared with products found in most home centers.
Toro makes and markets lawn mowers and zero-turn mowers under the Lawn-Boy and Toro names. Most Lawn-Boy and Toro lawn mowers are self-propelled and fully featured, and they have Briggs & Stratton and Honda engines. Toro mowers are sold through dealers and at Home Depot. Lawn Boy mowers are sold at Menards and through dealers.
Troy-Bilt, owned by MTD, makes and markets self-propelled and push lawn mowers, tractors, and zero-turn mowers. Engines are made by Briggs & Stratton, Honda, and Troy-Bilt. Models are sold at Home Depot and independent dealers.
Other notable brands of lawn mowers and tractors include Ariens, Dewalt, Gravely, Greenworks, Makita, Oregon, Stihl, Sun Joe, and Worx.
Thanks for sharing.
Oops, we messed up. Try again later
Recently Tested Lawn mowers and tractors
BEST TIME TO BUY:
April, September
Do you know when is the best time to buy Lawn mowers and tractors? Learn more
More From Consumer Reports