When you shop through retailer links on our site, we may earn affiliate commissions. 100% of the fees we collect are used to support our nonprofit mission.
Learn more.
If you're not already using some type of streaming video service, guess what: You'll soon be in the minority. But while there's a lot of talk about cord cutters, our recent surveys show that it's still a relatively small percentage of users.
To gain a better understanding of how we're using streaming video services to supplement or replace traditional pay TV services, Consumer Reports surveyed a representative sample of more than 1,000 U.S adults by phone in early February 2016. We also analyzed responses to our annual questionnaire of more than 82,000 Consumer Reports subscribers.
Among the key findings was that almost half of U.S. households—47 percent—now use some type of streaming service, whether it's a subscription service like Netflix, or a pay-as-you-go one such as Apple iTunes.
With the growing availability of such alternatives to pay traditional TV, cord-cutting has become a popular point of conversation. But are people really ditching their cable, satellite and telco TV providers?
Not yet in a major way. Our surveys show that while traditional TV services continue to lose customers, cord cutters makes up a trickle of users rather than a torrent. Despite the widespread availability of both paid and free advertising-supported streaming services, more than two-thirds of us—68 percent—still subscribe to a cable TV or similar pay TV service. Perhaps more surprising is that nearly three-fourths of cable subscribers deciding to keep cable say they won't drop it because they're relatively happy with their provider.
In the table below you'll find additional reasons that people provide for sticking with a pay TV service.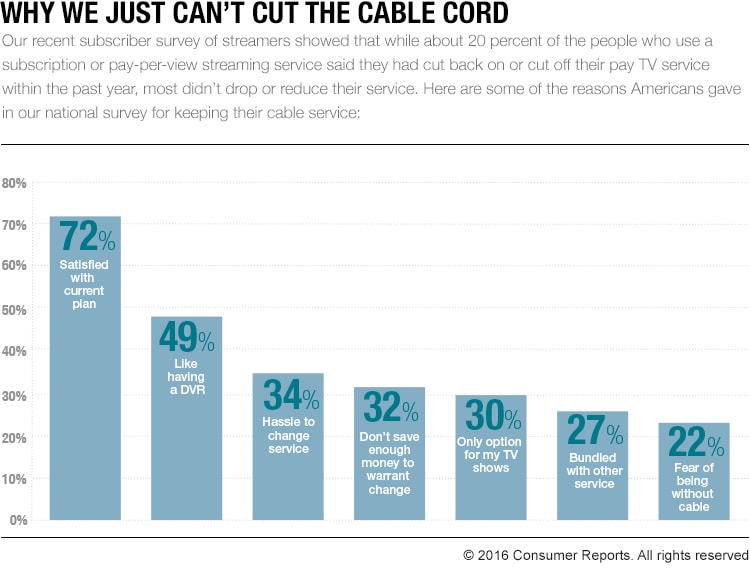 Streaming Is Having an Effect
But streaming is prompting at least some people to cut back on cable. For the 20 percent of Consumer Reports subscribers who have decided to either reduce (11 percent) or completely eliminate their cable connection (9 percent), about a third say they did so due the availability of streaming options. Not surprisingly, rising pay TV rates were the single biggest motivator for Consumer Reports subscribers trimming or eliminating their pay TV service. But convenience is another big factor: More than two-thirds of the streamers in our nationally representative phone survey said they found it either faster or easier to find shows and movies through a streaming service than on cable TV.
If you are thinking about untethering from your pay TV service, there are a few things to consider. One is that many cord cutters find that the same company that supplies them with TV programming also provides their Internet service, and the price for broadband service often rises when you debundle it from a TV service. So the savings could be less than you were hoping. You might also need, and have to pay for, a faster connection if you're getting more entertainment via streaming.
Another cord-cutting obstacle is finding a way to get live local broadcast channels, such as ABC, CBS, Fox, and NBC, which usually aren't offered by streaming services. (Hulu is the notable exception.) You can get these channels for free using an antenna, but not everyone can get great reception with one. Sling TV now offers a local channel—either Fox or ABC, depending on the plan—in some markets, but it's still quite limited.
Then there are sports. In fact, live sports have been called the glue that keeps viewers stuck to cable packages. ESPN isn't yet available as a standalone streaming service (though it is included in some cord-cutting services such as Sling TV). Some professional sports leagues, such as MLB, the NBA, and the NHL, offer monthly or yearly online subscriptions, but local games could be blacked out, and it can be expensive to subscribe to multiple individual sports leagues.
Finally, make sure your Internet service is fast enough to handle the extra load. Your broadband speed will help determine picture quality, since Netflix and other services adjust the signal you get based on the quality of your Internet connection. Netflix and others say you'll need a speed of at least 5Mbps to stream high-def video, but that's just for one user at a time. Most homes will need 10Mbps or more, and the FCC recently updated its definition of broadband to 25Mbps. (That's also about what you'll need if you're streaming 4K videos with HDR.) And if you're connecting to your network using Wi-Fi, make sure you have a modern, relatively quick router.
More Streaming Options
While major subscription services, such as Amazon Prime, Netflix, and Hulu, tend to get all the attention, there's now a dizzying array of streaming options from which to choose. For instance, some premium cable networks, including HBO and Showtime, now offer standalone streaming services that don't require a pay TV subscription.
In general, subscription streaming services make the most sense for those who watch a lot of shows and movies, and for fans of original series, such as Netflix's "House of Cards" or Amazon's "Transparent." Hulu is the best way to get TV shows from the major networks, and it's starting to branch out into original fare such as the J.J. Abrams–produced time-traveling political thriller "11.22.63," based on the Stephen King novel about an attempt to prevent JFK's assassination.
Pay-per-view services, including Amazon Video, CinemaNow, FandangoNow (formerly M-Go), and Vudu—tend to work best for those who watch only an occasional movie or show, and whose tastes run more to current theatrical releases and recent Hollywood blockbusters.
But there are also a growing number of lesser-known services that cater to more niche interests. We highlighted seven of them in our recent article on Netflix alternatives; they range in price from free, ad-supported sites to $10 a month. One of them—Acorn TV, a $5-per-month service that specializes in British TV fare—recently topped our new Ratings of streaming services. In the chart below, you can see the most popular other services used by Netflix subscribers.
Other Services Used by Netflix Subscribers
| | |
| --- | --- |
| Service | Percent |
| Acorn | 1 |
| Amazon (both Prime and Video) | 46 |
| Apple iTunes | 13 |
| GooglePlay | 2 |
| HBO Now | 3 |
| Hulu | 12 |
| M-Go (FandangoNow) | 1 |
| Sling TV | 2 |
| Vudu | 3 |
Finally, with more of us using multiple streaming services, sifting through them all individually to find the content you want to watch can be tedious. These five cool sites and apps will do the hunting for you. Most will let you create a watchlist of TV shows and movies you want to see, and get alerts when they become available on a streaming service or when their price drops. Some of these tools have a social aspect so you can share your lists with friends.
If you've recently joined the cord cutters club or have been thinking about making the move, let us know in the comments section. And tell us which streaming services you're now using as an alternative.
Editor's Note: This article was adapted from the June 2016 issue of Consumer Reports magazine.