Best Apps for Finding Where Shows and Movies Are Streaming
Free apps and websites now search hundreds of channels and services to help you find favorite films and programs It's truly a modern problem: You want to watch a particular TV show or film that's probably streaming somewhere, but you can't remember whether it's on a subscription streaming service, such as Amazon Prime, Apple TV+, Disney+, Hulu, or Netflix; on a free one, such as Pluto TV or Tubi; or available only as a pay-per-view option, on Apple iTunes or Vudu, for example. Or maybe your movie isn't available at all. Sifting through each service separately can be tedious.
There are easier ways to find out what's streaming.
Most streaming media players, including Amazon Fire TV, Apple TV, and Roku, will look through multiple services to find specific titles. Many smart TVs will now do the same. But the search functions aren't always easy to use, and they can be limited in what they find. More often, I've been relying on some free websites and mobile apps that do a much better job of hunting.
Website, and Android and iOS Apps
A while back, JustWatch (shown at top) upped its game by acquiring rival GoWatchIt, and its coverage has greatly expanded during the past two years. It has a large list of supported subscription services, including newer ones such as Apple TV+, Disney+, HBO Max, Paramount+, and Peacock. It also works with several free ad-supported ones.
The service is easy to use: You enter the movie or show you want to watch and JustWatch will tell you where you can stream it. If it's available to rent or buy, it will show you where to find the lowest price. JustWatch will also make movie and TV show recommendations based on what other people with similar tastes are watching.
The site's home page shows you what's new and popular. You can add TV shows and movies to your watchlist by using a bookmark icon, and you can limit searches to services you already use by choosing them from a row of icons.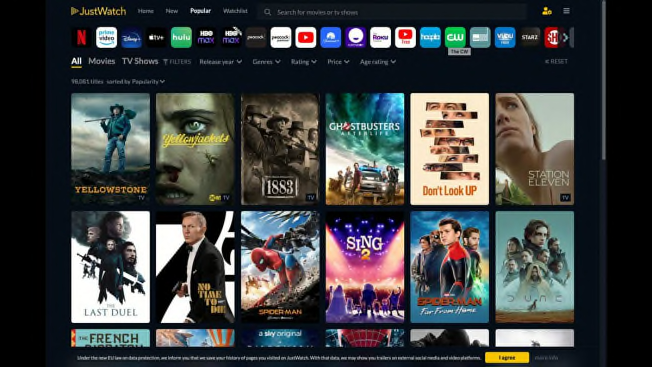 JustWatch organizes titles in dozens of ways, including by genre, what's highly rated or trending, and what's new to a service. It can even offer selections based on what mood you're in. Now that many movie theaters are open again, JustWatch also shows you the top five movies currently playing, and provides alerts when they become available for streaming on one of your services.
JustWatch now has a Play on TV feature, which lets you choose and play content for your television right from the smartphone app. You need to have JustWatch apps on both your smartphone and the TV for that to work, and they both need to be signed on to the same WiFi network. You choose the program or movie on the smartphone app, tap Play on TV, and the JustWatch TV app launches the selected streaming service. The TV app is available for Android and Google TV, Apple TV, Fire TV, LG and Samsung smart TVs, and Xbox consoles. It also works with Roku devices using the smartphone app by itself; you don't need the JustWatch app on the Roku.
You can access JustWatch using a web browser on your computer and through Android and iOS phone apps. One app exclusive is that it can give you daily deal updates on rentals and purchases.
Website, and Android and iOS/tvOS Apps
Reelgood has recently greatly expanded the number of streaming services and TV channels it tracks, now covering over 150—and counting. It's the site I currently use the most.
When you first sign up, you check all the services you have access to, and Reelgood searches across all of them. (It helped me realize that I now subscribe to a dozen paid streaming services—yikes!) You can add "free" as a search item, and it will look for free content from networks, along with platforms such as Crackle, PlutoTV, and Tubi.
Reelgood covers all the major subscription services, such as Amazon Prime Video, Hulu, and Netflix; niche ones like Acorn TV and Mubi; and premium channels, such as HBO and Showtime. It also includes Apple TV+, Disney+, HBO Max, Paramount+, and Peacock, to list just a few. Reelgood will also check TV Everywhere channels you can stream if you subscribe to a traditional pay-TV package. There's also a section where you can find out where to rent or buy newer movies from pay-per-view services such as Amazon, Apple iTunes, and Vudu.
You can browse by title or genre, or simply scroll through rows of recommended content organized under headings such as "What's Popular," "Trending," and "New." You can also explore what's coming soon and what's leaving soon, to help you prioritize what to watch next. Once you find something you want to watch, press the play button and it will launch that service with your show pulled up.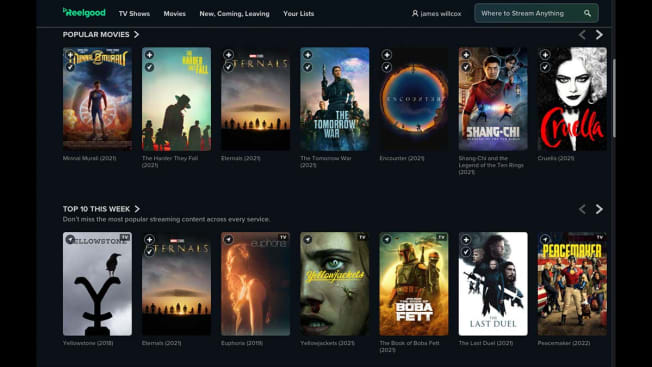 The service also lets you follow shows and movies. For TV shows, click "Track Series" on the show's product card to build a lineup of unwatched episodes. For movies, click the "Want to See" button on a title to add it to a watchlist. Your "Watch Next" section will let you know when new episodes or movies are available.
Reelgood's Play to TV feature lets you play anything available on the Reelgood app directly on your smart TV just by clicking on the icon. Right now this feature is supported on Android, Fire TV, LG, and Roku smart TVs. When you select a program, it shows you a list of supported devices on your WiFi network, and you simply tap the one where you'd like to play it. You can use the app as a basic TV remote control.
You can access Reelgood online via its website, and it now has apps for both Apple iOS and Google Android smartphones as well as for Apple TV (tvOS), Android and Fire TVs, plus LG smart TVs. There's no Roku app yet, but you can use the Reelgood mobile app on your phone to play content through your Roku player or TV.
Website, and Android and iOS Apps
This service, self-described as a TV show and movie calendar, is newer to me; it's an app that lets you track shows and movies, discover which ones you should watch next, and get notifications when new ones you want to watch become available. You can also search for new movies or TV shows using the search bar, or find new content using a Discover icon at the bottom of the page. You can't, however, watch shows directly from the app.
When you visit for the first time, you're asked to pick the shows and movies you either watch or plan to watch from a scrolling list. You can also note where you left off on a TV series, so you'll start an episode right after the one you viewed, or where you left off in the show if you didn't finish it.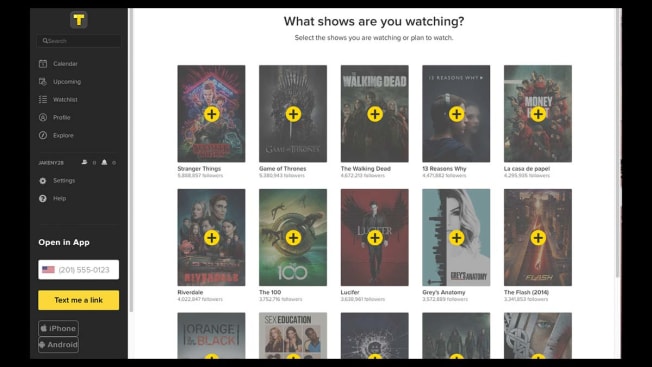 The app has two main sections: Watchlist, which has the shows and movies you track, and Upcoming, which lets you know on a calendar when the next episodes or seasons of shows you're tracking will be available. In addition to tracking programs and movies and finding out where to watch them, you'll get recommendations for content based on what you've watched. Once you mark a show as watched, you can rate it or attach an emoticon to it, and indicate which are your favorite characters.
Using the Discover feature (called Explore on the website), you can get program recommendations based on the shows or genres you've already watched, or see which movies and series are trending among other users of the service. A "Discover More" section lets you filter your search by genre, status, and more. You can also see which shows or movies have been watched by your friends, and what other fans of the show are saying without getting spoilers. You can earn various "badges" for your profile by commenting and interacting with the TV Time community.
When you make a selection, you'll get sent to the streaming app, but there's no option to play it directly on your TV as you can do with other services.
Android and iOS Apps
Like the other apps, Watchworthy allows you to find shows by choosing the services you subscribe to or use. What makes Watchworthy stand out is that it does a nice job of providing personalized, crowdsourced recommendations from its parent company, Ranker. You can build a watchlist of shows from TV networks and more than 200 streaming services, including popular ones such as Amazon Prime, Apple TV+, Disney+, Hulu, Paramount+, Peacock, and Netflix. Right now the service doesn't track movies, but the company says that's on its radar.
To get started, you need to spend about a minute swiping left and right, liking and disliking shows. (You can swipe up if you're not quite sure.) Then, Watchworthy starts sending recommendations of other programs you'll probably like based on your responses. Each show on the list of recommendations will feature a "worthy" score that indicates just how probable it is that you'll love it. (You can find these shows in a "Worthy" section of the app.) You add recommendations to your watchlist by clicking on a plus sign.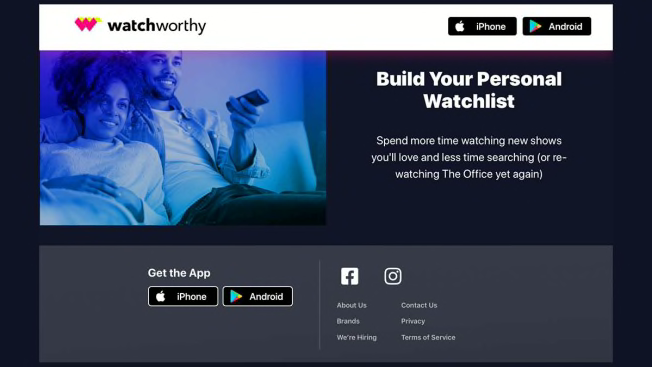 Like the other services, Watchworthy lets you limit your results to see shows only from services you have access to. You can filter shows by air date, streaming service and genre, or even by MPAA rating if you have kids. There are also curated content selections organized around themes such as The Weekly Buzz, Workplace Comedies, Funniest Shows, or British Sitcoms, organized by their worthy score. Once you've selected a show you want to watch, you can start watching it either directly from your device or by casting it to your TV.
Although the company has promised it will be adding movie recommendations to the app later, so far that hasn't happened this year. Right now, Watchworthy is available as either an Android or iOS app, but the company says later this year it will add apps for additional devices, including Amazon Fire, Apple TV, and Roku streaming players.
Android and iOS Apps
The newest entry of the group, Qewd is a free app for Android and Apple mobile devices that not only helps you find where shows and movies are streaming but also includes a social element that lets you get recommendations from your network of friends, family, and even brands and influencers you follow.
When you download the app, you can enter the major streaming platforms you subscribe to and use most often, enter favorite genres, and sift through a list of free ad-supported services you use. In addition, users can create and share broad ("favorite comedies") or specialized ("movies starring Keanu Reeves") Qewd watchlists. Because Qewd connects to all streaming services, you can watch shows and movies with a single click.
In addition to helping you find out where shows and movies are streaming, Qewd acts a "concierge"—the company's word—that lets you bookmark content, and access and watch all of the services you subscribe to, as well as TikTok and YouTube, directly from the app. And when content jumps from one service to another, Qewd will automatically update its lists, the company says, taking you to the platform that currently has the title.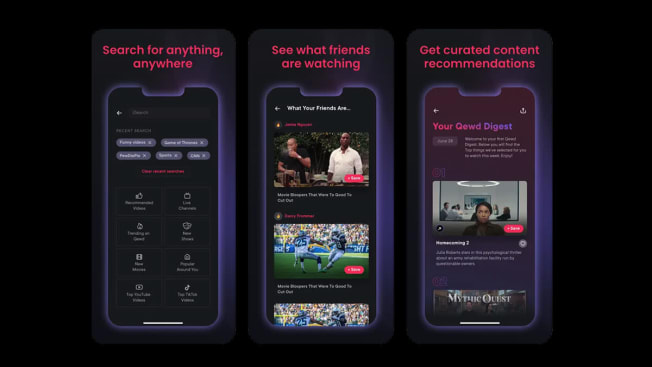 Like other apps, Qewd keeps track of what you watch and like so that it can recommend movies and shows it thinks you'll like. But to get recommendations from family and friends for the "What Your Friends Are Watching" section, you'll have to share access to your contacts with Qewd—something we imagine not everyone will be comfortable doing.
Other features of the app include the ability to collect videos from anywhere on the internet—Reddit, Twitter, or any website you want—and save them in your playlist for playback later. You can also curate personal watchlists and share it with friends, family members, and colleagues, or on your social media sites.