When you shop through retailer links on our site, we may earn affiliate commissions. 100% of the fees we collect are used to support our nonprofit mission.
Learn more.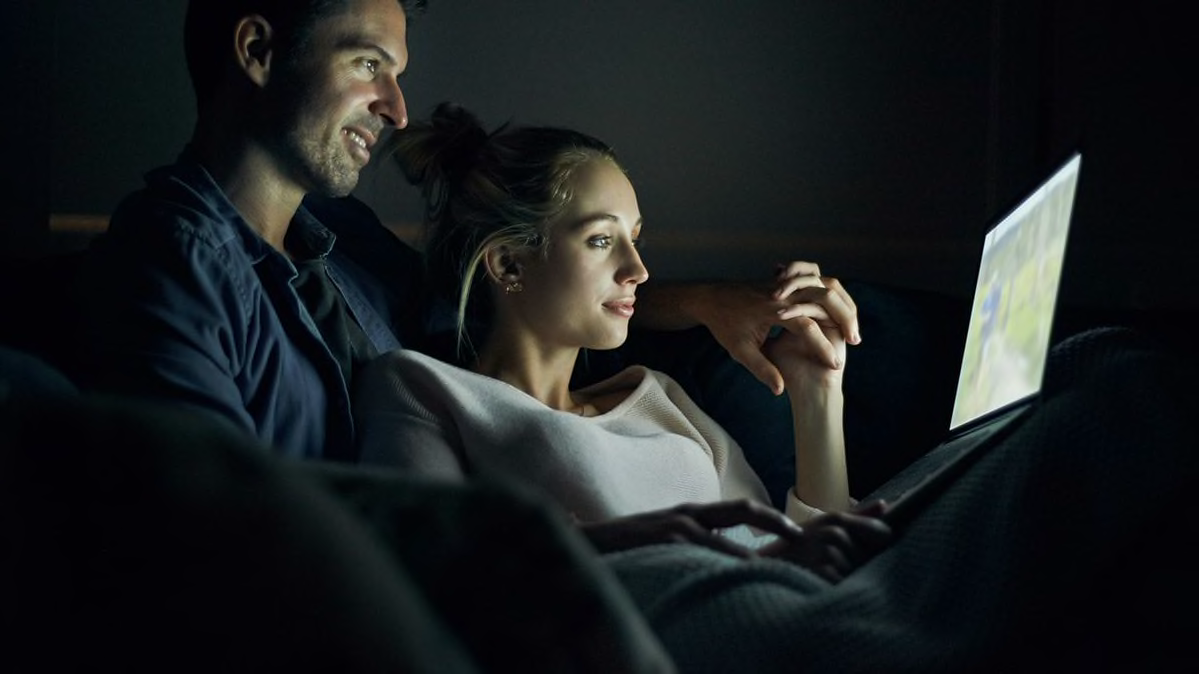 Cable TV channels used to keep you tethered to traditional pay TV. But a number of online video streaming services can give any cord cutter with an internet connection unprecedented TV-watching freedom.
Subscription streaming video services such as Amazon Prime and Netflix have been around for years. What's newer are video streaming services, such as AT&T TV Now and Sling TV, designed to replace a typical cable TV package.
Because the content you get with these cable-replacement services, especially local channels, can vary by region, you should go to each company's website, plug in your ZIP code, and see which channels are available in your area. These video streaming services have been adding more local broadcast channels, such as ABC and CBS, but they're not always available in smaller communities.
If you're missing some local channels, consider adding an antenna to get free over-the-air broadcasts. When we tested 10 indoor models, our testers found that sometimes the picture looked even better than what they were getting from cable.
All the cable-replacement services offer some type of free trial period, so you can try before you buy. Because most require a credit card number, you'll have to keep track of when the trial period ends and cancel if you don't want to continue the service.
Prices for many packages have been rising, as detailed below. Because the details can change often, it's important to check the latest offers before signing up.
AT&T TV Now (formerly DirecTV Now)
Monthly bill: $55 to $145.
What you get: AT&T TV Now, the new name for the service formerly known as DirecTV Now, should appeal to anyone who wants DirecTV service but not the satellite dish. The company recently changed its cheapest plan to $55 from $65 a month—while also cutting HBO from the package. Presumably, this move was related to a new HBO Max subscription service, which launched in May 2020 at a price of $15 a month.
AT&T has also let DirecTV Now/AT&T TV Now and U-verse TV customers know that it's dropping the NFL Network. That programming will still be available to regular DirecTV satellite TV subscribers.
And there's an issue for new subscribers: You can no longer add the AT&T TV channel to your Roku device. Those who already have the app can keep using it as long as they don't delete it. In a website post, AT&T said it's trying to work out a deal with Roku and hopes to have the issue resolved soon.
AT&T now has two promoted plans. The $55-a-month AT&T TV Now Plus plan has about 40 channels, but no HBO. The $80-a-month AT&T TV Now Max remains unchanged, with about 60 channels, and HBO and Cinemax, plus a number of sports channels, including regional sports.
Both plans include a free cloud DVR with 20 hours of free storage, and two users can stream at the same time. You can get a third simultaneous stream for an additional $5 a month.
The company also offers several other step-up plans, from $93 (65+ channels) to $135 (125+ channels) a month. An $86-a-month Spanish-language package, with more than 50 Spanish and 40 English channels, is also available.
AT&T has cut back on its promotions, which had offered a free Apple TV or other streaming device if you prepaid four months for the services.
AT&T also says it will no longer be promoting the AT&T TV Now or AT&T WatchTV services, instead focusing on its new satellite TV replacement service, called AT&T TV, which is now available nationally.
What you don't get: Live TV still isn't available in some smaller markets, and the new plans eliminate some popular networks that were available under the older plans, including A&E, AMC, and Discovery.
FuboTV
Monthly bill: $60 to $80.
What you get: The sports-centric FuboTV offers a mix of live and on-demand channels from broadcast networks (CBS, Fox, and NBC in most markets), cable channels (A&E, Bravo, SyFy, USA), and sports networks (BeIn Sports, FS1, Golf Channel, NBA TV). Until very recently the service had TBS and TNT from Turner, which offer NBA and NCAA basketball, Major League Baseball, and PGA golf. There's also a robust roster of regional sports networks—including those from NBC—for MLB, NHL, and other local team action.
The service is finally getting ABC and ESPN, too. Thanks to a recent deal with parent company Disney, which owns ABC, this summer FuboTV will add not only ESPN, ESPN 2, and ESPN 3 but also the SEC and ACC networks in certain markets. It will also get ABC, ABC News Live, Disney Channel, Disney Junior, Disney XD, Freeform, FX, FXX, and National Geographic. It's not clear yet how the new stations will be packaged within Fubo's tiered plans.
However, it appears that this new content is coming at a cost, as the company just announced that it is hiking the price of its Family bundle from $60 to $65 a month starting Aug. 1. Standard plan subscribers who currently pay $55 a month will be automatically moved over to the Family plan. You can opt out of this move, but you'll still pay the same $60 a month for the lower-tier plan with fewer channels, unless you cancel the FuboTV service altogether. The company didn't say anything about its $80-a-month Ultra plan, which has about 185 channels, plus Extra, Sports Plus, and Showtime add-on packs.
Along with the higher pricing comes the news that FuboTV has been unable to reach a deal with WarnerMedia, so channels such as Adult Swim, Cartoon Network, CNN and CNN Espanol, HLN, TBS, TCM, and TNT have left the service—for the moment, anyway. The loss of TBS and TNT, which show MLB and NBA games, could be tough for a sports-centric service, especially because FuboTV also recently lost Fox regional sports networks and the YES network, which shows Yankees games.
FuboTV was among the first streaming sites to offer sports in 4K; it showed 2019/2020 season Thursday night NFL games on Fox in 4K with HDR (HDR10) via the Fox Sports app. We expect to see more live sports in 4K with HDR in 2020.
For 4K HDR content, the company recently expanded the list of supported 4K streaming players to include Amazon Fire TV 4K and Amazon Fire TV Cube, Apple TV, Chromecast Ultra, and Roku's Premier, Premier+, and Ultra models.
This spring, FuboTV completed a merger with the FaceBank Group, a celebrity- and sports-focused virtual entertainment company, which saw FuboTV become a wholly owned subsidiary of FaceBank. In turn, FaceBank has been renamed FuboTV.
What you don't get: Now that it's getting ABC/Disney and ESPN, FuboTV's biggest missing elements are Fox regional sports networks, and the YES Network, home to Yankees games. Plus all those Warner/Turner channels if the companies can't reach an agreement.
Hulu + Live TV
Monthly bill: $55 and up.
What you get: The Hulu + Live TV service offers about 70 channels, including major networks in some areas and sports channels such as CBS Sports, ESPN, and Fox Sports. You can watch on two devices at a time and record 50 hours on a cloud DVR.
But the service raised the price of the Hulu + Live TV service by $10, to $55 a month, a 20 percent price hike, at the end of 2019. That followed a $5 per month price increase earlier last year.
Hulu has cut the price of several add-ons. For example, both the enhanced cloud DVR, with more storage and the ability to skip commercials, and unlimited screens at home, which each cost $15 per month, are now $10 each per month. A combination of the two, which was $20 a month, now costs $15 per month. A second option, without ads, is now $61 per month, a $10 increase. Both services combine everything you get in the regular Hulu plan with the additional channels available on Hulu + Live TV.
What you don't get: Most streaming devices are now supported, but right now the network doesn't include AMC or Viacom (Comedy Central, MTV, Nickelodeon).
Sling TV
Monthly bill: $30 and up.
What you get: With recently updated pricing, Sling's Orange package is now $30 and includes about 30 cable channels but no broadcast TV. It supports one user at a time. Sling Blue, also $30 per month, supports three users and has a different mix of about 40 channels, including local broadcasts and regional sports. (Among other differences, Sling Orange includes ESPN.) A combined plan costs $45.
Themed add-on packs cost $5 per month, and you can add some premium channels, including Showtime ($10) and Starz ($9). Sling is currently running a promotion that gives you $10 off any of the main Sling services, but only for the first month.
Sling is also pushing a new promotion, called the Total TV Deal, which combines seven Extra programming packs—with content in genres such as sports, news, Hollywood, and comedy—with a cloud DVR with 50 hours of storage, for an additional $25 a month. Sling has also updated pricing for Sports Extra for Sling Orange customers. It now costs $10 a month, the same as for Blue subscribers.
Sling TV has a promotion, called the "4 Extras" deal, that lets you subscribe to Kids Extra, Lifestyle Extra, Comedy Extra, and News Extra all just for $12, or half the cost of getting them separately.
In addition to the $29-a-month NBA League Pass, Sling now also has a lower-cost NBA Team Pass, a separate plan that lets you get out-of-market games for a single NBA team. Team Pass costs $18 per month on top of a Sling Orange, Sling Blue, and/or Spanish-language services plan. Sling TV's latest promotion is a free Amazon Fire TV Stick when you prepay for two months of Sling service.
What you don't get: Sling lacks CBS, and Fox News is available only in some markets. And Sling doesn't offer HBO. Also, Sling subscribers outside of several major markets can no longer get NBC on-demand channels. Sling had provided on-demand NBC channels in markets where the live NBC channel wasn't available.
This affects all Sling TV subscribers who don't live in Boston, Chicago, Dallas/Ft. Worth, Hartford/New Haven, Los Angeles, Miami/Ft. Lauderdale, New York, Philadelphia, San Diego, San Francisco/Oakland/San Jose, and Washington, D.C. Sling is recommending that these subscribers try using an antenna to receive local NBC broadcasts.
Sling includes some Viacom channels as part of its plans, but others require that you purchase a $5-per-month add-on pack. But the service recently added the Discovery Channel. The cloud DVR is now more widely available and includes more channels and some new features, such as the ability to protect recordings from being deleted.
Sony PlayStation Vue
Note: Sony has shut down its PlayStation Vue service, one of the earliest streaming services to offer live TV. The company had reportedly tried to find a buyer before making the decision. It cited the escalating cost of licensing content and the increasingly competitive market for streaming services, and said it would focus on its core gaming business instead.
T-Mobile TVision Home
Monthly bill: $90 (at launch).
What you get: You get more than 150 channels plus local broadcasts and regional sports, and you can add premium channels for an additional monthly fee. The service will support 4K video when it's available. TVision Home launched last spring in just eight metro areas—Chicago; Dallas-Fort Worth; Longmont, Colo.; Los Angeles; New York City; Philadelphia; San Francisco; and Washington, D.C. Although it said it would be expanding the service, it hasn't so far.
Family members get their own profile and DVR, sharing 1TB of storage. The company says it will use artificial intelligence to make personalized recommendations. TVision supports both Amazon Alexa and Google Assistant, so you can use voice controls.
What you don't get: A lot of savings. Compared with other streaming services, TVision Home is pricey. For a limited time it will cost $90 a month for all subscribers, but after a promotional period only T-Mobile mobile customers will pay that price; others will have to pay $100 a month. There's also an extra $10-a-month fee for each additional TV you want to connect.
Right now the service is missing some key apps and services, including Amazon Prime, Netflix, and YouTube, though the company says they're coming.
YouTube TV
What you get: YouTube TV offers access to more than 85 channels, including all the major local networks, plus the original programming on YouTube Red Originals. It has a cloud DVR with unlimited storage and allows up to three simultaneous users and six individual accounts. And thanks to a recent expansion, the service is available in most national markets.
But the company recently hiked its monthly price from $50 to $65. This follows last year's jump from $40 to $50 a month. Current subscribers will see the increase in their bills in the first billing cycle on or after July 30.
The move comes as YouTube TV has finally reached a deal with ViacomCBS to bring eight of its channels—BET, CMT, Comedy Central, MTV, Nickelodeon, Paramount Network, TV Land, and VH1—to the service. BET Her, MTV2, MTV Classic, Nick Jr., NickToons, and TeenNick will be added at a later date.
The company has also reached a deal with WarnerMedia that will let YouTube TV subscribers get HBO Max service as part of a bundle. The service also lets you add premium cable channels, such as Showtime and Starz, and others, such as CuriosityStream and AMC Premiere, for additional monthly fees.
YouTube TV has a deal with Sinclair to keep 19 of the 21 Fox regional sports networks on its service. The bad news is that Fox Sports Prime Ticket and Fox Sports West aren't part of the deal, and Yankees fans have lost the YES Network. A deal for YES could still be reached before the baseball season resumes, though.
YouTube is also reportedly interested in acquiring the rights to NFL Sunday Ticket when its contract with DirecTV expires after the 2021-2022 season.
What you don't get: Now that YouTube TV has reached a deal with ViacomCBS and WarnerMedia (for HBO and HBO Max), it's filled its biggest content holes. But as noted above, some sports fans may miss Fox Sports Prime Ticket, Fox Sports West, and the YES Network unless new deals are reached.
Streaming Devices to Consider