When you shop through retailer links on our site, we may earn affiliate commissions. 100% of the fees we collect are used to support our nonprofit mission.
Learn more.
Redbox, best known for its bright red DVD/Blu-ray movie kiosks at grocery stores and other retail outlets, is planning to roughly triple the number of titles it offers in its new video-on-demand (VOD) streaming service, called Redbox On Demand, which launched in December.
The service, which is still in beta, isn't the company's first attempt at streaming. The company launched Redbox Instant, a hybrid disc/streaming service that was akin to the old combined Netflix service, as part of a joint venture with Verizon back in 2013.
However, the companies pulled the plug on the service just a year later. "Redbox Instant was a subscription service, and deviated from the 'no strings attached'" rentals that Redbox customers like, says Ash Eldifrawi, the company's chief marketing and customer experience officer. "On Demand provides our customers with instant access to the new release content we're known for, without a monthly subscription."
The new streaming service, which has been in development for about two years, is less like an all-you-can-eat Netflix plan and more like the pay-per-view services offered by Apple iTunes and Vudu.
Redbox consumers may prefer that, but it should also help the company keep costs down, says Dan Rayburn, principal analyst at Frost & Sullivan. "With a video-on-demand service, Redbox doesn't have the big upfront licensing costs you have with a subscription service" he says. Instead, the company pays a fee only when someone rents or buys a movie. But, Rayburn says, "The upside is similarly limited, since the appeal will mainly be to its existing kiosk customers."
Redbox is also bolstering its kiosk disc-rental business by offering 4K Blu-ray titles—many with HDR—as part of a test in six U.S. markets: Austin, Detroit, Los Angeles, Miami, New York, and Seattle. The titles—Disney-Marvel's "Black Panther"; Lionsgate's "The Commuter"; "The Matrix," from Warner Bros.; and "The Martian," from 20th Century Fox—cost $2.50 per night, or 50 cents more than a regular Blu-ray rental.
And the company just rolled out a new loyalty program, called Redbox Perks, that lets kiosk and on-demand customers earn rewards toward rentals, purchases, and eventually, other items.
More Streaming Options
Redbox On Demand is supported on a decent array of streaming devices, including Apple TV and Roku streaming players, smart TVs, computers, and Android and iOS mobile devices.
One of the key appeals of Redbox kiosks has been a low $1.50-a-day price for DVD rentals. With Redbox On Demand, you can stream older, catalog titles for $2, and new releases start at $4 for a 48-hour viewing window. You can buy movies for $10 and up.
Those prices are lower than what you'll often find on services such as iTunes and Amazon Video.
But the discounts are mainly reserved for titles in standard definition. A check of a few popular movies—"Wonder," "Blade Runner 2049," "Dunkirk," and "Wonder Woman"—showed that HD versions typically cost $6 for rentals and $15 or $20 to buy. That's comparable with other services, including Amazon Video, Fandango Now, and Vudu.
CEO Galen Smith says Redbox On Demand isn't really trying to compete with those more established VOD services.
"This is really about expanding our catalog, and therefore the options for our kiosk customers who may also want a digital solution," Smith told us at CES. "It's enabling us to go a lot broader and deeper than the selections we're able to offer in the kiosk. In fact, when we checked, about half of those trying the new streaming service were lapsed users, and about half were new users."
Right now Redbox On Demand doesn't have the breadth of selection offered by many of these other services, but it will be ramping up the selection significantly in coming months. "We launched with about 7,000 titles, but we expect to be at 20,000 titles by midyear," Smith said.
You won't find any Disney movies in that mix, however. The two companies are embroiled in a legal battle over Redbox's practice of selling consumers the download codes that come with DVDs and Blu-ray discs. Eldifrawi says that while he can't comment on pending litigation, "we feel very confident in our pro-consumer position."
Redbox On Demand will also lack 4K HDR titles, with no plans to add them anytime soon.
This is somewhat surprising because the company just became the first disc-rental service to offer 4K HDR titles. And it's something that other streaming services already offer, often at no additional charge.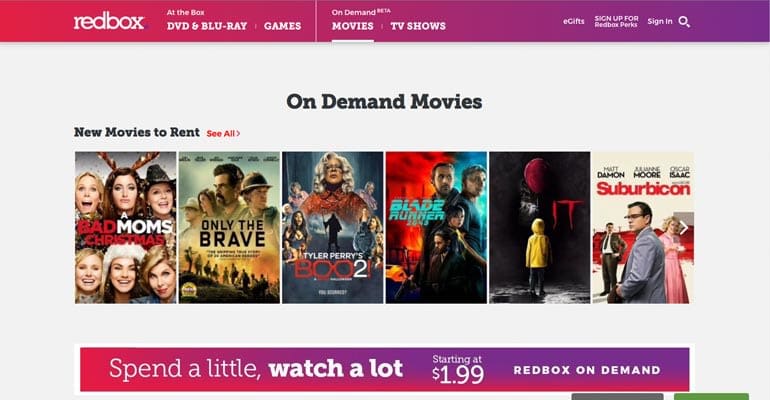 4K Blu-rays With HDR
Redbox's kiosk business is still going strong—there are currently about 42,000 kiosks throughout the country, located at grocery stores, dollar-store chains, Walmart stores, drug chains, 7-Eleven stores, fast-food outlets, Dollar General stores, and military bases. As a test, the company will start renting 4K Blu-ray titles with HDR in select markets this summer.
"For the 4K test, we'll carry the big box-office hits our customers expect from Redbox," Eldifrawi told us at CES. "Initially, we'll roll out in markets that have shown strong Blu-ray and video game rental performance for us, as well as strong sales of 4K TVs and Ultra UHD Blu-ray players."
Convenience and assortment are keys to the kiosks' success, according to the company. "More than 70 percent of the U.S. population is within a 5-minute drive to a Redbox kiosk," Eldifrawi says.
Each kiosk holds about 700 discs, representing up to 200 new release titles, including standard-definition DVDs, HD Blu-ray discs, and video games.
How the Loyalty Program Works
Redbox's new loyalty program, called Redbox Perks, replaces the old Redbox Play Pass one. If you had a Redbox Play Pass account, your points will automatically be rolled into the new Perks program.
The company says Redbox Perks offers more opportunities for customers to earn points toward rewards, such as free or discounted rentals or purchases of DVDs, Blu-ray discs, and on-demand content.
Members earn different status levels when they rent and buy movies and games, which allow them to unlock a variety of program perks. The company says that reward options from Redbox partners will be added soon.
Editor's Note: This article has been updated to include information about 4K Blu-ray disc rentals.