Best Gas String Trimmers of 2022
These powerful machines make quick work of high grass and tough weeds. Here are five that perform better than the rest.
When you shop through retailer links on our site, we may earn affiliate commissions. 100% of the fees we collect are used to support our nonprofit mission. Learn more.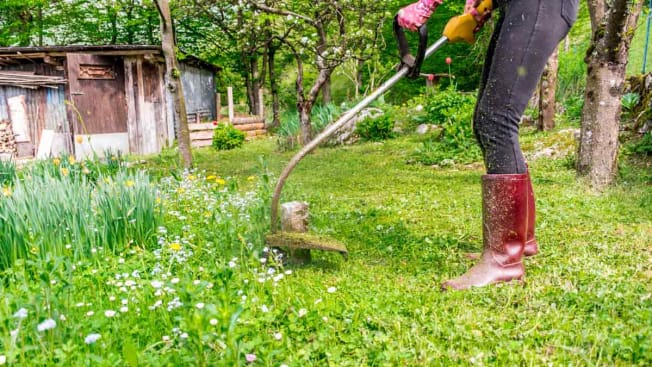 For decades, gas string trimmers were the only option for edging walkways, plowing through tough weeds, and trimming high grass in spots you couldn't reach with a lawn mower. Then came electric string trimmers, which were vastly better for the Earth but left plenty to be desired in terms of performance. Electrics have improved by leaps and bounds in recent years, but there are still two situations in which it makes more sense to go with a gas string trimmer:  
You have a large yard. A vast majority of the cordless electric string trimmers in our ratings last for 30 minutes or less, cutting on a single charge. Gas trimmers will run indefinitely as long as you keep adding gas.
You have lots of thick grass and weeds. "Tough tasks like cutting through thick weeds can really drain a battery quickly, while a gas tool can keep cutting, as long as you keep topping it off," says Misha Kollontai, CR's test engineer who oversees string-trimmer testing. For instance, the 30 minutes of run time you typically get with cordless string trimmers can drop to as little as 10 minutes in thick brush. 
How Consumer Reports Tests Gas String Trimmers
We use each trimmer to tackle stubborn yard weeds and high grass as well as dense brush, noting and timing how long each model takes to clear a defined path. We also test each model at edging, or its ability to create a neat and straight line along a walkway. And we look at how easy each model is to hold, maneuver, and operate, noting how difficult it is to feed extra line through the cutting head. For gas string trimmers, we also assess the relative ease of adding gas and/or oil, and how simple or difficult it is to yank the pull cord to start the engine. 
If you're still unsure about whether a gas string trimmer is right for you, check out our string trimmer buying guide. CR members can read on for ratings and reviews of the best gas string trimmers from our tests. For additional string-trimmer options, including corded and cordless electric models, see our comprehensive ratings, where you can filter for features such as price, engine size, and weight.
Best Gas String Trimmers: Curved Shaft
In general, curved-shaft string trimmers don't trim as quickly as straight-shaft models, but they do offer two advantages. First, they tend to be much cheaper. Second, some users (particularly those under about 5 feet 6 inches) find them easier to control. These two are the rare models that fare as well as straight-shaft trimmers in our ratings. 
Best Gas String Trimmers: Straight Shaft
Many straight-shaft trimmers are more powerful than curved-shaft trimmers. The straight shaft allows for faster cutting, especially through thick brush, and provides an extended reach to cover more ground from any given spot.