When you shop through retailer links on our site, we may earn affiliate commissions. 100% of the fees we collect are used to support our nonprofit mission.
Learn more.
Haven't bought a new string trimmer in a few years? Then you might be surprised to learn that it's not just gas-powered trimmers that offer enough oomph to cut the thickest growth on your property. The best cordless-electric models from Consumer Reports' string trimmer tests aren't the most powerful string trimmers you can buy—that distinction is still reserved for gas models in the top ranks of our recommendations, such as the curved-shaft Stihl FS 38, $140, and the straight-shaft Husqvarna 223L, $260. But the best cordless trimmers are definitely worth considering.

Most battery-powered cordless trimmers, and nearly all we've tested, have straight shafts that offer a longer reach. Such models tend to be better for taller users and for reaching beneath bushes and other shrubs. If you prefer a curved-shaft electric model, which tends to be lighter and easier to handle, consider the corded Black+Decker GH3000, $70, and the $90 GreenWorks 21142.
One more advantage of cordless trimmers: there's typically no need for hearing protection. For the majority of corded-electric models—and all the gas models but the $100 Ryobi RY252CS—we advise you use it.
Here are some winners among the cordless trimmers in our string trimmer tests,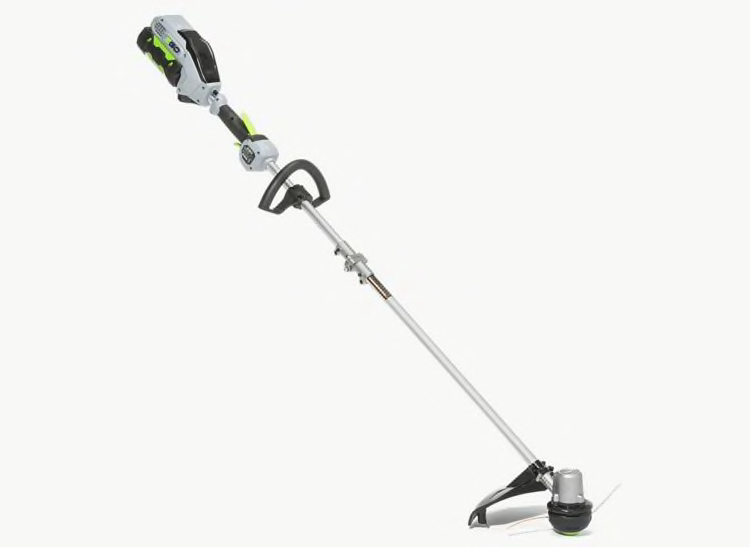 EGO ST1501-S, $180
Scoring the best of the bunch overall, the 56-volt EGO ST1501-S (shown above) was top-notch for general trimming and edging and still impressive in tall grass and weeds. What's more, it was well balanced—meaning easy handling. Dual lines cut more grass with each revolution than single-line models, and this model's are a beefy .095-inch. At 9 pounds, it's a tad heavier than the average for this category. Still, it charged in just 40 minutes after running roughly 24 minutes in our tests.
Ryobi RY40220, $180
The above EGO edged out all other electric models—corded or cordless—for general trimming. But the Ryobi RY40220 came close for edging and tall-growth trimming. The 40V Ryobi has a couple of perks the EGO doesn't have, particularly a rotating head (for easier edging) and a split shaft for swapping out the trimmer head with other tools, such as a hedge trimmer or a tiller. Where this model falls short is in its weight, 11.5 pounds, and its operating noise, not enough to warrant hearing protection but close. It ran for about 22 minutes on a charge; recharging took 90 minutes.
EGO ST1201, $160
For $20 less than you'd pay for the Ryobi RY40220 and sibling EGO ST1501-S, the 56-volt EGO ST1201 performed a notch lower but still well enough to earn our nod overall. General trimming and edging were impressive; clearing tall grass and weeds took longer, even though the dual 0.080-inch lines match those of the Ryobi. Handling and ease of use were top-notch, though this EGO also lacks the split shaft (for adding other attachments) and rotating head you'll get from its chief competitor. It charged in about 40 minutes after running roughly 13 minutes in our tests.
Toro 51488, $190
The 48-volt Toro 51488 didn't top our charts for battery-powered models, but it's no slouch. It was impressive at general trimming and even against tall grass and weeds, though we found it best for edging—aided by dual 0.065-inch cutting lines. While handling the 9.4-pound unit was easy, we found the controls awkward, hence this model's so-so score for ease of use. You'll have to do your trimming within this model's 13-minute run time. Recharging the lithium-ion battery takes about 60 minutes.
Two Also-Rans
The above cordless trimmers are sold mostly at Home Depot, but you should think twice about some cordless trimmers you'll find at home centers. The 58-volt Echo CST-58V2AHCV, $240 at Home Depot, is more of a prosumer model that, at more than 13 pounds, is among the heaviest cordless units we tested. Its general trimming, moreover, was just so-so.
And for $150 at Lowe's, the Kobalt KST120X was especially lightweight and has a rotating head for edging, for which it scored well. But its general trimming and tall-growth clearing were mediocre.
Our string trimmer Ratings of 65 models include 35 gas-powered string trimmers in addition to the 30 corded- and cordless trimmers. Check out our buying guide and Ratings for string trimmers if you haven't bought one in recent years.