Best Strollers for Bad Weather
Ice, snow, and rain are no match for these five models
When you shop through retailer links on our site, we may earn affiliate commissions. 100% of the fees we collect are used to support our nonprofit mission. Learn more.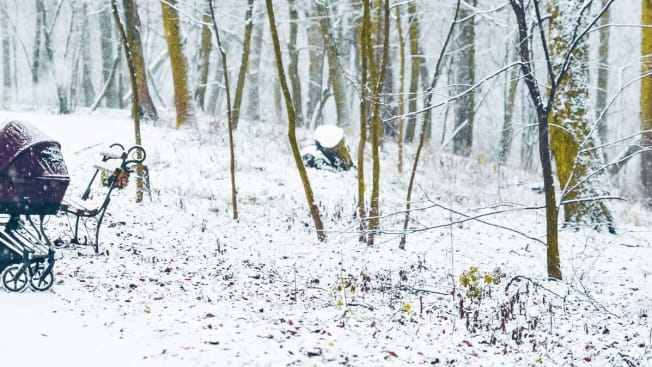 The only thing tougher than toting a child from one place to another is doing it in bad weather. So when Consumer Reports tests strollers, we look at every strap, buckle, and snap with an eye toward wrestling a tot into and out of the seat, making adjustments, and maneuvering each model through city streets or a suburban parking lot.
Every stroller that comes through our labs gets scrutinized for safety, maneuverability, and ease of use. What does that look like? With a toddler-sized weight strapped in, our expert testers push each model through a tortuous obstacle course of cones, where it's used on sharp S-turns; to run over bumpy, uneven terrain outdoors; and more.
We spend far more time than any parent should adjusting shoulder and lap straps, folding and unfolding each model, and changing the seat and backrest positions. Finally, we perform a set of industry standard safety tests, along with our own proprietary tests for braking and stability, to weed out any models that might topple over or fail to stop during use.
Best Car Seat Carrier Stroller for Bad Weather
Graco SnugRider Elite
Price: $100
CR's take: For quickly moving a baby from A to B, it doesn't get easier than a car seat carrier. The Graco SnugRider accepts almost any Graco infant car seat and lets you pop the seat out, with your baby snugly inside, and transfer the car seat to its base in a warm car. That means that any fumbling with belts and buckles can happen inside a house or store, and you won't get caught in the rain fighting with a lap harness. The SnugRider's frame is brushed metal with plastic sections and a large storage basket, all of which shed water well or readily dry out.
Best Convertible Stroller for Bad Weather
Chicco Bravo
Price: $230
CR's take: With large plastic wheels and an elevated storage basket, the Chicco Bravo is well-suited for keeping your little one (and his or your belongings) out of puddles. It's a solid performer, with high marks for maneuverability and ease of use—our testers found it a cinch to fold, plus it stands upright on its own when folded, which means you won't have to rest it on the wet ground after you collapse it. A slew of aftermarket weather covers are available, and it accepts most Chicco infant car seats, so you can easily move the seat from the stroller to its base in a car without wrestling with additional straps.
Best Single Traditional Stroller for Bad Weather
Thule Urban Glide
Price: $400
CR's take: If your child is too big for an infant car seat, you'll want a stroller that's built to withstand the elements—not simply minimize transfer time. The Urban Glide fits that bill with its large wheels, which make it one of the most maneuverable models in our ratings, particularly over uneven terrain such as a small snow pile. "It can be really difficult to push a stroller in snow," Muratore says. "This is one time when you really want a heavier model, with big, air-filled tires that can literally push through the mess." At 23 pounds, the Urban Glide fits that bill. It also gets solid marks for its easy-to-use harness straps, and it's a cinch to fold, once you're familiar with it.
Best Umbrella Stroller for Bad Weather
Maclaren Mark II
Price: $200
CR's take: An umbrella stroller may not seem like the most logical choice for bad weather, but the Maclaren Mark II weighs a mere 7 pounds. That means that while it isn't the best-suited for plowing through the elements head-on, it can be collapsed and carried quickly and easily, which you'll certainly appreciate if you're, say, rushing to catch a bus with your toddler.
Best Travel System for Bad Weather
Graco FastAction Fold Jogger Click Connect Travel System
Price: $300
CR's take: Travel systems comprise a stroller and a compatible infant car seat. Graco's is tailor-made for bad weather—the stroller itself has large wheels, which make it easier to maneuver in bad weather. And the included car seat snaps out in a flash and onto its base in a car with ease. Once your little one outgrows the seat—it's rated up to 35 pounds—the straps and safety harness are easy to use, and the entire stroller folds down quickly to stash in the house or the trunk of your car.