Some Student Borrowers Finally Starting to See Real Relief
Policy changes that could lower or eliminate payments are going into effect, but to be eligible people with loans may need to act fast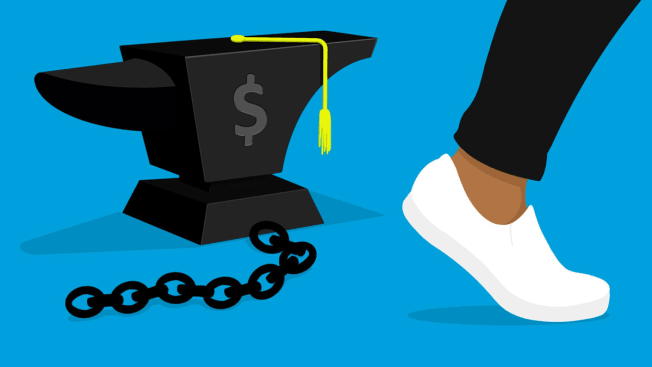 Fifteen years into her career as a behavioral therapist—much of it spent working with autistic and emotionally disabled children at a public K-12 school in Gilbert, Ariz.—Meghann Sherman says she still had $45,000 to pay on the $100,000 of debt she'd taken on to earn her degrees. 
Then, last October, Sherman heard that the Department of Education had temporarily expanded eligibility for the Public Service Loan Forgiveness Program (PSLF), which promises to erase any remaining student debt for borrowers who work in qualifying public-service jobs after 10 years of making on-time payments. 
Sherman applied and, in late November, got a letter showing her new loan balance to be zero—along with a refund check for about $700, because she'd made more than the 120 monthly payments required for forgiveness. 
"I can't even begin to describe the burden that was lifted," says Sherman, who is now building an emergency fund for the first time in her life. "I feel like I can breathe."
Many of the benefits of the new rules are supposed to happen automatically. But in some instances, borrowers need to take action—possibly soon, before temporary parts of these provisions expire. 
Here are critical upcoming deadlines to keep in mind.  
Aug. 31: As most people with educational debt know, Congress hit pause on all federal student loan payments in March 2020 to provide relief during the pandemic. Originally set to expire in September 2020, the pause has since been extended six times and is currently set to end Aug. 31. 
This restart date isn't directly related to loan forgiveness, but it's important to be ready when the pause ends. 
For one thing, the months that were covered by the pause are supposed to be counted toward both public service loan and income-driven repayment plan forgiveness. If that time puts you over either forgiveness threshold, you'll want to apply right away to make sure your loan is officially canceled before your next payment is due. (If you're not sure, make your payments upfront to avoid penalties and, like Sherman, you can be refunded later.)  
In addition, almost everyone carrying federal student loans—but especially those who expect to have trouble making monthly payments after the pause ends—should check now, before payments are due, to see whether they'd benefit from an income-driven repayment plan. Depending on your earnings and family size, your monthly payments could be reduced—maybe to zero. To get a quick idea of what you'd pay under IDR, use the Department of Education's loan simulator. And go to studentaid.gov to apply. 
If you were already paying off your loan under an income-driven repayment plan but your income has gone down or your family has grown, you may be able to lower your payments further. Check the loan simulator so see whether it'll help; if so, you'll need to "recertify" your plan at studentaid.gov or through your servicer. 
Finally, make sure that both StudentAid.gov and your loan servicer have up-to-date contact information for you before the pause ends. To reach your servicer, you can use this government-maintained list, but note that three of the biggest servicers—Navient, Granite State Management and Services, and FedLoan Servicing, which together were managing between 12 and 16 million loans—announced last year that they'd soon be leaving the business and transferring accounts to new companies. If you don't know your current servicer or your servicer was one of those exiting the business, check studentaid.gov or call the Federal Student Aid Information Center (FSAIC) at 800-433-3243 to find out.
Oct. 31: Many government and not-for-profit workers with certain types of student loans stand to benefit only if they take action by this date. 
Here's why: The PSLF waiver issued last October temporarily opened the program to borrowers who have Federal Family Education Loans (FFEL), Perkins loans, and some others that were not previously eligible—but, again, only if they take certain steps by Oct. 31. 
To start, you have to convert those loans into a so-called Direct Loan, which is the name given to all student loans made by the federal government after the other programs were phased out in 2010. To do that, go to this studentaid.gov page. 
Then, apply for PSLF using this online studentaid.gov tool, which will help confirm that you work for a qualifying employer and guide you through the application.
If you take those steps by Oct. 31, all payments you've made under FFEL and the other previously ineligible loan programs will be counted toward the 120 required for PSLF forgiveness.  
(If you already have a Direct Loan, the deadline doesn't affect you; you can apply for PSLF at any time. If you don't know what kind of loan you have, log in at studentaid.gov to find out.) 
Two Key Groups of Borrowers 
Two more groups of borrowers need to act soon to get the benefits of the new provisions, though their precise deadline is unclear. 
Non-public service FFEL borrowers: FFEL borrowers historically had very limited access to income-driven repayment plans. As part of the new provisions, however, the Department of Education said it would conduct a one-time "revision" counting all FFEL payments toward income-driven repayment plan forgiveness. The timeframe for that one-time revision remains unclear, but if you haven't converted your FFEL loan into a Direct Loan by the time it takes place, you won't get credit for your decade-plus history of payments. (The FFEL program was phased out in 2010, and these loans were left out of the COVID-19 payment pause, so anyone with a FFEL loan in good standing has been paying off their loan for at least 12 years.) To be safe, apply to convert your loan at studentaid.gov as quickly as possible.
Borrowers in forbearance: Some borrowers who have struggled to make loan payments in the past have been steered into long-term "forbearance" by their loan servicers. (Forbearance is different from the COVID-related payment pause, which was offered on all federally held student loans.) That does allow borrowers to temporarily stop making payments—but interest continues to accrue and progress toward loan forgiveness stops. Many of those people would have actually been better off in an income-driven repayment plan, under which monthly payments—which do count toward loan forgiveness—can be as little as zero. 
Now, as part of the new Department of Education efforts to correct past problems, some borrowers are being given a one-time adjustment, giving them credit toward forgiveness for time spent in forbearance. This should happen automatically for borrowers in forbearance for at least 12 consecutive months or 36 non-consecutive months. (Other forbearance time may be counted, but only if borrowers appeal proactively, before the adjustment, at studentaid.gov.) But, again, if you haven't converted your loan into a Direct Loan when the one-time adjustment takes place, you'll have missed out. And the precise timing for this adjustment is also uncertain, so act soon.