When you shop through retailer links on our site, we may earn affiliate commissions. 100% of the fees we collect are used to support our nonprofit mission.
Learn more.
BMW's all-new X3 makes a strong case to be considered as among the best luxury compact SUVs available. The redesigned SUV is impressive from driving enjoyment to comfort and utility. Audi, Lexus, Mercedes-Benz, and Volvo, you're on notice: The new X3 is a solid performer.
We bought an X3 xDrive30i and rented the higher-performance M40i version, with its 355-hp, six-cylinder turbo engine, to try them out side by side.
What We Bought: BMW X3 xDrive30i
Drivetrain: 2.0-liter, 248-hp turbocharged four-cylinder engine
MSRP: $42,450
Destination fee: $995
Options we added: Leather seating ($1,700); Convenience Package, which features a panoramic moonroof, comfort access keyless entry, satellite radio, and adjustable lumbar support ($2,850); Driving Assistance Package, with active blind-spot detection and lane-departure warning ($900); Premium Package, with heated seats, heated steering wheel, navigation, a head-up display, and remote services ($3,300); Park Distance Control ($750); Apple CarPlay ($300); and Wireless Charging ($500).
Total cost: $53,745
One of the first things you notice about the X3 is how impressively quiet the cabin is. Road, wind, tire, and most engine noises are well-muted. The X3 doesn't have the noticeable engine rattle that we observed in our tests of the BMW 330i, which uses the same engine.
Power delivery is smooth and nearly immediate, with some slight turbo lag. It's so smooth and strong that you might think it's a six-cylinder at first. There is plenty of power once you're up to speed, making it easy to pass without mashing the accelerator. However, when you do need more power, the 8-speed automatic transmission smoothly and promptly executes multigear downshifts. This is quite similar to our experiences in the 330i and 530i sedans we recently tested. Unfortunately, as in those cars, the electronic shift lever isn't intuitive to use and takes some getting used to.
Fire up the engine and put the SUV into drive, and you'll quickly notice the steering is direct and engaging, with an appropriate amount of weight for easy parking and driving confidence at high speeds. This contributes to the sharp, sporty handling, which gives you a feeling of control and precision, and encourages you to search out curvy roads.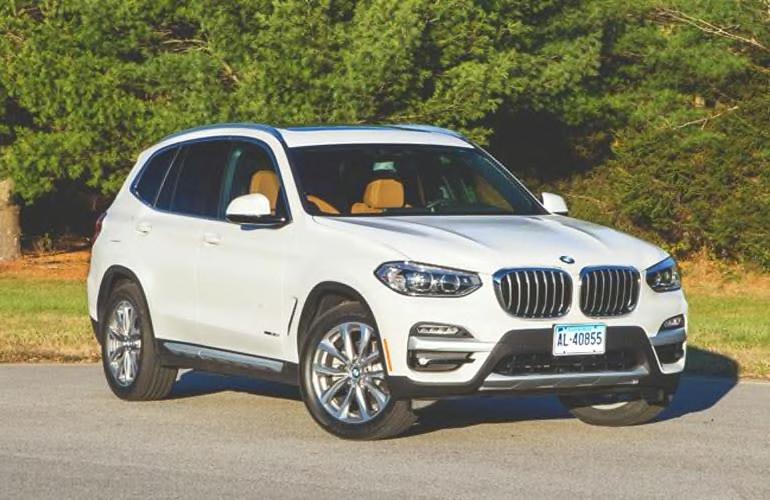 Yet that engaging suspension doesn't translate into a rough ride. On the contrary, the X3 does a good job soaking up ruts, bumps, and other road imperfections. The suspension is firm, which means you can feel a bit of the road surface as you drive along, but only big potholes or frost heaves come through as jolts through the 19-inch run-flat tires.
The M40i version of the X3 takes all of those attributes, paints them BMW M blue, and amplifies them. It's evident that the 355-hp, 3.0-liter turbocharged six-cylinder engine is on a different performance plane than the turbo-four engine. Power comes quickly and it's smooth, with a baritone sound that makes it seem as if the engine isn't being taxed at all. If the 30i is quick, the M40i is FAST.
Both versions use the same transmission, which has been fine-tuned to better match each engine's performance characteristics. The Sport mode in either X3 provides sharper throttle and transmission response.
Handling is more precise in the M40i, while the ride is far tauter and as a result compromises comfort with shorter, quicker pitches. While the M40i isn't a true "back in the day" M car like early M3s and M5s, the ride and louder, deeper growl from the engine and exhaust make this a vehicle for the enthusiast driver who is okay with these trade-offs.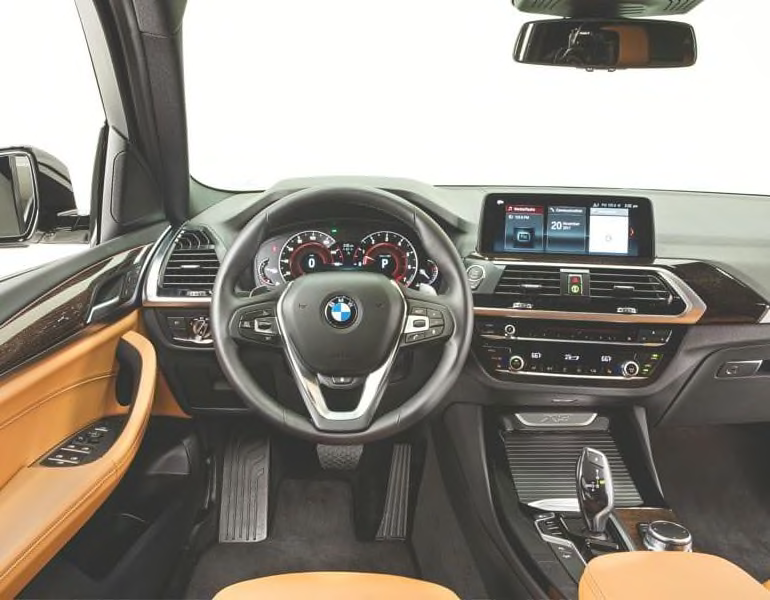 BMW has upped the ante with this redesign, creating an inviting interior that occupants will want to spend time in. Gone is the cold, austere cabin of past models. The base 30i is constructed with rich materials that are almost impeccably assembled. The stitching on the leather seats and surfaces is uniform and tight, and the plastic surfaces are all of high quality. Only one demerit stands out in both X3s: The interior grab handle to pull the doors shut has a poor transition from plastic to leather, exposing a rough plastic edge. That's about it.
The 3.0i's standard 10-way power seats are supportive and provide all-day comfort. Both front seats have adjustable side bolsters (part of the Convenience Package), which provide additional support when taking corners quickly. The M40i has 14-way adjustable sport seats, which have more pronounced seat-cushion bolsters.
Drivers have a good view from the roomy cockpit, particularly out the sides and back. It's a challenge to know where the nose of the X3 is in relation to curbs, walls, or a vehicle in front. Fortunately, the optional Park Distance control alerts the driver when approaching objects such as these when parking.
The controls, including the iDrive infotainment system and its 10.2-inch touch screen, are well-executed. Both X3s have BMW's superb head-up display, which not only projects the current speed onto the lower part of the windshield in front of the driver but also shows audio and phone information when steering-wheel buttons are used. We added the optional Apple CarPlay capability to the X3 we bought, which helps cut down on the need to interact with a mobile phone when driving.
The rear seat is roomy enough for two adults, though three can fit in a pinch. Young children won't have any problem scrambling up into the cabin, and those in booster seats will be able to reach and access the seat-belt receptacles and secure themselves.
Like most compact luxury SUVs, the well-finished cargo area is spacious enough for a family of four to take a weeklong road trip. Fold the second-row seats flat and there's plenty of space to swallow the goods from a big-box store.
Overall, the X3 is an impressive machine. But it's not perfect. BMW makes it quite difficult to find an X3 equipped with advanced safety equipment including high-speed automatic emergency braking. It's part of a $1,700 option package that is nearly impossible to find on X3s on dealer lots. In order to get it, you have to pay for other expensive option packages, including the $900 Driving Assistance Package, which includes forward-collision warning, low-speed automatic emergency braking, lane-departure warning, rear cross-traffic warning, and options of dubious value.
Both versions of the X3 are highly satisfying luxury compact SUVs, on par with the Audi Q5 and Mercedes-Benz GLC and far more enjoyable and substantial than the Acura RDX and Lexus NX. Check back with us as we finish putting miles on our X3 30i and through our testing program.