When you shop through retailer links on our site, we may earn affiliate commissions. 100% of the fees we collect are used to support our nonprofit mission.
Learn more.
As first blush, the 2018 Nissan Kicks seems to be a mediocre new entry into the subcompact SUV segment. It lacks the available all-wheel drive many of its competitors offer, and its four-cylinder engine creates a paltry 125 horsepower.

But after spending a week with our recently purchased 2018 Nissan Kicks SV, we found it has some key attributes that make it stand out from competitors. It's relatively quiet, rides comfortably, has simple controls, and offers excellent visibility. There's only meager power for highway merging, but we found it to be an easygoing runabout when traveling down suburban streets.

We bought a mid-level 2018 Nissan Kicks SV, which got us standard automatic climate control, Android Auto and Apple CarPlay compatibility, blind-spot warning, and alloy wheels that the base model doesn't get.

Competitors in the growing subcompact SUV class include the Chevrolet Trax, Ford EcoSport, Honda HR-V, Hyundai Kona, Mazda CX-3, and Subaru Crosstrek.
These are our first impressions. We'll know more after the Kicks goes through our complete testing.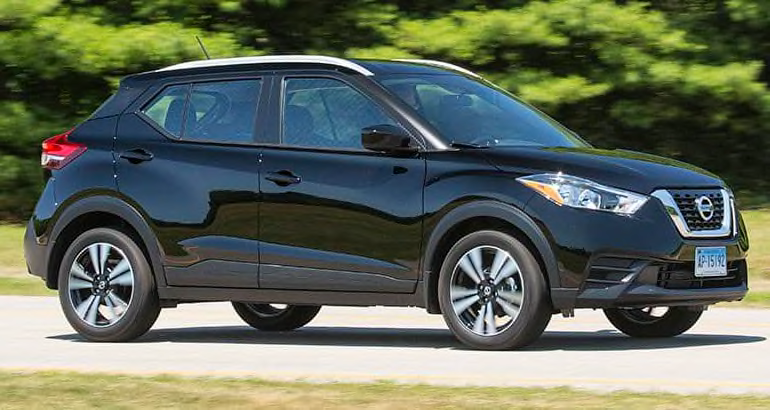 What we bought: 2018 Nissan Kicks SV
Powertrain: 125-hp, 1.6-liter four-cylinder engine; continuously variable transmission; front-wheel drive
MSRP: $19,690
Options: $385 (splash guards, carpeted floor mats, and cargo mat)
Destination fee: $975
Total cost: $21,050
How It Drives
The Kicks is in its natural environment around town, where large doses of power are unnecessary. Its continuously variable transmission (CVT) is also in its element here, performing simulated shifts that mimic a traditional automatic. This reduces the rubberband effect that CVTs are typically known for, when the revs race out of sync with the acceleration.

But with precious little oomph in reserve from its little 1.6-liter four-cylinder, drivers will need to develop some tactics for merging onto the highway. In many cars, it's easy to just punch the gas pedal and scoot ahead of that tractor-trailer coming up in the right lane, but with the Kicks, the gas pedal is usually already all the way to the floor in this situation. The safer choice is slowing down and slipping in behind the big rig.

Unlike most SUVs, the Kicks comes only as a front-wheel-drive model. (The Toyota C-HR is in the same boat.) And unlike the Juke subcompact SUV it replaces, the Kicks doesn't have a perky turbo engine. These seeming missteps may not matter because Nissan has packaged the Kicks to appeal to buyers looking for the fashion, versatility, and raised height of an SUV without a need for ruggedness.

If fuel economy is a concern, the Kicks should be able to deliver the goods. It's rated at 33 mpg combined by the EPA, which would make it one of the most fuel-efficient front-wheel-drive subcompact SUVs available. We will conduct our own fuel-economy test as part of our program once we complete the 2,000 break-in miles.

The name Kicks conjures up an image of a car that's fun and tossable through sharp turns. But instead of feeling poised the Kicks is mushy, with considerable lean through those turns. Vague and light steering further contribute to the car's boring handling character. On the other hand, the ride quality is a high point. It can get choppy and busy over rough roads, but in most situations it delivers a smoother ride than the majority of its competitors.

The relatively quiet cabin is another Kicks strong suit. It has less road and wind noise than most of its rivals, and the engine gets noticeably loud only during hard acceleration.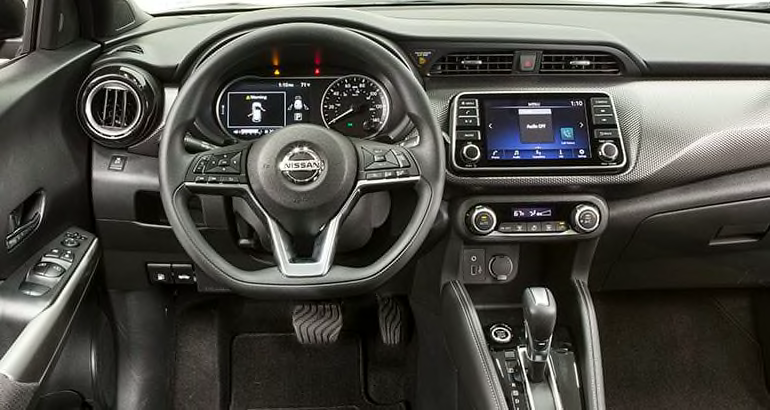 Inside
The Kicks interior has a playful, appealing style. Hard plastic is the dominant surface, and some materials come across as cheap. But we appreciate the effort shown by textured pieces, cloth-covered door armrests, and the stitched material on the center console.

The cloth front seats have a sporty, quilted look to them. The seats themselves aren't terribly supportive, but they're fine for short trips. There's plentiful headroom, and the driver gets a pivoting inner armrest, but the front passenger goes without. We found it strange that the door and seat armrests are on different planes.
The center console intrudes on the driver's right knee space, but it is covered in stitched material that looks nice and dulls the pressure. Outward views are airy for the class. Even the rearward view isn't as restrictive as some of the Kick's more highly styled rivals.

Controls here are about as easy as they come without looking skimpy or outdated. The climate system is handled with straightforward knobs and buttons, and the radio has knobs for volume and tuning, which we always appreciate. The 7-inch infotainment screen's icons are a bit small, but the menus are relatively intuitive to use. Android Auto and Apple CarPlay came standard on our mid-level SV.
Getting in the backseat is easy, with minimal ducking required. And this SUV's more upright styling creates a spacious rear seat, with good knee and headroom space. Although there's good space, the flat rear seat could use more contouring to give better support.

There's limited small-item storage, with basically just a soapdish-sized bin ahead of the shift lever. Cargo capacity is generous for the segment, but it's annoying that the rear seats don't fold flat—there's a 6-inch drop between the folded seats and the cargo floor.
Safety and Driver-Assist Systems
Forward-collision warning and automatic emergency braking come standard on all trims of the Kicks, a move CR applauds. Blind-spot warning and rear cross-traffic warning come standard on the SV and top SR, but they're not available on the base S.
CR's Take
For a vehicle named Kicks, it's reasonable to expect excitement in the form of sharp handling or a shove in your back from the acceleration, but that simply isn't the case here. The moniker has no connection to the personality of the car. Naming choice aside, our initial impression is that the 2018 Nissan Kicks offers some real value to urban (and suburban) drivers, particularly those in more southern climates who don't need all-wheel drive for winter duty.
Pricing starts at just $17,990 for the base S, and our SV test car (the one most shoppers will buy) starts at a still reasonable $19,690. Check back here to see how the Kicks stacks up against other subcompact competitors after we complete our full road test.