When you shop through retailer links on our site, we may earn affiliate commissions. 100% of the fees we collect are used to support our nonprofit mission.
Learn more.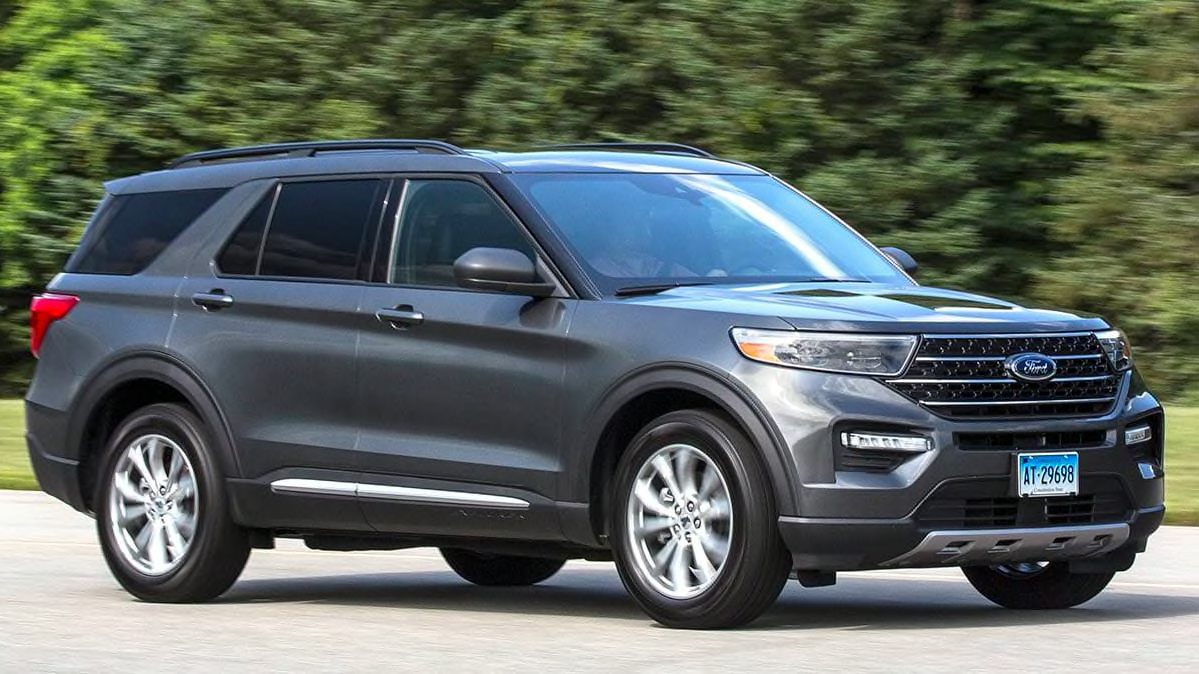 Update: Since this first drive was published in August 2019, we have finished testing. See the complete Ford Explorer road test.
Ford has redesigned the Explorer three-row midsized SUV for 2020, and it keeps many of the attributes that have made it a popular choice. It has a robust and easy-to-use infotainment system, generous cargo capacity, responsive handling, and—despite its only mild styling updates—it's a fundamentally different vehicle.
So far, we're not sure whether the new Ford will be competitive with the best three-row midsized SUVs that we've tested, including the Honda Pilot, Hyundai Palisade, Kia Telluride, and Subaru Ascent.
We bought an XLT model, which comes with a turbocharged four-cylinder engine. Unlike most of its competitors, the Ford Explorer is available with rear-wheel drive. Like all midsized SUVs that CR tests, our Explorer has the optional four-wheel-drive system. These are our first impressions before the Explorer enters our testing regimen.
What we bought: 2020 Ford Explorer XLT 4WD
Powertrain: 300-hp, 2.3-liter four-cylinder turbocharged engine; 10-speed automatic transmission; all-wheel drive
MSRP: $38,675
Options: $10,170, which includes remote start system, 8-way power passenger seat, first- and second-row floor liners, second-row split bench seat, twin panel moonroof, class 3 towing package, 20-inch painted aluminum wheels, heated steering wheel, windshield wiper de-icer, first- and second-row heated seats.
Destination fee: $1,095
Total cost: $49,940
What We Like So Far . . .
One of the Ford Explorer's most novel features is the detailed explanation of each of the advanced driver-assist systems that come standard. These include forward collision warning (FCW), automatic emergency braking (AEB), blind spot warning (BSW), lane keeping assist (LKA), and lane departure warning (LDW).
Ford uses animations in the settings menu for each system, displayed in the center-mounted infotainment screen. When the driver goes into the system to adjust the settings—such as turning a feature on or adjusting the type of warning—the animations show the driver exactly what each system does in a clear, concise way.
For example, the system explains that LKA will turn the steering wheel when the Explorer drifts toward a lane marker; it demonstrates how the BSW system checks each side of the Explorer, and illuminates a light in the mirror to warn drivers. Drivers get a good sense of how each system works, and they can then adjust the settings. This is an intelligent use of technology—it's helpful, and not gee-whiz for the sake of being cool.
So far, most of our drivers have said that the turbocharged four-cylinder engine easily builds speed and has plenty of power to merge onto a highway or accelerate up a big hill to pass slower-moving traffic. The 10-speed automatic transmission performs solidly on the highway, smoothly and quickly downshifting when needed.
We're also happy with how stable and steady the new Ford Explorer feels. The steering quickly responds when the driver turns the steering wheel, which helps when driving through corners. So far, our drivers feel that the new Explorer handles significantly better than the last generation did, and much better than the Palisade and Telluride do.
It's impressive how far Ford's infotainment system has come since the original MyFord Touch system, which was highly flawed and frustrating to use. The Sync3 system is among the better infotainment systems on the market today. It quickly boots up after starting the car, has big buttons and large on-screen text, and is easy to master.
The steering wheel extends far enough out for our taller drivers to sit comfortably, and there's also plenty of room for the driver's right knee. The driving position is much improved over the last generation.
The second-row seat has plenty of headroom for adults, and our Ford Explorer has a 40/20/40 split bench seat. The outboard seats can slide forward and back—the middle position is fixed in place—and all three can fold independently. This way, passengers can sit in the seats by the windows while the middle seat is folded flat to carry a long item.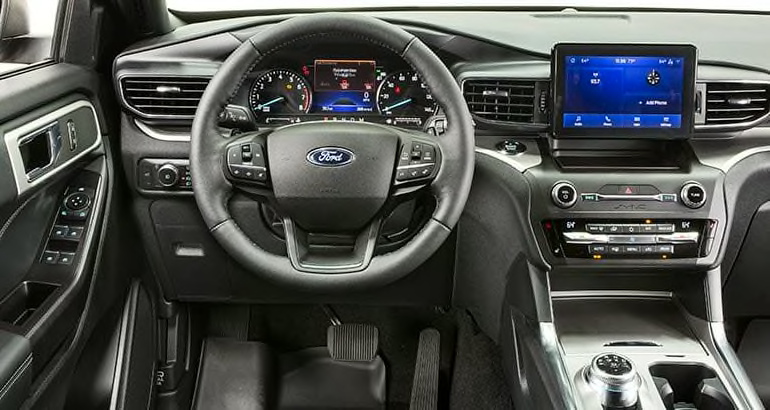 What We Don't . . .
The engine has plenty of power and the transmission works well, but this pairing still has some flaws. Right off the bat, there is no mistaking that there's just a four-cylinder engine under the hood. It's a bit noisy, with a raspy quality that isn't appropriate for a midsized SUV, especially one that costs $50,000. The sound gives the impression that the engine is really working hard. This, combined with the wind noise, quickly becomes tiresome.
It can be challenging to drive the Explorer in suburban settings. When starting up from a stop, such as at a traffic light or pulling into traffic from a side street, the Explorer lurches forward. That's followed by rough shifts from first to second gear, and from second to third. Plus, the transmission tends to hold on to a lower gear longer than it needs to, which makes the engine noise worse.
Drivers have commented that the Explorer has a somewhat stiff ride around town and that they can feel every ripple and crack that the SUV drives over.
The cabin's fit and finish isn't particularly impressive either. Some of the door surfaces have different coloring, which is easy to see in direct sunlight: The black plastics around the armrest appear purple, while other panels remain black.
The roof pillars are thick, especially the one just over the driver's shoulder. These, combined with the short side-window glass and the very small rear window, make it a challenge to see out.
The interior feels rather cheap and plasticky, like what you'd find in a Ford F-150 or Ranger pickup truck. We expect to find harder, work-level materials in a pickup, but not a family SUV. The third-row seat has lots of headroom, but it's less roomy than the previous generation, lacks under-leg support, and has limited foot room. It's best left for kids.
We're pretty disappointed by these obvious flaws in such a high-priced SUV. A fully loaded Kia Telluride is priced at just under $48,000. At that price, it has luxury-level accommodations and unique, thoughtful features, such as USB outlets on the rear of the front seats. Our Explorer comes in near $50,000 but feels like it should be much closer to $40,000.
We expected a vehicle that was similar to the recently redesigned Ford Edge, which was a big improvement over its previous-generation model.
What We'll Keep an Eye Out For
We are very keen to find out how well the 2.3-liter four-cylinder engine performs in our acceleration and fuel economy tests. Will the Explorer be able to deliver competitive—or even class-leading—performance without hurting its fuel economy?
If the EPA-estimated fuel economy ratings are any indication, the Explorer might be able to do all that. The EPA rates the four-wheel-drive explorer at 20 city/27 highway, and 23 mpg combined. That's better than the EPA rating of 19 city/24 highway and 21 combined for the V6-powered, all-wheel-drive Palisade and Telluride. Of course, our full road test will include a precision fuel-economy test.
So far, some of our drivers feel the seats are too narrow, but they're still much more comfortable and supportive than the ones found in recent Lincolns that we've tested, such as the Continental and Navigator.
Even after we complete our testing, shoppers who are in the market for a three-row SUV and aren't set on one brand should wait until we buy and share our first impressions of the redesigned Toyota Highlander, coming this fall. That three-row SUV is a direct competitor to the Explorer, and we will purchase one as soon as it's for sale.
CR's Take
So far, we've enjoyed its good steering response, roomy second-row seats, and the clear explanation of how each safety feature works.
However, the flaws that would be evident even during an extended test drive may be even more noticeable as we put it through our test program. With stiff competition and a high price, it may be challenging for the Explorer to stand out.
See the complete Ford Explorer road test.