When you shop through retailer links on our site, we may earn affiliate commissions. 100% of the fees we collect are used to support our nonprofit mission.
Learn more.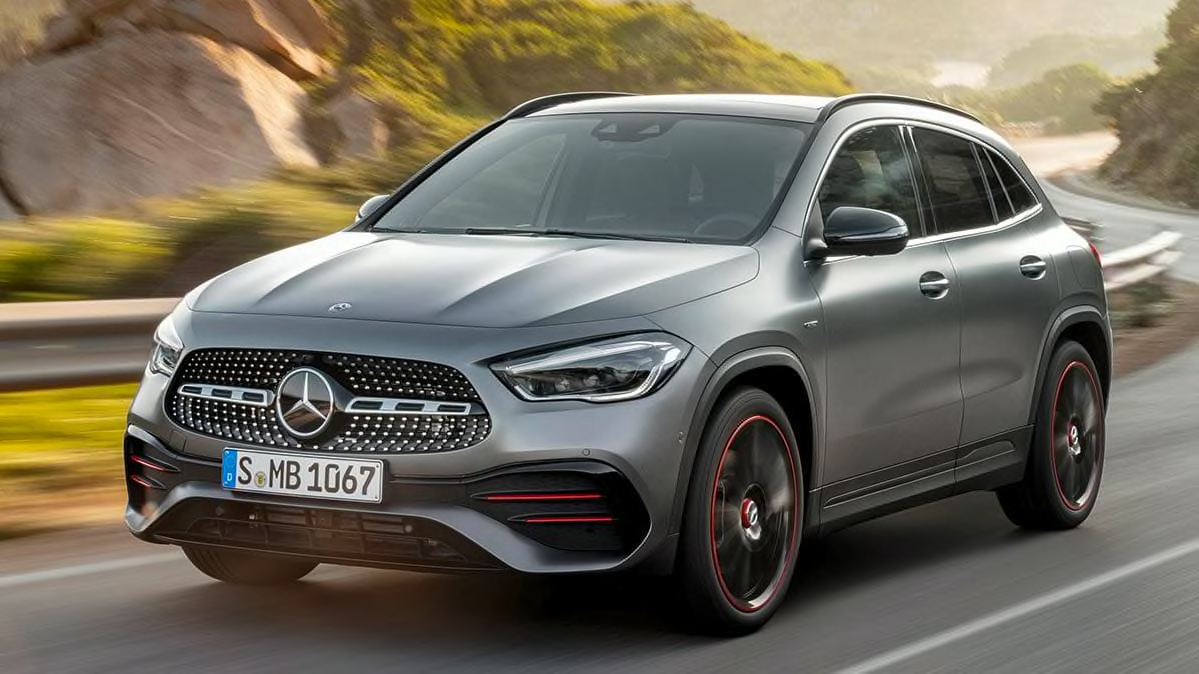 Mercedes-Benz has been on a roll revamping its small-vehicle lineup. It started with the introduction of the new-to-the-U.S. A-Class and the redesign of the CLA sedan earlier. Now it's the GLA's turn.
Our testers found the current version of this compact SUV to be unrefined, with poor visibility and a confusing infotainment system among its demerits. Poor marks in our owner satisfaction survey show that GLA drivers agreed with our assessment.
Mercedes claims to have improved some of the GLA's shortcomings. Its exterior looks more SUV-like, and it has more rear legroom and an updated infotainment system. The GLA doesn't go on sale until this summer. But because the GLA shares a lot of its underpinnings with the CLA sedan, we can already guess how the new SUV will perform. We plan to buy one and test it as soon as it goes on sale to find out for sure.
What it competes with: Audi Q3, BMW X2, Land Rover Range Rover Evoque
What it looks like: Wider, taller, and more bulbous than the previous GLA. It's a baby version of the GLE SUV.
Powertrains: 221-hp, 2.0-liter turbocharged four-cylinder engine, 8-speed dual-clutch automatic transmission, front- or all-wheel-drive; the AMG gets a 302-hp, 2.0 turbocharged four-cylinder engine
Price: $38,000-$45,000 (estimated)
On-sale date: Summer 2020 for all but the AMG version, which will go on sale in late 2020.
CR's Take
In our tests of the similar CLA and A-Class, we've already had a taste of some of the updates Mercedes-Benz made to the GLA. We predict the infotainment system will be too confusing for many buyers but welcome the opportunity to try out a new transmission. We also hope it has more interior room than the last-generation GLA, which was very snug, particularly in the rear seat.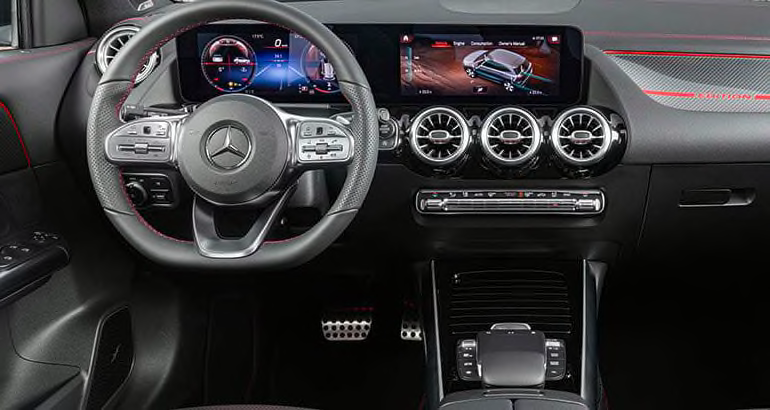 Outside
The old GLA looked and felt like a raised-up hatchback version of the CLA sedan, but the new vehicle has the silhouette of an SUV. Mercedes-Benz designers rounded off the old car's sharp edges, giving the new GLA a less aggressive look. The grille is more prominent, and the pillars leading to the roof appear to be less dramatically angled, which creates a more upright, SUV-like appearance.
The new GLA is taller and has a longer wheelbase than its predecessor, even though the vehicle is a fraction of an inch shorter overall. The grille is similar to the new 2020 CLA, and standard 18-inch wheels fit in tall, wide arches.
Inside
The GLA's interior is similar to its A-Class and CLA siblings. It blends a few impressively high-end appointments with a screen that spans half the width of the dashboard.
In our tests of other Mercedes-Benz vehicles that use this infotainment system—which Mercedes-Benz calls MBUX—we've found its multiple screens distracting and its control inputs too easy to activate unintentionally while driving.
When it comes to practicality, Mercedes says the new GLA gives rear occupants 4.72 more inches of legroom compared with the outgoing car. The rear seats can be adjusted for comfort as well. A power-opening liftgate is standard.
What Drives It
The GLA 250 gets the same turbocharged four-cylinder engine as the CLA. However, instead of the CLA's seven-speed dual-clutch automatic transmission—which contributed to a lurchy and hesitant low-speed driving experience in our tests—the GLA gets an eight-speed dual-clutch automatic. This may make for smoother around-town driving, and we'll be sure to look out for it when we buy a new GLA and test it ourselves.
As with the CLA, buyers have a choice of front-wheel drive or all-wheel drive. Although the GLA isn't meant for serious off-roading, the all-wheel-drive GLA 250 4Matic trim does come standard with an Off-Road Engineering Package, which automatically adjusts braking and throttle response for better traction on dirt or icy roads and can help drivers optimize traction on a slippery hill.
The Mercedes-AMG GLA 35 will get a more powerful engine that's good for 302 hp and a claimed 0 to 60 mph time of 5 seconds, plus suspension and brake upgrades.
At a press event, Mercedes-Benz hinted at a plug-in hybrid that may debut later. In addition, an all-electric EQA will be based on the new GLA.
Safety and Driver-Assist Systems
While we like that forward collision warning (FCW), automatic emergency braking (AEB), and blind spot warning come standard on the GLA.
The optional Driver Assistance Package adds adaptive cruise control (ACC), lane keeping assistance (LKA), lane centering, lane change assistance, and a pre-collision system meant to protect drivers in the event the vehicle is struck from the rear.