Preview: All-New 2022 Lexus LX Brings Power, Tech, and Off-Road Prowess
The next-generation Toyota Land Cruiser for the U.S. market is this well-dressed beast The all-new 2022 Lexus LX 600 wraps the next-generation Toyota Land Cruiser in an upscale package, with a powerful turbocharged V6 engine, safari-ready off-road capability, and enough luxury amenities to make a debutante blush. 
It remains true to its heritage, starting with a body-on-frame construction and a solid rear axle, like most pickup trucks and "true" off-roaders. This GA-F platform increases torsional rigidity by 20 percent while contributing to a significant 441-pound overall weight reduction compared with the outgoing LX. 
The Toyota Land Cruiser is an icon the world over for its off-road capability and legendary durability. But sadly, it has become a forbidden fruit. Toyota will not offer the all-new Land Cruiser in the U.S., and a quick glance at the sad four-figure sales numbers in recent years makes a clear case as to why. (Toyota sold just 23 in September.) Evidently, most customers prefer their Land Cruiser to be branded as a Lexus.
That's why here in the U.S., we are treated to the more posh Lexus LX 600, the upscale brother to the Land Cruiser. It promises a hedonistic blend of power, capability, comfort, and convenience—at a lofty price. 
The evolutionary design makes the LX easy to spot but tricky to name the model year. It again has a massive trapezoidal grille, large hood, very upright stance, and rear-canted angle to the aft pillar. It again rides on a 112-inch wheelbase, as LXs have done since they were introduced in 1995. This one has giant 22-inch wheels at each corner. Aside from the grille, the general design is reminiscent of the Infiniti QX80.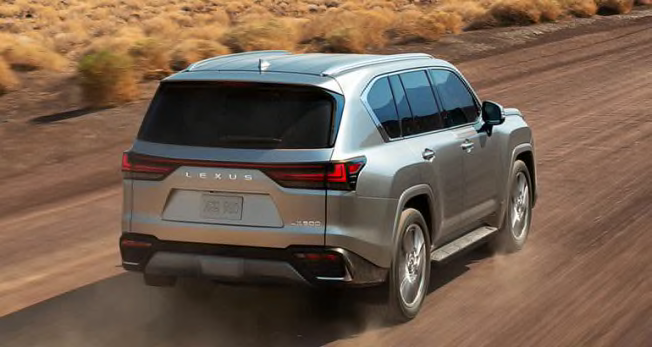 The cabin design looks more traditional than it does in some rivals, like Cadillac, that have been pushing boundaries with screen integration. As with most models these days, the infotainment screen is an innovative play place. Measuring 12.3 inches, the top touch screen houses the latest Lexus multimedia system (with audio, navigation, and off-road functions), complemented by a 7-inch lower touch screen for climate and other vehicle controls. This new system forgoes the controversial touchpad and mouse controller system used in prior Lexus models.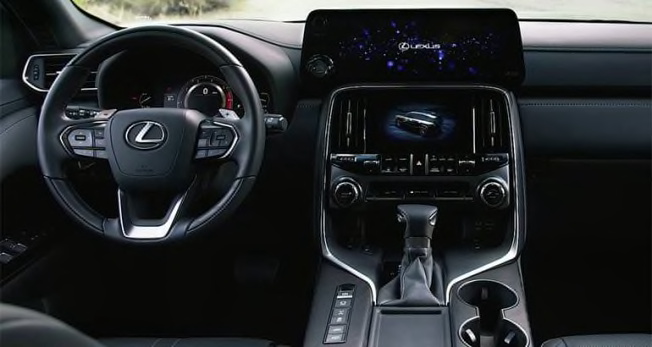 Among its tricks, the driver profiles and settings travel with the driver to other models with the Lexus Interface. And the navigation system monitors for travel into areas with low cellular connectivity and will proactively download map data, rather than stream it, to avoid navigational dead zones. A 25-speaker Mark Levinson premium stereo is available. 
The new Ultra Luxury trim lives up to its name with a focus on rear seats. The four-seat setup creates business-class second-row seats with extra-coddling, reclining perches with footrests. The seats have curved head restraints, a bottom cushion, and a torso cushion to hug and support passengers while isolating them from unwanted motions—a potential boon for off-roading. Or napping.
Of course, rear passengers have side-window sunshades, climate controls and vents, and a rear display screen. A three-row version is also available.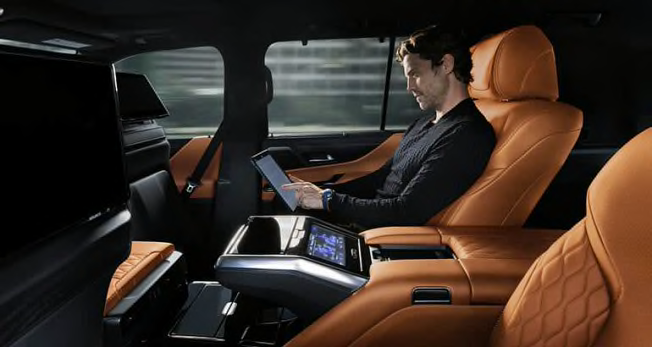 The LX is powered by a 3.5-liter twin-turbo V6 engine that cranks out 409 hp and 479 lb.-ft. of torque. It is matched to a 10-speed automatic transmission, geared to address both low-speed off-road needs and efficient highway cruising. Four-wheel drive is permanently engaged, but low-range gearing should enhance the LX's off-road capability.
The last LX we tested had a thirsty V8 that returned a mere 14 mpg overall in our tests. It's safe to assume this model will bring improvements. The height-adjustable suspension can lower the vehicle for easier access or raise it for off-road obstacles.
There are six driver-selectable modes to tune the powertrain and suspension, including auto, dirt, sand, mud, deep snow, and rock. Further, when low range is engaged, there are several settings to enhance grip when moving forward or in reverse at crawling speeds. And to help navigate trails, four camera views can be selected on the center screen. A new Back Underfloor view shows underneath, with the vehicle and wheel positions superimposed on the image. 
The new F Sport trim brings styling enhancements, such as a distinct black chrome grille and specific wheels. Sportier seats are designed to help keep occupants in place as the driver explores the enhanced capabilities enabled by the unique suspension tuning.
Safety and Driver Assistance Systems
The LX comes with Lexus Safety System+ 2.5, a suite of features that includes forward collision warning, automatic emergency braking with pedestrian and bicyclist detection, lane departure warning, lane keeping assistance, lane centering assistance, adaptive cruise control, and automatic high-beam headlights.