Redesigned 2023 BMW X1 Grows in Size and Technology
More features, room, and power promise to keep BMW's baby SUV competitive The BMW X1 is redesigned for 2023, gaining power, features, and sophistication. It increases incrementally in size, and it features a slightly more squared-off rear design, further separating it from the closely related X2. 
Power from its turbocharged four-cylinder engine climbs up 13 horses, but the acceleration gains claimed by BMW are more ambitious. 
The next-generation X1 has more power and elbow room—all welcome things. It is striking how much technology is stuffed into a relatively small luxury SUV. It boasts features more commonly associated with larger models, though as is often the way with BMWs, a fully loaded X1 will encroach on X3 price territory. 
The outgoing X1 was decent all around, but it came up short of the "ultimate driving machine" marketing line. It just didn't capture the handling magic associated with the better BMWs. We hope this X1 makes gains in that area. 
As is common with the class, owner satisfaction has been disappointing, meaning we aren't the only ones who wanted a bit more from the X1. This redesign model claims improvements throughout, hopefully addressing the previous perceived shortcomings. We look forward to buying one to test and seeing if it lives up to the promise.
The new X1 has a very evolutionary design. The dimensions all increased slightly for 2023, gaining 1.7 inches in length, about an inch in width, and almost 2 inches in height. Plus, it rides on a wheelbase that is about an inch longer. 
The rear side glass is taller and the rear roof is a bit more square, giving the X1 a more traditional SUV profile. The front looks familiar at a glance, but the corner air inlets are more vertical, the kidney grille a bit more square, and the headlamp shapes a bit simpler. These changes nudge the X1 styling in the direction that the rest of the brand portfolio is heading. 
BMW says aerodynamics have improved—a key factor in both fuel economy and noise. To aid efficiency, there are active shutters in the lower air intake and behind the grille. These can help the engine warm up quicker and adjust depending on the engine's cooling needs.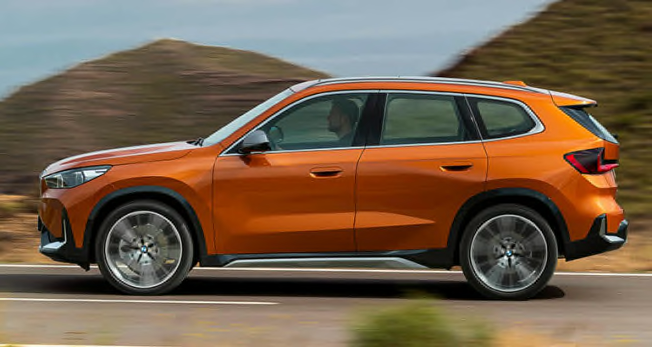 The incremental changes to the overall dimensions should make a notable difference in interior space. But drivers are certain to first notice the wide, curved display screen that is oriented to the driver. This frameless display combines a 10.25-inch instrument cluster and a 10.7-inch infotainment screen (shown below). That iDrive infotainment system runs Operating System 8, the latest version of the interface that is slowly making its way into all BMW models. In our experience with it so far, functionality is similar to prior iDrive versions, but the physical climate controls and programmable shortcut buttons have been moved into the touch screen. Surprisingly, the X1 appears to ditch the ubiquitous iDrive control knob in the center console. To aid connectivity, there are four USB-C ports, wireless charging, and a 12-volt power point up front and one in the cargo section. There is an optional 12-speaker Harman Kardon stereo. 
Once settled in, BMW says that shoulder and elbow room have notably improved. And the feeling of space can be enhanced with the available panoramic roof. 
The standard seats were designed with a focus on long-distance comfort. Sport seats, with added bolstering, are available.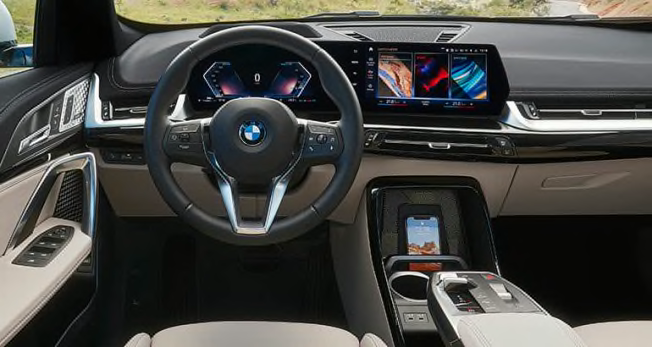 The X1 uses an updated 2.0-liter, twin-turbocharged four-cylinder engine that produces 241 horsepower and a notable 295 lbs.-ft. of torque, with the latter promising more readily available power at low to mid revs (between 1,500 and 4,000 rpm). The power is routed through a seven-speed dual-clutch automatic transmission as opposed to a conventional 8-speed gear box before. The M Sport package brings paddles behind the steering wheel, allowing the driver to direct gear changes, while the SUV goes into a sport mode based on that interaction, quickening response times. 
The automaker claims the X1 can sprint from 0-60 mph in 6.2 seconds—much quicker than the 7.9 second run we recorded on the current X1. 
As before, the X1 is based on a front-drive platform, although all-wheel drive is standard. 
For the first time, the X1 is available with an adaptive suspension that allows the driver to fine-tune the ride and handling characteristics, while the system dynamically adjusts for road aberrations.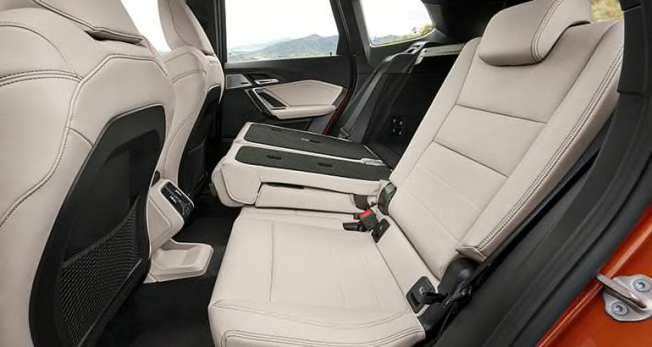 Safety and Driver Assistance Systems
The X1 comes with a full roster of active safety features, and it offers many more. 
All X1s have forward collision warning, automatic emergency braking with pedestrian and cyclist detection, blind spot warning, rear cross traffic warning, rear automatic emergency braking—a welcome addition since the last X1 didn't have it. Lane departure warning, and safe exit warning are also standard.
Of note, the X1 FCW system can warn of pedestrians when turning left, addressing a danger recently highlighted by an Insurance Institute for Highway Safety study that showed SUVs were twice as likely as cars to strike a pedestrian when turning left.
A rather innovative feature: The X1 comes with a tire pressure warning system that uses artificial intelligence to detect loss earlier than traditional sensors. Further, it predicts wear patterns and the remaining tread life, communicating this information to the driver via the My BMW app. 
Optional features include Driving Assistant Professional. This is a camera- and radar-based system that provides lane keeping assistance and adaptive speed control to reduce stress on long highway drives. 
Parking obstruction warning system is optional. But cooler is a "back up assistant" that can steer the vehicle in Reverse for up to 150 feet. For those who want more help, there is Parking Assistant Plus that can handle the steering, shifting, accelerating, and braking to park in parallel and perpendicular parking spaces. A 360-degree bird's-eye view can help with DIY parking. And the cameras can also be accessed remotely to check on the X1. 
The cameras also can record video when the vehicle is parked. A crash function records up to 60 seconds of footage, triggered by a collision. On better days, the cameras can record 60-second high-definition videos, say, to capture scenery.