When you shop through retailer links on our site, we may earn affiliate commissions. 100% of the fees we collect are used to support our nonprofit mission.
Learn more.
While full-sized pickup trucks increasingly adopt luxury trappings, compact trucks remain utilitarian workhorses. The Tacoma is a reliable but down-and-dirty example of function trumping form.
Simply put, the Tacoma is the perfect truck for landscapers and contractors.
This beast of burden has a bulletproof reliability track record, a tough-as-nails chassis, and a durable composite-­plastic bed. For off-roading adventures, the capable Tacoma has few peers.
And though the price nears that of discounted full-sized trucks, the compact Tacoma tenaciously holds its value. Hence, the Tacoma's cult following. But make no mistake, the Tacoma drives like a primitive, agricultural-era relic.
For all of Toyota's claims that this is an all-new truck, key features seem as though Toyota slept through the past decade's advances in truck technology and interior design.
Read the complete Toyota Tacoma road test and see our reviews of the 2016 Toyota Avalon and 2016 Kia Optima.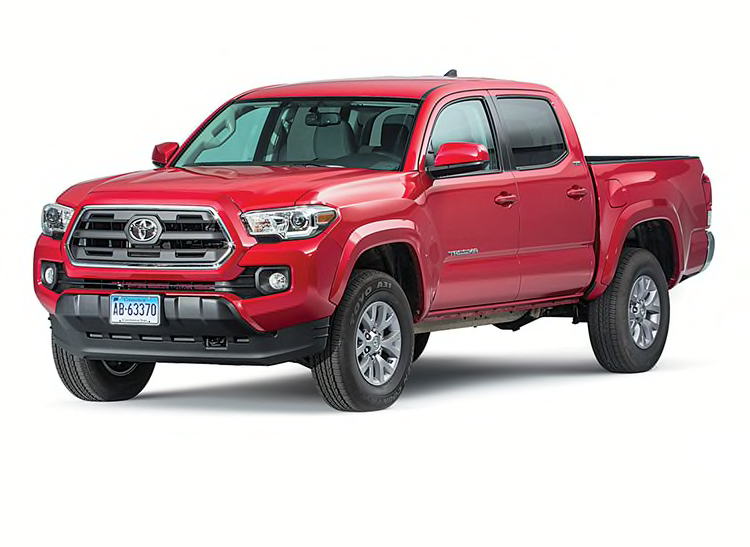 Today's modern full-sized trucks feature a quiet cabin, a semblance of handling responsiveness, and a tolerable ride. But the compact Tacoma has none of that.
Unlike other V6-powered Toyota models, our tested Tacoma never feels quick from a standing start or when passing—despite the robust acceleration figures as measured on our track. Fuel economy with the not-so-smooth six-speed automatic transmission is 19 mpg overall on regular gas, quite good for a truck and a clear improvement over its predecessor.
Out on the road, the Tacoma's handling is ponderous, and its slow and numb steering never connects the driver to the front wheels. Clearly clumsy around corners, it never felt unsafe. The chassis's propensity to jiggle and shudder delivers a Metallica snare-drum beat to your spine. Wind and engine noise drown out any chance of conversation, even at modest speeds. Braking performance is subpar.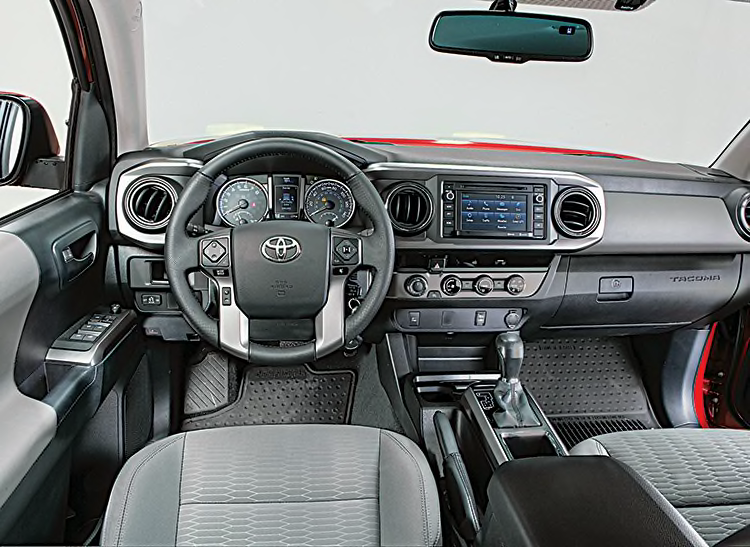 HIGHS: Fuel economy, resale value, reliability, off-road capability
LOWS: Ride, handling, braking, noise, driving position
POWERTRAIN: 159-hp, 2.7-liter 4-cyl.; 278-hp, 3.5-liter V6;
5-speed manual, 6-speed manual, or 6-speed automatic transmission; two- or four-wheel drive
FUEL: 19 mpg
PRICE: $24,200-$38,720

Inside, it still has a too-high step-in, a too-low driver's seat, and a ceiling that scrapes scalps of those entering the cabin.
The front seats are flat and uncomfortable, have limited support, and offer only the most basic adjustments. The rear seat in our crew cab is no better, with hard padding, cramped leg and foot room, and short cushions—although it flips up to reveal useful storage bins. Outward visibility is decent, but the narrow, shallow windows make it less commanding.
Controls are basic and easy to read—essential when reaching for some of the faraway knobs and buttons.
True to its heritage as a work truck, the Tacoma admirably tolerates those sorts of duties. It trundled up our rock hill with ease. The damped tailgate is a charm to lower but a chore to raise. And though it varies based on the body and power­train, our truck is rated to tow 6,400 pounds—that's a 23-foot Airstream trailer, folks.
Although a rear camera is standard, the Tacoma is not available with common advanced active-safety features such as forward-collision warning and lane-departure mitigation. Blind-spot monitoring is available on ritzier versions.
By contrast, the competing Chevrolet Colorado is more modern-feeling, and the coming Honda Ridgeline will aim for refinement. Sure, you can outfit a Tacoma with leather trim, a premium stereo, and a moonroof. But for that price you can get a full-sized pickup with increased hauling capabilities, a roomier cabin, and a more comfortable ride.