When you shop through retailer links on our site, we may earn affiliate commissions. 100% of the fees we collect are used to support our nonprofit mission.
Learn more.
Why is it that some cars fly under the radar? You think more people would know about a certain vehicle and embrace its goodness. And yet, for whatever reason, the model doesn't catch on with the mainstream.
Such is the case with the Kia Optima. It's more eye-catching than other family sedans, but Kia sells half as many Optimas as the safe-bet Toyota Camry and Honda Accord.
A redesign for 2016 brings a new air of mainstream opulence to the Optima. It has improved ride comfort, better handling and braking, and a roomier interior. But it's also so loaded with standard and smartly priced optional features that you feel like you got more than you paid for.
Read the complete Kia Optima road test and see our reviews of the 2016 Toyota Avalon and 2016 Toyota Tacoma.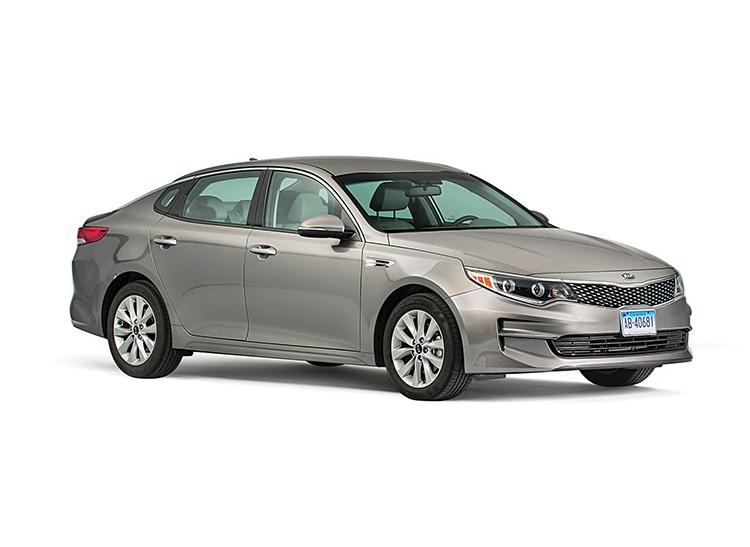 We tested a midlevel EX, which has a smooth 185-hp, 2.4-liter four-cylinder, mated to a quick-shifting six-speed automatic transmission.
Its 8-second 0-to-60 time is about a half-second quicker than the equivalent Camry and is sprightly for freeway merging. Though the Optima's fuel economy is a respectable 28 mpg, a few competitors do get more than 30 mpg.
And unlike many family sedans that provide a smoother ride at the expense of precise handling, the Optima strikes a fine balance between comfort and sharp cornering.
There's a firmness to the Optima's ride that's evocative of higher-priced European sedans. However, tire noise becomes noticeable on coarse pavement. The brake pedal has a firm feel, and the Optima has a shorter stopping distance than many competitors have.
Understated competence reigns inside the new Optima. Its large door openings make it easy to get in and out, and the wide and supportive leather driver's seat is tearoom plush, complete with four-way power lumbar adjustment.
The 2016 Kia Optima has a sloping, tapered roofline that mimics the shape of other trendy, modern sedans. Such a silhouette can make rear seats seem claustrophobic, but the Optima's commodious cabin has plenty of room.
The array of infotainment and climate controls is well-placed and easy to use, with a businesslike arrange­ment of familiar knobs and buttons.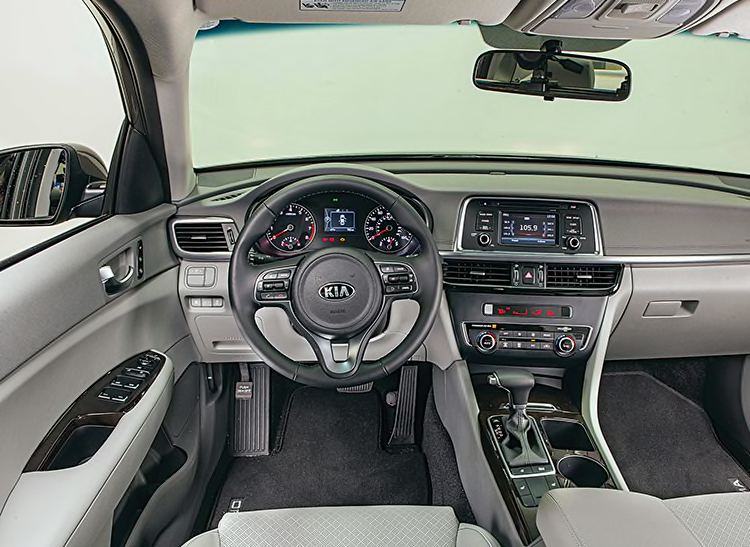 HIGHS: Roomy interior, seat comfort, controls, braking, lots of equipment for price
LOWS: Expensive to get active safety equipment, A/C dash vents located too low
POWERTRAIN: 185-hp, 2.4-liter 4-cyl.; 178-hp, 1.6-liter 4-cyl. turbo; 245-hp, 2.0-liter 4-cyl. turbo; 193-hp, 2.0-liter 4-cyl. hybrid; six-speed automatic; seven-speed automated manual; front-wheel drive
FUEL: 28 mpg
PRICE: $22,840-$36,740

Not that everything is perfect. The low dash vents are more likely to freeze your elbow than cool your face. And scrolling through music is irritating on the small, 5-inch radio screen.
Safety systems aren't well distributed across the model line. Blind-spot detection and rear cross-traffic alert are optional on the EX, but you're forced to step up to the SX if you want forward-collision warning with automatic emergency braking; even then, it's part of a $4,800 option package.
Aside from that overpriced option array, the Optima is a great value story. At $25,860, our EX came with 17-inch wheels, dual-zone automatic climate control and leather seats (heated up front), along with a heated steering wheel. Comparably equipped competitors cost thousands more.
Kia's reliability record has been improving, although not to Camry levels. With the 2016 edition, the new Optima offers an enjoyable driving experience, along with considerably more substance and refinement. It may be time to switch away from the easy choice.