When you shop through retailer links on our site, we may earn affiliate commissions. 100% of the fees we collect are used to support our nonprofit mission.
Learn more.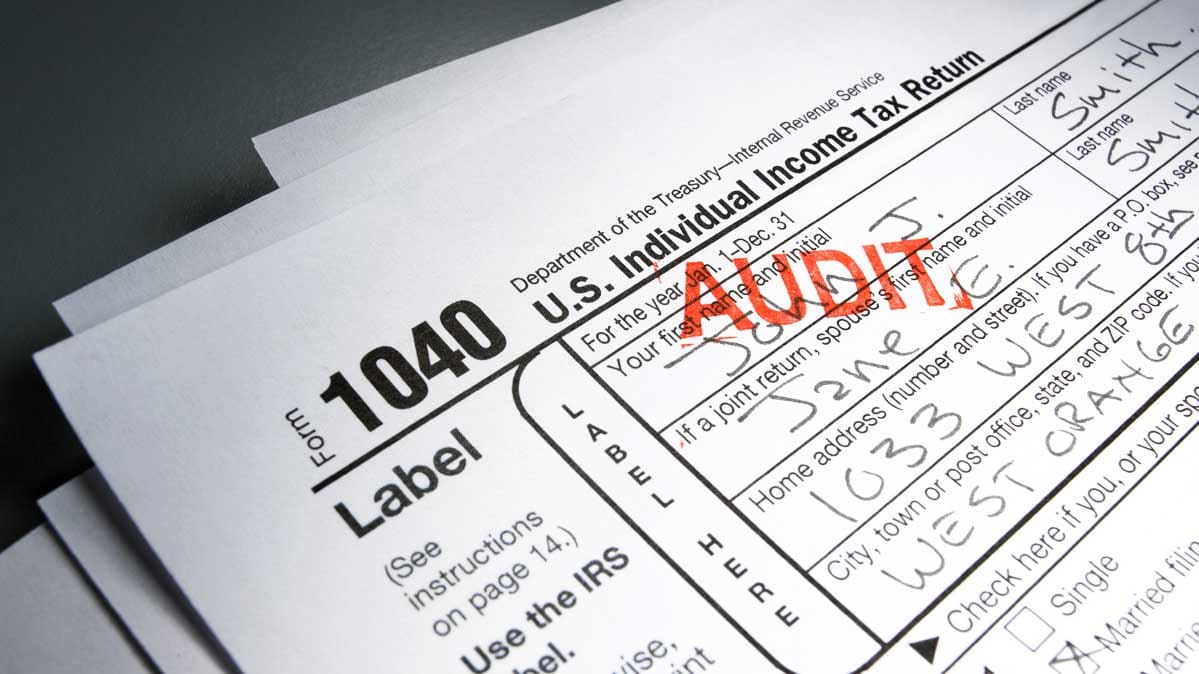 If you're spending the next week or so working on your taxes, you might find some relief in knowing that the chances of being audited are the lowest in years.
According to a 2017 IRS report [PDF], the agency said it was auditing individual taxpayers at a rate of 1 in 160. That's down significantly from 2010, when it audited 1 in every 90 individuals.

If you earn less than $200,000 per year, you're even less likely to hear from the IRS. If you earn more, the probability increases. Those with incomes of more than $1 million have a 1 in 23 chance of being audited.

You can blame—or applaud—lower appropriations from Congress for the drop. In response to reduced funding, the IRS has shrunk its full-time work force by nearly 15 percent since 2012 [PDF], the agency's 2017 data book says. (A 2018 data book has been delayed because of this year's government shutdown.)
"We're trying to use our resources more efficiently, but there is no question that the end result is fewer audits than in the past," says Eric Smith, an IRS spokesperson.
Keep in mind, those audit numbers don't reflect the notices the IRS sends out asking taxpayers for additional information about their returns.

"Getting an automated notice about missing 1099 information will not necessarily mean you will be audited," says Laurie Kazenoff, a partner and co-chair of the tax department at Moritt Hock & Hamroff, a law firm based in Garden City, N.Y. "But if you are missing a lot of information, and there are other questionable items on your return, and amounts involved are large, you could get an audit notice."
In any case, here are steps you can take to avoid a confrontation—large or small—with the IRS.
Be Cautious With Business Expenses
The most commonly audited area is self-employment income reported on IRS Schedule C. "There are many opportunities for taxpayers to perhaps fudge these numbers, including underreporting income and overstating deductions," Kazenoff says.

Self-employed taxpayers can protect themselves by scrupulously recording phone, computer, travel, meal, and entertainment expenses for business.
Deductions that look like personal spending may face more scrutiny. If you're just starting a business, for instance, don't expense research trips. For those seeking to turn a hobby into a career, don't write off the equipment you buy unless you earn income periodically, especially if you have a W-2 from another job.
Applying too much of your home's square footage could set off alarm bells, too. For small offices of 300 square feet or less, consider using the IRS' simplified option to figure your deduction.
The IRS also flags numbers that appear to be disproportionate, such as large losses on individual and business returns that offset most or all the income. "It begs the question, how is this business a going concern?" says Kazenoff, a former senior attorney with the IRS Chief Counsel.
The new tax law has generally eliminated miscellaneous deductions for workers claiming unreimbursed employee expenses. The exception is people in certain occupations—military reservists, certain performing artists, employees with impairment-related work expenses, and those working for the state or the federal government on a fee basis.
As with self-employed people, workers in these categories should make sure their deductions would be considered reasonable. Check IRS Publication 529, Miscellaneous Deductions, for more information.
Track Charitable Donations Carefully
Sums that stand out can raise suspicion. For example, deducting a large charitable contribution—say, $20,000—if your adjusted gross income is $40,000 is permissible by the IRS but might appear out of place.
Keep dated receipts for cash gifts of $250 or more and for noncash items you donate, such as furniture and clothes. If you give an item worth more than $500, you'll need to fill out IRS Form 8283 [PDF]. Donations worth more than $5,000 require a written appraisal. Check IRS Publication 561, Determining the Value of Donated Property [PDF], for details.
Don't Leave Out 1099 Income
If you omit reporting income as an independent contractor (on IRS Form 1099-MISC) or received interest income (on IRS Form 1099-INT) or dividend income (on IRS Form 1099-DIV), "you will definitely be flagged," Kazenoff says.
The same is true for any other form you get that reports money you've received. The IRS requires issuers to give it copies of what they've given taxpayers. It has a matching system to check that you've reported everything.

"If you fail to report those figures on the individual or business return, you will most definitely receive a letter from the IRS," Kazenoff says.
Rental Income: Active Involvement Matters
If you own rental property, take care completing Schedule E [PDF] for supplemental income and loss. How much you can deduct for expenses and losses depends on how actively involved you are in managing your property and whether you can prove it.
Other tips to prevent a tax audit:
Know how to depreciate equipment. The Tax Cuts and Jobs Act allows for 100 percent depreciation in the first year. You can even use this so-called bonus depreciation for items you buy used. You'll need to use IRS Form 4562 [PDF], on which taxpayers report depreciation and amortization.

But be sure you understand which items qualify for depreciation. Improvements that extend a property's life or add to its value must be depreciated but generally don't qualify for bonus depreciation. A new stove or washing machine would qualify. But a furnace would be considered part of the building and would not be eligible for the special accelerated depreciation.
Document personal use. To fully deduct the expenses related to a vacation rental that you own, you and family members can't use the home for more than 14 days or 10 percent of the days the unit is rented at the market price, whichever is greater. If you own a second home that doubles as a rental, hold on to credit card bills and travel documents in case you have to prove in a tax audit that you and your relatives stayed only for the allotted period.
No matter what you're deducting, always keep or scan original receipts. Your credit card bill alone won't necessarily identify the item or services purchased. And hold on to your records for at least seven years.