Apple Announces iOS 15, macOS Monterey at WWDC 2021
New improvements to remote collaboration, device sharing available this fall
People with iPhones and other Apple devices will soon benefit from a string of new features designed to improve remote collaboration, make sharing data between devices easier, and reduce workday distractions.
At its annual Worldwide Developer Conference on Monday, the company introduced the latest versions of the software that powers the iPhone, iPad, Mac, and Apple Watch.
The updates, known as iOS 15, iPadOS 15, macOS Monterey, and watchOS 8, will be released this fall and be compatible with devices stretching back almost a decade, including the iPhone 6 and iPad Air 2 (both released in 2014).
No new hardware was announced at the event, dashing the hopes of Apple fans looking for an updated 16-inch MacBook Pro following a slew of last-minute rumors.
Here's a closer look at what's coming.
As you might expect, many of the new features for the iPhone operating system have a very COVID-era feel to them, aiming to help people more easily connect, whether for work or play.
FaceTime for Android? Kind of. There won't be a FaceTime app for Android users anytime soon, but those using an Android phone or non-Apple device such as a Windows PC will be able to join FaceTime chats via a browser. An Apple user simply has to create a link to a FaceTime chat, then share it through a text message, an email, or a calendar invite.
The change makes FaceTime a bit more like Google Meet, though it's worth noting that there is a Google Meet app for iPhone.
Apple also introduced a new grid view for large group chats and a spatial audio feature that will separate each person's voice to make it sound as if it's coming from a specific spot on the grid.
In addition, users will be able to share and play music and videos, including the media controls for those clips, during FaceTime chats. And you'll be able to use the bokeh effect to blur your background, putting the focus on you instead of the messy pile of laundry behind you.
More organized notifications: Whether they're for texts, emails, or the silly game you can't stop playing, notifications can really pile up. To avoid distractions, you'll now have the option to get the less important ones bundled up and sent to you at a less busy time of day. You'll also be able to control exactly when you receive work-related and personal notifications.
Apple Live Text: This feature is reminiscent of Google Lens. It lets you use the camera on your iPhone to identify the flower you just snapped or get more information about a restaurant by simply selecting the text in the sign pictured above the entrance.
And if you're not a fan of note-taking, you can snap a picture of a whiteboard after an office meeting, then import the scribblings from your brainstorm session into a file.
Better photo memories: Apple says the little auto-generated videos your iPhone makes to commemorate your vacation and other events using the images in your photo archive are about to get better. They'll be paced to appropriate music and include new color-contrasting and filter options.
Digital licenses: In participating states, you'll soon be able to add an encrypted digital copy of your driver's license or state ID to your Apple Wallet. In theory, you'll be able to use this copy for anything that requires a physical license. Apple says it's even working with the Transportation Security Administration (TSA) to get the feature approved for air travel-ID purposes.
Apple Wallet will offer more keys, too, letting you unlock everything from your BMW to your office to your Hyatt hotel room with your phone.
More privacy protections: Apple rolled out a bunch of these in iOS 14.5. The new version gives you more visibility into how the permissions you've granted to various apps are being used. You'll be able to see which third parties your data is being shared with and what data those parties are receiving, Apple says.
New weather app: Look for hundreds of new animations designed to better reflect what's going on outside your window, plus more data on things like air quality.
And speaking of maps: Apple's promising a slew of improvements to its built-in maps app, including an attractive and useful new nighttime mode, more detailed depictions of roads, and help for public transit riders who might be a little disoriented after emerging from a subway station.
More People Visible in FaceTime Calls in macOS Monterey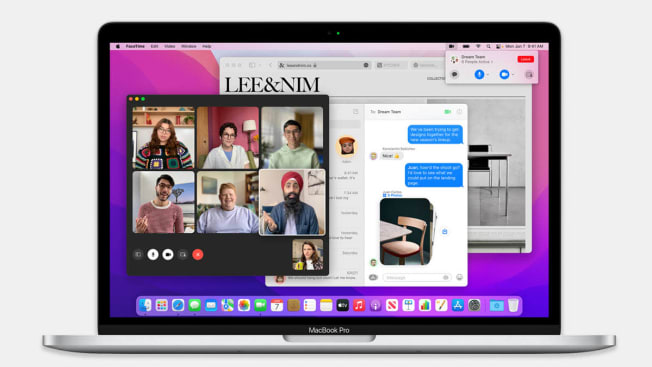 Many of the productivity-focused features announced for iOS, including the improvements to FaceTime, will also be coming to macOS.
Better device integration: With macOS Monterey, consumers also will be able to share a single mouse and keyboard with multiple devices with greater ease. The feature—called Universal Control—can be used to "extend" what you're doing on your Mac to your iPad, dragging and dropping files from one device to another.
Consumers will be able to AirPlay audio and video playing on an iPhone to a Mac as well.
Productivity safeguards: The new Focus mode will help you reduce distractions, limiting notifications beyond the app you're currently using.
As in years past, the update to the Apple Watch's operating system will provide new ways to balance health and fitness with productivity.
Mindfulness: Apple has replaced its popular Breathe app, which prompted users to slow down to concentrate on breathing, with a new Mindfulness app with a slightly broader scope.
It includes a redesigned version of the Breathe feature that adds new animations. But there's also a new Reflection feature that prompts users to think about certain topics, also while watching gentle animation. Both features track the user's heart rate.
Respiratory tracking: The Apple Watch sleep app will now track your respiratory rate. Since most people's rates tend to stay the same, Apple says monitoring changes could be used to flag a health issue.
Apple Fitness+: Watch for new strength and high-intensity interval training workouts with celebrity trainer Jeanette Jenkins, along with new spotlight musical series featuring playlists from artists such as Lady Gaga.
Portrait photo faces: Apple says people love to use their photos on their watch faces. Now you'll have more control in positioning them and changing the background. The Watch's photo app is getting a revamp that will make it easier to view all your favorite photos on the device.
The same goes for messages. Apple says it's going to make it easier to write and edit text messages on your watch. Adding emojis and GIFs will be simpler, too.
Widgets on the home screen of iPadOS 15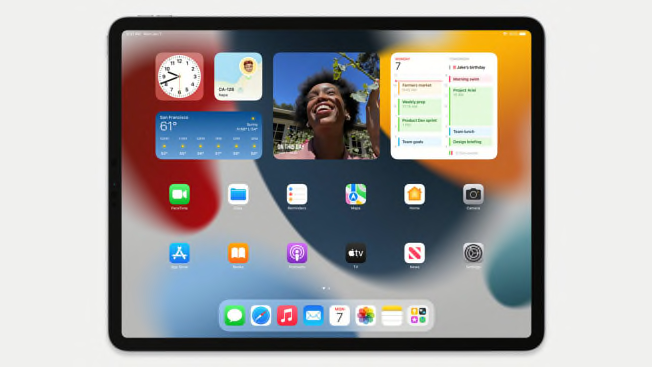 Apple's updated tablet operating system will offer more robust support for widgets, multitasking, and notes.
Widgets: These windows already allow you to review information without having to open an app, but the new OS allows for larger windows. This makes it easier to, say, view photos or upcoming calendar appointments. And widgets can now be placed directly on the home screen, whereas before they were visible only after you swiped to the Today View on your tablet.
Multitasking: This feature, introduced with the first version of iPad OS in 2019, will be much improved, starting with a small multitasking menu that appears on the top of the screen, letting you quickly trigger side-by-side apps. You used to have to know a special gesture to trigger this sort of multitasking.
Notes: Apple has reworked the popular app, allowing you to create a note from anywhere within iPad OS simply by swiping from the bottom right of the display.