When you shop through retailer links on our site, we may earn affiliate commissions. 100% of the fees we collect are used to support our nonprofit mission.
Learn more.
Tesla has been rather tight-lipped with information about its all-new Model 3 electric car, until now.
Production has begun of the much anticipated Tesla Model 3 electric car, putting the first cars on the street in July, with 30 employee cars and 20 examples for further development testing. Factory output will ramp up in order to start customer car deliveries in fall 2017.
We have assembled details about this innovative electric car into an FAQ here.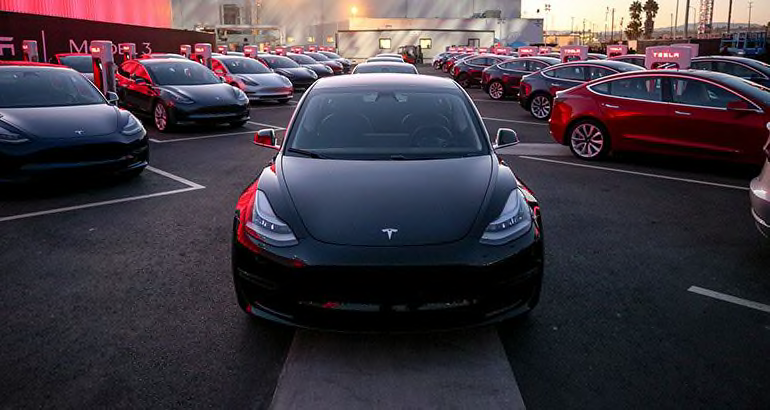 When Will the Model 3 Be Available?
The first Tesla Model 3 rolled off the assembly line in early July. Musk said that production would increase "exponentially" from around 100 cars in August to about 20,000 cars a month by December 2017. Tesla will start retail delivery of long-range cars equipped with Premium package in October 2017. People who put down a $1,000 deposit early and current Tesla owners will get priority, Tesla says. Production of Model 3s equipped with the standard battery will start in October 2017 and are expected to be delivered by the end of the year. An all-wheel-drive model is promised to be available by Spring 2018.
If I Order One Today, When Would It Arrive?
According to the Tesla website, anyone putting down a deposit today should expect to see the car delivered toward the end of 2018. While there is appeal in being the first on your block with a fresh, head-turning car, don't worry about missing out: With most cars, there are quality glitches in the first production year, and the Tesla Model S was no exception. Plus, Tesla has demonstrated a pattern of continuous improvement that may benefit those who have waited. That's why Tesla is delivering the first batch to employees, so that kinks can be ironed out.

How Much Does It Cost?
The base-spec Model 3 will cost $35,000 before any remaining federal and state tax credits. Then add $1,200 for destination charges. The out-the-door price accelerates quickly when you need more functionality, power, or any color other than black. To simplify production, the options are few and we expect that popularly equipped models will sticker for closer to $50,000.
The base model will be black, with a Tesla-estimated range of 220 miles and 0-60 mph acceleration of 5.6 seconds. (If you want a color other than black, it'll add $1,000.) Notable standard equipment counts WiFi and LTE internet connectivity, navigation, and the hardware to enable active safety systems, including eight cameras, forward radar, and a dozen ultrasonic sensors.
Initial Model 3 cars will feature the long-range battery (a $9,000 option) and the Premium Upgrades package (a $5,000 option), which adds heated, 12-way adjustable front seats; premium audio system; glass roof; folding/heated side mirrors; fog lamps; and a center console with covered storage and docking for two smartphones.
Enhanced Autopilot (a $5,000 option) bundles futuristic capabilities such as active cruise control, lane-keep assist, automatic lane changing and freeway exiting, and self parking. Tesla advises more such features will be added via software updates.
In the future, Tesla will offer an addition to Enhanced Autopilot that claims "full self-driving capability" for $3,000. The company says, "Model 3 will be capable of conducting trips with no action required by the person in the driver's seat." We are concerned that such a claim encourages distracted driving.
We expect typically equipped (early-delivery) cars will cost $57,700, which includes long-range battery, choice of color, Premium Upgrades package, Enhanced Autopilot, and 19-inch wheels.
A typically equipped model with the standard battery is expected to cost about $42,200, and comes with your choice of color and Enhanced Autopilot.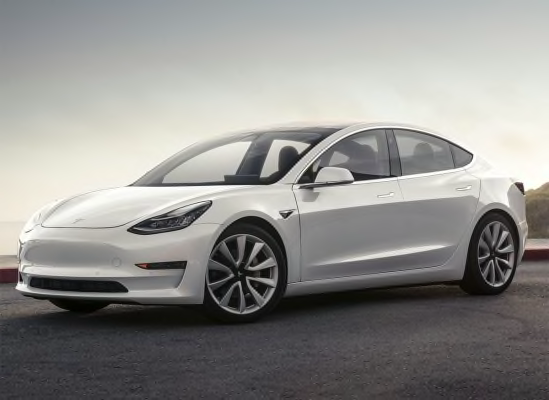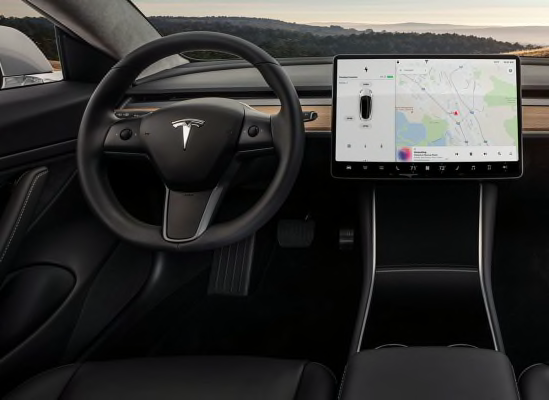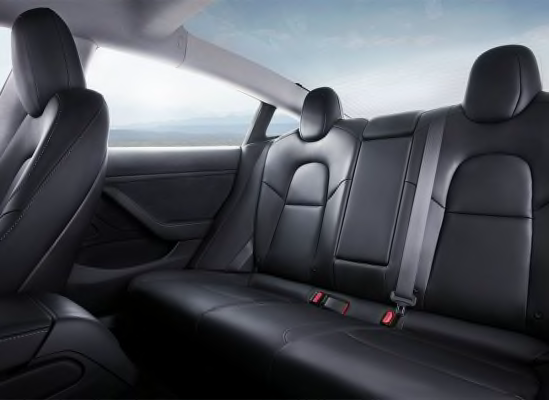 Will the Model 3 Have Front-, Rear-, or All-Wheel Drive?
Like the Model S, the Model 3 will offer both rear- and all-wheel drive, using either a single- or dual-motor setup, although the first models will be single-motor and rear-wheel-drive only. Tesla has promised that a dual-motor, all-wheel-drive model will come in spring 2018.
Does the 0-60 MPH Time of Just Under 6 Seconds Apply to the Dual-Motor Cars?
The 258-hp version with the standard battery has a claimed 0-60 mph time of 5.6 seconds. Upgrading to the long-range battery ($9,000) reduces that official time to 5.1 seconds, while extending the range to 310 miles, Tesla says. The dual-motor cars expected in mid-2018 may be even quicker.
Will the Model 3 Be a Hatchback?
Despite its similarity in shape to the Model S, the Model 3 is a sedan with a traditional trunk. Musk tweeted that, in order to provide the necessary rear-seat headroom (under Model 3's massive glass rear roof), the cross-car support beam had to be moved to the base of the rear window, which precludes the use of a hatchback. Like the Model S, a frunk (front trunk) adds extra storage.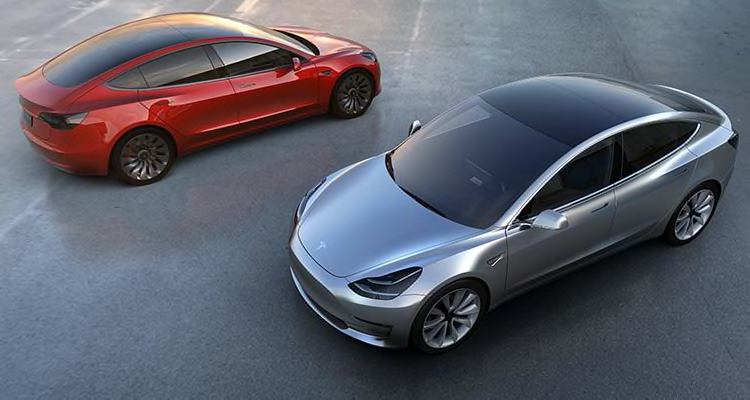 How Far Can the Model 3 Go on a Charge?
Tesla says the base Model 3 should travel 220 miles on a full charge. The long-range battery version has an estimated 310-mile range. It has the ability to charge at Tesla's public network of superchargers, but for a fee.
One factor that contributes to its long range is the Model 3's very low coefficient of drag, measured at 0.23. This makes it among the most (if not the most) aerodynamic production cars on the road. The most aerodynamic mass-market vehicles built today, including the Tesla Model S and the 2016 Toyota Prius, have a Cd of around 0.24. The Nissan Leaf has a Cd of 0.28, while the Toyota Sienna minivan has a Cd of 0.31.
Will the Model 3 Only Have a Single Screen Display?
Yes, a large 15-inch screen that is centrally mounted on the dashboard. This means there are no gauges directly in front of the driver.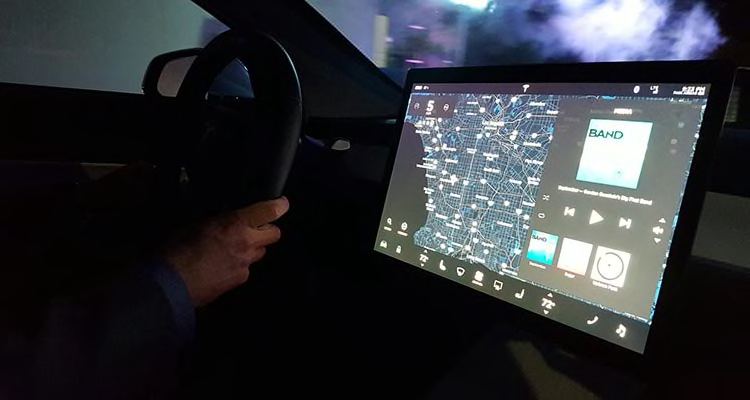 Who Will Be the First to Get Their Model 3?
The first 30 Model 3 cars were delivered to employees on July 28, 2017. These are not true customer units but samples that are destined for further testing. The cars cannot be sold until the EPA rates the energy efficiency, as displayed on window stickers. Future distribution plans prioritize employees with reservations and current Tesla owners, starting with buyers in California and expanding to other regions.

Will Tesla Model 3 Buyers Be Eligible for the $7,500 Federal Tax Credit?
Probably not all of them. The Federal tax credit has a cap: After a manufacturer sells a cumulative 200,000 eligible pure-electric vehicles, the IRS 30D(a) tax credit for that manufacturer's vehicles remains at 100 percent of its original value for one quarter, then the credit is halved in value ($3,750) for two quarters, then drops to 25 percent ($1,875) for one quarter. After that, the credit is eliminated.
Tesla has announced it has sold 100,000 EVs in the U.S. with its Model S and Model X. Given the number of reported deposits for the Model 3, the tax credit could start to diminish well before all of the existing Model 3 preorders have been filled.

How Does the Model 3 Compare to the Model S?
Figures are for current base configurations.
| | | |
| --- | --- | --- |
| | Model 3 | Model S |
| Length | 184.8 | 196 |
| Width | 72.8 | 86.2 |
| Height | 56.8 | 57 |
| Wheelbase | 113.2 | 116.5 |
| Curb Weight* | 3,837 lbs. | 4,576 lbs. |
| Range | 220 miles | 259 miles |
| 0-60 mph | 5.6 secs. | 4.3 secs. |
| Top Speed | 130 mph | 140 mph |
| Price | $35,000 | $69,500 |
Will Child Seats Fit in the Model 3's Rear Seat?
Yes. There are two LATCH (Lower Anchors and Tethers for Children) attachments in the rear seats.

Electric Cars 101
Electric cars are bringing some of the biggest changes the auto industry has seen in years. On the "Consumer 101" TV show, Consumer Reports expert Jake Fisher explains to host Jack Rico why these vehicles might not be as newfangled as you think.