When you shop through retailer links on our site, we may earn affiliate commissions. 100% of the fees we collect are used to support our nonprofit mission.
Learn more.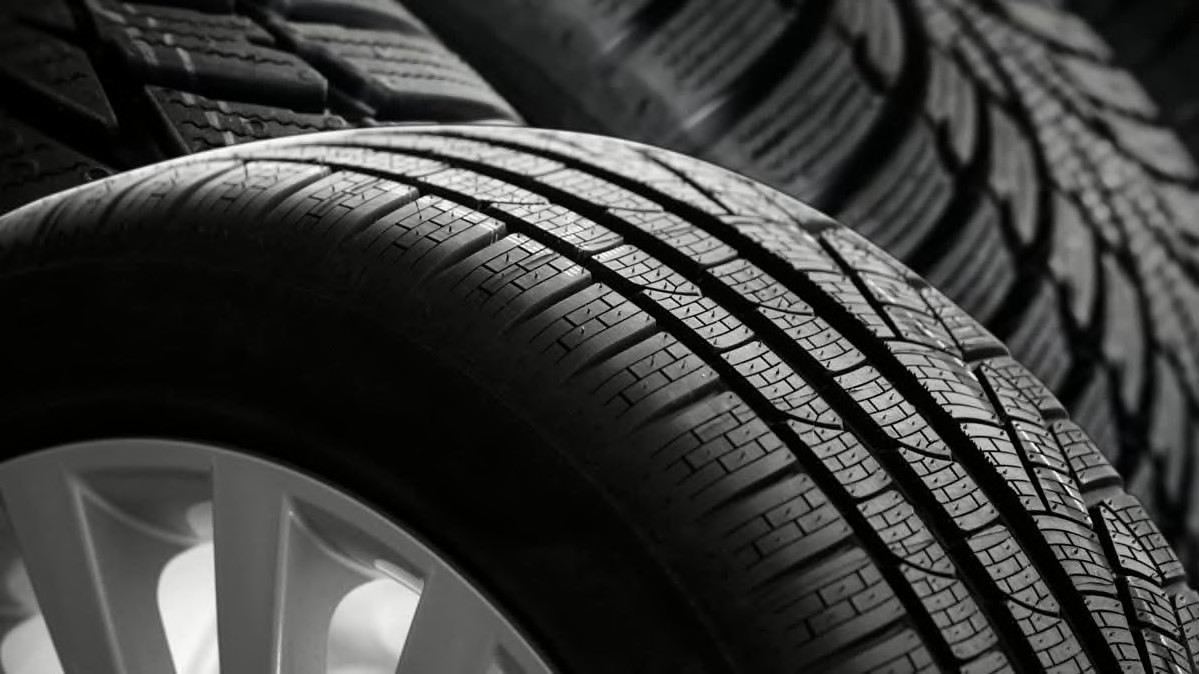 Tires may all look the same, but just as there can be dramatic differences in their performance, there can be variations in the tire buying experience. A recent survey conducted by Consumer Reports on the tire buying experience shows that CR members tend to be an informed group who place a priority on all-weather grip, brand, handling, and the length of the manufacturer's treadwear warranty.
And the survey showed that they experienced a range of satisfaction when it comes to tire retailers, particularly when looking at the various elements of the buying process.
"Tire buying can be complicated," says Tian Wang, the CR researcher who conducted the survey. "But we see that consumers are generally satisfied with the overall experience. We also found that savvy shoppers were able to successfully haggle, often saving money. Furthermore, many shoppers gained free extras thrown in with their tire purchase."
To gain insights into how consumers think about buying tires, CR surveyed 15,945 members, who reported on their tire purchase and/or installation experiences at walk-in chains, online retailers, independent tire retailers, and car dealerships. In order to qualify for this survey, members must have purchased one or more new tires for their vehicle between fall 2019 and fall 2020.
Here are some of the key survey highlights.
What Drives Tire Purchases
The most common reason for buying replacement tires is simply normal tire wear, accounting for 68 percent of purchases. Every other potential reason trailed, with just single-digit percentages for responses. Combined, about 10 percent of consumers surveyed said they bought new tires because the old ones had a flat, were damaged by a road hazard, and/or had a sidewall bulge, indicating damage to the inner tire lining.
When it came time to buy, almost 85 percent of consumers purchased a full set of four tires—that's the ideal strategy to ensure balanced performance and to take advantage of common sale incentives. And 84 percent bought all-season tires.
Among the myriad tire attributes consumers must consider when tire shopping, CR members clearly valued all-weather grip, as 54 percent prioritized this feature. All-weather grip serves as a good summary of how a tire performs in a range of conditions, including on dry, wet, icy, and snowy roads. (How tires measure up in that regard based on our extensive tests is available to CR.org members on the tire model pages.)
When shopping for tires, survey respondents were more likely to consider brand, handling, the length of the manufacturer's treadwear warranty, quietness, and wet grip than getting the lowest price.
Price, however, was one of the most common reasons members cited for choosing a particular tire brand. Tread life and brand trust were almost as important to as many members as was price when selecting a tire brand. And even though members usually weren't actively looking for the recommendations of retailers, mechanics, or dealers when buying their tires, almost a quarter (24 percent) of them selected a brand at least in part because of a retailer's recommendation and 15 percent credited a mechanic's recommendation.
"There can be a real difference between perception and reality when buying tires, especially with the influence of marketing," says Gene Petersen, head of CR's tire test program. He says that when it comes to assessing value, it's important to do your homework. "When looking to get the most for your money, check the CR tire ratings for both performance and estimated tread life in narrowing down your choices," he adds.

Tire Features Consumers Look For When Tire Shopping
| | |
| --- | --- |
| Tire Characteristics1 | Percentage |
| All-weather grip | 54 |
| Brand | 43 |
| Handling | 40 |
| Length of manufacturer's treadwear warranty (miles) | 40 |
| Quietness | 36 |
| Wet grip | 30 |
| Braking | 29 |
| Snow grip | 26 |
| Hydroplaning resistance | 25 |
| Treadwear traction temperature ratings | 24 |
| Dry grip | 20 |
| Free follow-up services and maintenance | 18 |
| Lowest price | 17 |
| Retailer recommendation | 14 |
| Car manufacturer's recommendation | 13 |
Which Tires They Buy
There isn't much "brand loyalty" among CR members when it comes to the tires they buy. In fact, more than two-thirds (68 percent) said their current tire brand is not the same as the one they previously had on their vehicle. An additional 10 percent bought the same brand of tire but a different model.
"It is possible to upgrade performance by choosing a different model than came on the car from the factory," Petersen says. "But without doing your research, it is also possible that the replacement may not hold the road as well." Petersen adds that it's a safe decision to stick with the original equipment tires because they were optimized for that particular car, though different replacement tires can sometimes offer longer tread life and better all-weather grip.
The cost for the replacement tires depends heavily on what type of vehicle they're for. Members paid an estimated price of $167 per tire, up significantly from our 2018 survey, when the median price was $148. The cost for installation rose slightly, from $22 to $24, in our latest survey.
At $36, car dealerships charged the most, and at $14, Sam's Club charged the least for installation.

Cost Per Tire by Car Type
| | |
| --- | --- |
| Car Type | Median Purchase Price Paid Per Tire1 |
| Sedan/hatchback/wagon | $137 |
| Minivan | $137 |
| SUV | $162 |
| Coupe/convertible | $170 |
| Pickup truck/van | $187 |
Where They Buy Tires
Tire shoppers have many choices for where they buy their tires; this surveyed group cited 23 retail chains, spread among major tire retailer chains such as Discount Tire, wholesale clubs such as Costco, online retailers like Tire Rack, and general automotive stores such as Pep Boys. Independent tire shops and car dealerships were rated as two separate groups.
Almost a quarter of surveyed CR members (24 percent) said they bought or installed their tires from independently owned tire stores, including local mechanics and service stations; 16 percent purchased and/or had their tires installed at car dealerships. Among the retail chains, Costco took the top spot, capturing 16 percent of tire purchases and/or installations, followed by Discount Tire Centers at 11 percent. No other retailer had a market share of 10 percent or more. The most visited online tire retailer was Tire Rack, which accounted for 4 percent of all sales.

See the complete tire retailer ratings.
Satisfaction With Tire Buying
Les Schwab Tire Centers, Tire Rack, Discount Tire Centers, Costco, America's Tire, Discount Tire Direct, and independents topped our ratings with overall satisfaction scores that placed them in our top (i.e., dark green) ratings tier. Discount Tire Centers is the only retailer that received a favorable rating on all surveyed attributes, including shipping.

While no retailer earned our top mark on all the factors in the survey, most of them were rated favorably for overall satisfaction. Collectively, however, the least-satisfying retailers were often dinged for the lack of free perks offered (e.g., tire rotation and tire balancing), the time taken to install tires, and the waiting area. They're still viewed fairly well by their customers overall.
It's important to note that people who buy their tires from one of the online-only tire retailers in our survey (Amazon, Discount Tire, and Tire Rack) appeared to be able to find a good installer. These customers reported a high level of satisfaction with the installation, but Amazon and Tire Rack both got our worst mark for the number of free perks they offered to shoppers.

Bottom Line
Shoppers would benefit by checking CR.org tire ratings, which represent the findings from testing hundreds of tires per year and extensive treadwear evaluations.
Once you've selected the replacement tires you want, there are many retailers to choose from. The best ones often have compelling tire prices and high installation quality—although all the retailers in the survey did a decent job of satisfying consumers overall.
Don't forget to negotiate the price of your tires. Although relatively few respondents attempted to haggle (14 percent), among those who did, almost 70 percent were able to negotiate a lower-than-advertised price for the tires and installation, saving a median of $96 per set of four tires.