When you shop through retailer links on our site, we may earn affiliate commissions. 100% of the fees we collect are used to support our nonprofit mission.
Learn more.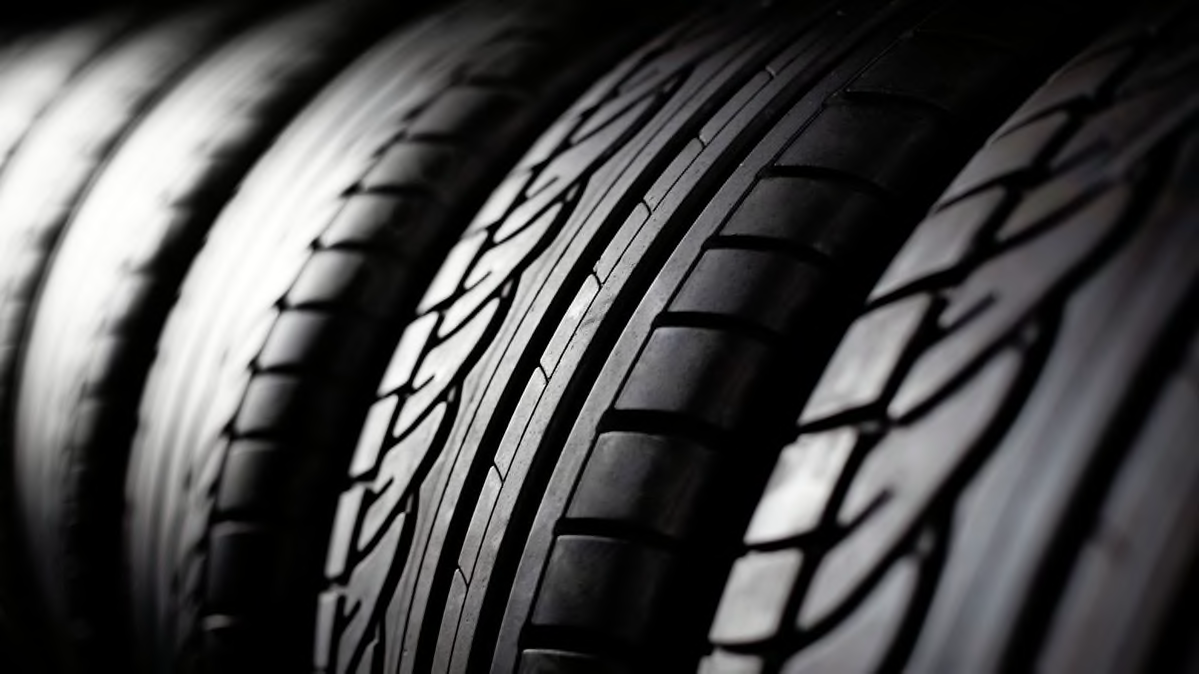 Tire shoppers care more about all-weather grip and treadwear warranty than they do about price, according to a Consumer Reports survey of members who bought tires. Only one in five shoppers specifically looked for the lowest price.
Consumer Reports gathered information from 34,477 of its members who reported on 36,098 tire purchase and/or installation experiences at walk-in tire retail chains, online retailers, independent tire retailers, and car dealerships.
The length of the manufacturer's treadwear warranty was considered especially important by 39 percent of the surveyed shoppers. This information can be found in stores and on manufacturer websites, but it is not an ideal comparison, given that the number is self-reported.
Consumer Reports tests tires on up to 20,000 miles on public roads, allowing us to project how long treads should last based on how the tires wear. Our testing shows that most tires should live up to their mileage warranty claims. The expected life of a tire makes a difference in the overall operating costs. (Learn more about tire treadwear.)
Other major considerations among tire buyers were handling and braking performance, and the treadwear rating found on the tire sidewall. We were surprised to see that braking was an important factor for only 25 percent of shoppers, because stopping distance is a key safety factor. Even a variation of a few feet can mean the difference between a confident stop and a minor collision. And our tests show that even within a tire category, performance in the dry and the wet can vary by 10 feet or more.

"It is good to see such a priority placed on all-weather grip. More so it is gratifying to see price playing a lower importance to general tire performance in the survey," says Gene Petersen, who runs CR's tire-testing program. We also recommend that shoppers prioritize braking, hydroplaning resistance, and handling from our tire ratings.

Features Tire Buyers Look For When Shopping
| | |
| --- | --- |
| Tire Shopping Features | Percent |
| All-weather grip | 50 |
| Brand | 47 |
| Length of manufacturer's treadwear warranty (miles) | 39 |
| Handling | 37 |
| Braking | 25 |
| Treadwear traction temperature ratings (located on sidewall of tire) | 25 |
| Lowest price | 20 |
| Free follow-up services and maintenance | 19 |
| Retailer recommendation | 14 |
| Car manufacturer's recommendation | 12 |
| Snow tires | 9 |
| Mechanic recommendation | 8 |
| Appearance | 5 |
| Other | 12 |
When it comes time to purchase replacement tires, don't rely solely on retailers for guidance. Be sure to check our tire ratings.
To help our readers make informed decisions, we put tires through a battery of tests, including braking, handling, hydroplaning resistance, winter traction, ride comfort, and rolling resistance—a factor for fuel economy. The resulting data can help you find the best tires for your needs, emphasizing the factors that matter most to you.

See our tire buying guide and ratings.