When you shop through retailer links on our site, we may earn affiliate commissions. 100% of the fees we collect are used to support our nonprofit mission.
Learn more.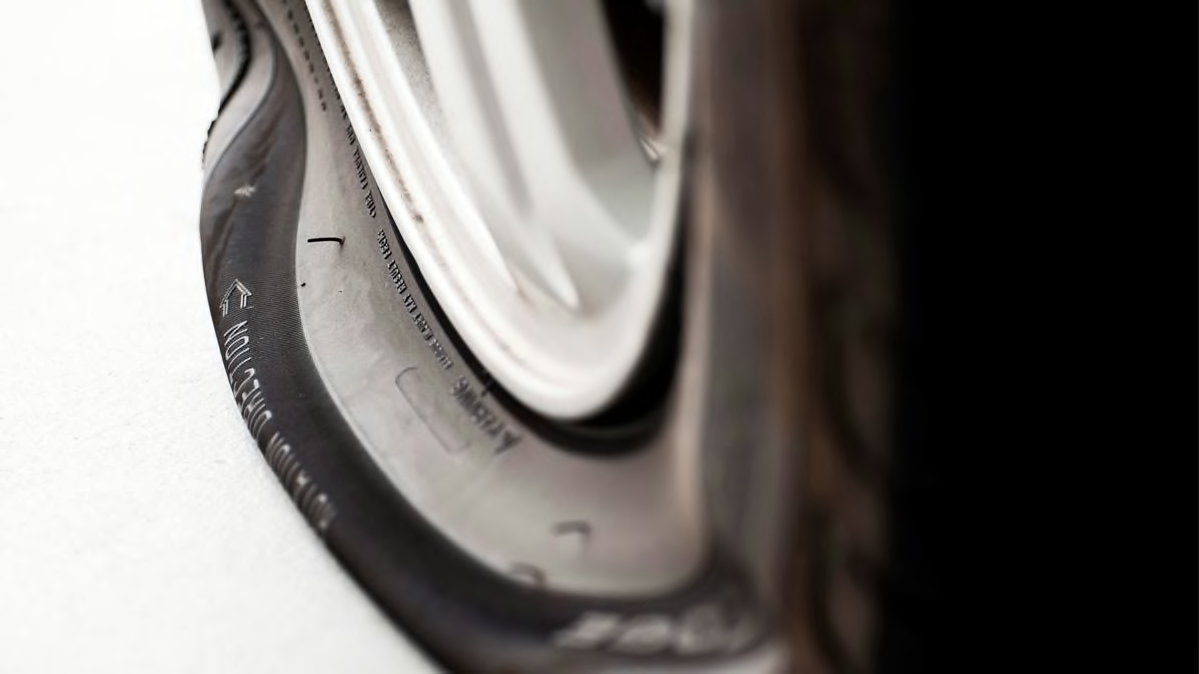 Your car's tires are vulnerable to all kinds of problems. Running into potholes, nails, and debris is awfully common. Then there are manufacturing gaffes, which are rare. When the unexpected does happen, the results can be more than deflating—they can be expensive as well as inconvenient.
Tire problems on the road are a real threat—AAA says it responded to about 4 million tire-related calls last year. Sometimes the consequences are deadly. The National Highway Traffic Safety Administration reported that there were 738 traffic fatalities in tire-related crashes in 2017, the latest year for which the agency has data.
When a tire fails, owners may first call their roadside assistance hotline or a service organization to get a mobile technician. But before you buy a replacement tire, it pays to explore your warranty coverage.
Basic Manufacturer Warranties
Nearly all tires carry some form of warranty from the manufacturer for defects. These policies are referred to as workmanship and material warranties. Their coverage is typically limited to a specific time period or wear condition, such as when the tire has just 2⁄32 of an inch of tread remaining—the point when it is legally worn out.
Tires commonly have a ride uniformity warranty, covering manufacturing defects that can affect ride quality. Those warranties protect tires for the first 2⁄32 of an inch of wear (or about the first year of use). Issues with workmanship and uniformity are very rare, based on our experience in buying hundreds of tires each year.
"While there are some subtle differences, product warranties are very similar among the major tire manufacturers, and generally last longer than for many other products we buy," explains Woody Rogers, director of tire information at Tire Rack, a major national tire retailer. Most tires are warrantied for four to six years, or more.
Tire retailers often tout tire treadwear mileage warranties. These cover how long a tire will last before it wears out, and they can guide buyers to choose one model over another.
Manufacturers offer treadwear coverage for a specific number of miles, and owners who file a claim should expect to receive only a prorated amount for the miles they didn't put on the tires. Most tire warranties demand proof that a tire was properly maintained, so it's important for owners to keep records on their tire rotations and original purchase receipt.
Those warranties reference the protection period, but they may not reflect the mileage customers can expect. Consumer Reports conducts an extensive annual program to measure treadwear and predict the service life for tires to equip our members to make an informed choice.

"Our treadlife mileage estimates are a way of directly comparing different brand tires, unlike treadwear warranties that are assigned by manufacturers," says Gene Petersen, who runs the Consumer Reports tire-testing program.
Treadwear warranties are common on replacement all-season tires, but they are rare for winter/snow tires because these specialty models are designed only for seasonal use.
Manufacturer Road-Hazard Warranties
Some tire manufacturers include road hazard protection for free, although such protection may only apply to specific tire models. It can cover some or all of the cost to replace a tire. A typical coverage period lasts to the first 2/32-inch of treadwear, 12 months, and/or 12,000 miles—roughly one year for the typical driver.
Tire manufacturer Falken goes beyond the norm; its hazard warranty covers 3/32 of an inch of wear, or two years, for certain models. Manufacturers that offer free road-hazard warranties on one or more of their tire lines include Bridgestone, Continental, Hankook, Kumho, Nexen, and Vredestein.
Retailer Road-Hazard Warranties
Many major tire retailers also offer road hazard warranty coverage for part or all of the expense of replacing a tire. These warranties often are free or offered for a low fee, and the coverage can often be more generous than warranties from tire makers.
For example, Tire Rack and Tirebuyer extend coverage to 24 months or to when the tire is worn out, whichever comes first. These retailers will replace a tire that is damaged beyond repair with the same or a similar tire.
Warehouse retailer Costco offers a longer time period of five years if the tire has not worn out, but its warranty gives credit based on the tread depth remaining. BJ's, another warehouse retailer, provides coverage to a tire worn to 2/32 of an inch or less within three years or 36,000 miles. At BJ's, a replacement tire is free in the first nine months for models priced under $200 apiece, and then the cost is prorated, based on how long the tire has been in service.
For about 10 percent of a tire's price, a SimpleTire warranty covers the first 25 percent of the tire's tread life, or one year from date of purchase, whichever comes first. For about the same amount, Discount Tire Direct has a road-hazard warranty that covers the tires for three years or to when there's just 3/32 of an inch tread depth left.
"The protections can sound impressive, but expect to pay for mounting and balancing the tire, disposal charge for the old tire, and taxes," CR's Petersen says. He points out that tire failure related to abuse, misuse, accident, improper repair, and vehicle mechanical failure are typically excluded from these warranties.
What Should Tire Shoppers Do?
Tire Rack's Rogers points out that the major tire brands all include comparable warranty coverage, and he encourages shoppers to focus on differences in performance in choosing the right replacement tire.
"Once you narrow down your choices, if the best option for you isn't quite clear, use the subtle differences in tire warranty between brands as the tie-breaker," says Rogers.
Where you buy your tires matters, Petersen says. "Consider the terms of coverage when choosing a local or an online retailer that provides road-hazard protection," he advises. "Warranty coverage provides protection on replacement cost. You may be able to get the coverage you want bundled in with the tires. In some cases, such as when you get a great deal on tires themselves, but they do not include a road hazard warranty, it may be worth paying extra for that protection."
And, Petersen notes, paying for the replacement tire is just part of the equation. It's wise to have a roadside assistance service that can help you replace a flat tire. This can be a huge convenience and even a safety consideration.