When you shop through retailer links on our site, we may earn affiliate commissions. 100% of the fees we collect are used to support our nonprofit mission.
Learn more.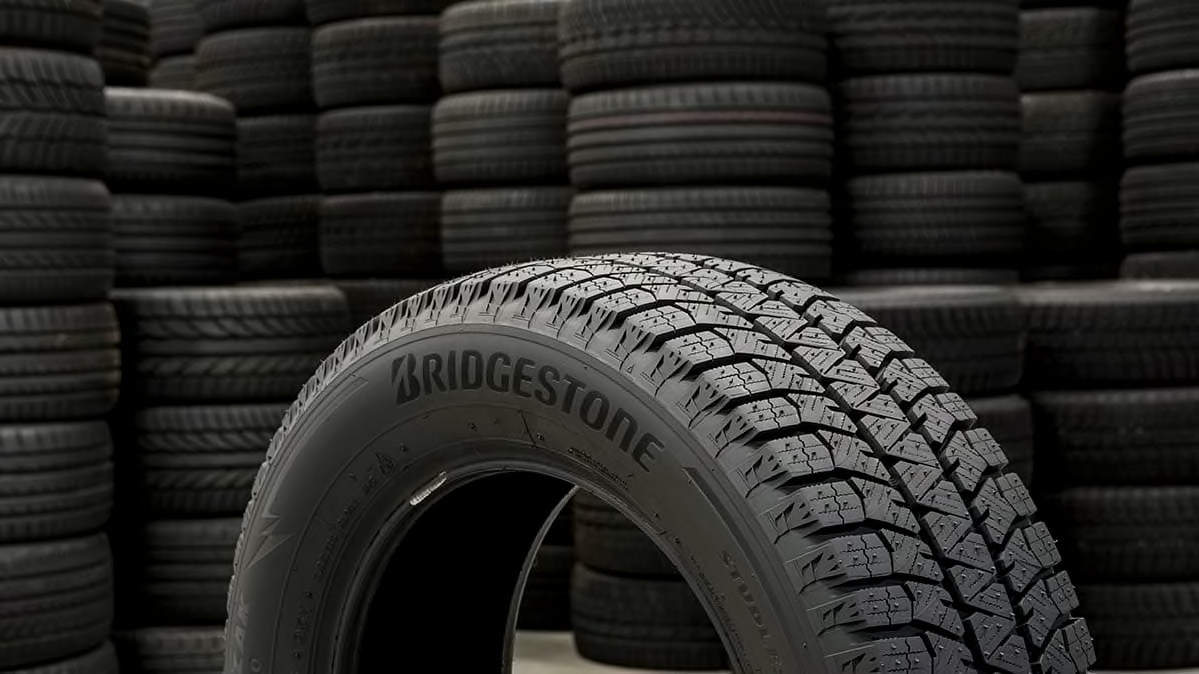 Consumer Reports follows an orderly annual cycle for its tire testing program. We put hundreds of them through more than a dozen tests at our Auto Test Center, on Texas roads, and at a local ice rink. Occasionally, tire model introductions are out of sync with our testing, and this was the case with three notable models from Bridgestone and Firestone. So we put them through the paces on a modified schedule and found that two are very good and one is a standout.
The Bridgestone Turanza QuietTrack comes in H- (130 mph) and V- (149 mph) speed-rated sizes. Though few drivers would ever drive at these sustained speeds, higher speed-rated tires generally offer better handling and wet grip than lower-rated tires. We tested a 215/55R17 size tire with a V-speed rating, which slots into our performance all-season category.
The Bridgestone Blizzak WS90 is a dedicated winter/snow tire. True to form, the tire has outstanding snow traction and braking on ice like most competitors but without the common sacrifice of dry and wet grip.
The Firestone WeatherGrip has a three-peak mountain and snowflake symbol on the sidewall denoting its winter traction capabilities, making it essentially a snow tire that can be used year-round. It comes with an H-speed rating and can be compared with five competitive all-weather tires tested from Goodyear, Michelin, Nokian, Toyo, and Vredestein. Ratings for performance all-season tires can be directly compared with regular all-season tires as well.
The WeatherGrip excelled in our snow traction evaluation without sacrificing wet grip, which can be a concession for some all-weather and winter/snow tires. The WeatherGrip has a predicted tread life of 60,000 miles, just shy of its 65,000-mile warranty. Actual wear mileage will vary depending on several factors, including the type of vehicle, road conditions, and weather.
Both the Bridgestone Turanza QuietTrack and Firestone WeatherGrip scored in the upper half of our ratings, with almost the same score. The QuietTrack follows the trend of successful all-season tires with well-rounded grip on dry and wet roads, capable winter traction, and an exceptionally quiet ride. The tire has an 80,000-mile treadwear warranty, and its projected wear in CR's vehicle test was 70,000 miles.
These new tires were available for our three-season tests, but we had to wait until this winter season to complete our evaluations and include them in our ratings.
"We don't usually have the ability to slip tires into a test program midyear," says Gene Petersen, Consumer Reports' tire program manager. "But the timing was just right on these models to sync up with our track testing, and we caught up on snow evaluations this winter. And we are glad we did, as they proved to be quite competitive."
The ratings for these new tires can be found below. More detailed test results on these and hundreds of other models can be found in our dynamic tire ratings chart, where you can sort and filter based on criteria that matter most to you.