When you shop through retailer links on our site, we may earn affiliate commissions. 100% of the fees we collect are used to support our nonprofit mission.
Learn more.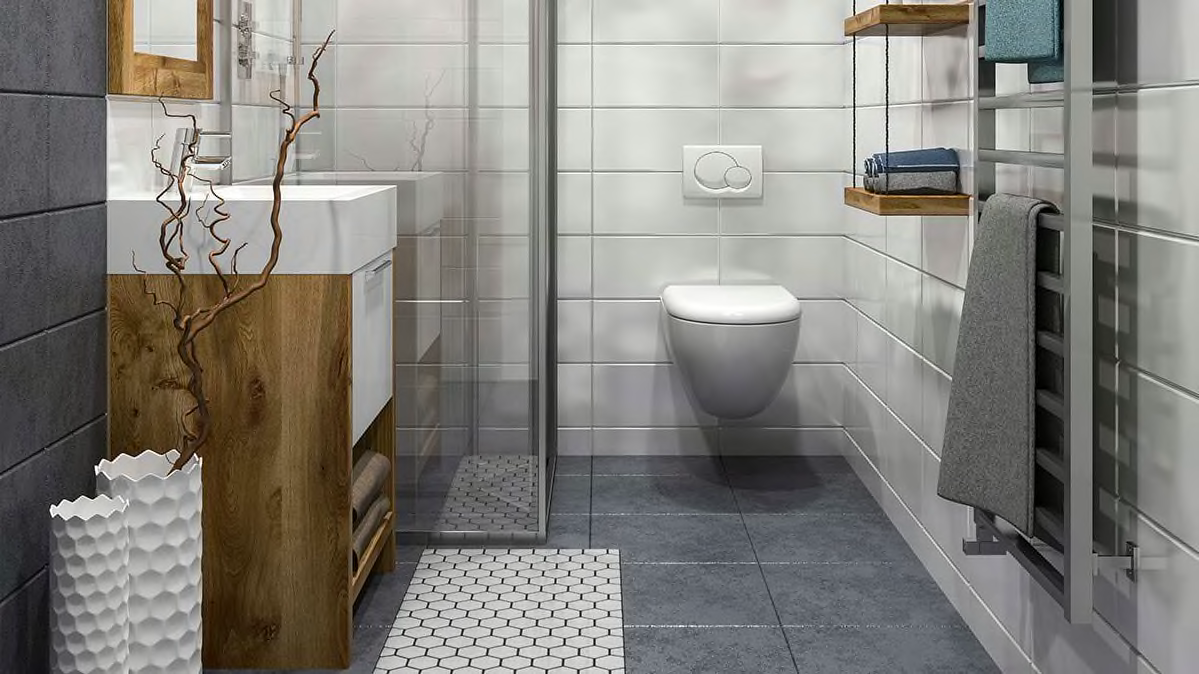 It's the stuff of a bathroom designer's dream: A sleek, space-saving toilet, absent that unsightly tank, which can be installed at precisely the right height for you. Plus, the nature of the design—a wall-mounted toilet doesn't contact the floor—makes it a breeze to keep the area around it clean.
These elegant commodes hide the plumbing and working parts. The tank, made of lightweight plastic and plastic foam, lives behind the wall, cradled in a cast-iron or steel carrier that gets installed between two studs to provide support. The bowl floats above the floor, anchored through the drywall to the carrier.
If it all sounds a little exotic, that's because these fixtures are far from standard. It's easy to understand why: Installing a wall-hung toilet requires invasive and intensive reconstruction, and once it's in place there's no removing the lid of the tank to fiddle with a finicky flapper—the mechanicals are buried in the wall. It's possible in some scenarios to install an access panel for repairs, but that's a very custom solution.
Still curious? Read on for the pros and cons you'll want to weigh before tearing up your bathroom wall.
Built to Code
With their compact size, wall-mounted toilets offer more flexibility when designing or updating a bathroom. "These toilets can meet building-code clearances where floor mounted toilets might not," says John Banta, the CR test engineer who oversees Consumer Reports' toilet tests.
In some municipalities, building codes require at least 21 inches in front of the toilet. Wall-mounted toilets can save as much as 10 inches by moving the tank into the wall. And the bowl itself can be adjusted to sit anywhere from 15 to 19 inches off the ground.
A Costly Alternative
Wall-mounted toilets come at a premium over standard toilets. Expect to pay several hundred dollars more for this type of fixture, not counting the cost of professional installation—this is not a do-it-yourself project, Banta says. "You're already paying more for this type of toilet, and depending on your circumstances, you might spend several hundred more to move the supply and waste lines or to reconfigure the studs," he says. "It could easily be three times more expensive to switch from an existing floor to a wall-mounted toilet."
Down to the Studs
Installing a wall-mounted toilet requires opening a wall, rerouting the waste pipe, and, if you plan to keep the same flooring, patching the tile under your old toilet. You also need to know whether your framing consists of 2x4 or 2x6 studs when choosing the tank, because manufacturers make carriers for both types. "If you're installing one of these in an older home, you would likely need to rework the studs to get them in the proper location for the carrier," Banta says.

Relatively Easy Unclogging
During installation, the tank and the carrier are mounted to the studs and concealed with drywall, with an opening for the flush buttons. Access to the tank is through this opening. If something stops working after installation, the flush panel pops off and an adult-sized hand can reach inside to fix the plumbing.
How We Test Toilets
To develop our toilet ratings, CR test engineers put the fixtures through a battery of tests involving waste removal, bowl cleaning, and drainline clogs. To test solid waste removal we dump marble-sized plastic beads, weighted sponges, and filled water bags into the bowl and measure how well each flush handles our simulated waste.
We test a toilet's bowl-cleaning abilities by painting a line along the inside of the bowl and judging how much of the paint remains after flushing. Finally, we observe how well a toilet pushes waste through the drain once it has been flushed. That matters if your waste line travels a long way to the sewer.
We put our first batch of wall-mounted toilets through the same test criteria we use for floor-mounted toilets—though we built special jigs for each tank carrier. Generally, the wall-hung fixtures performed about the same as standard toilets.
Here's an overview of the wall-hung models in our ratings.