Quietest Leaf Blowers & Outdoor Power Gear
These electric and battery-powered tools cut down on noise without skimping on performance
When you shop through retailer links on our site, we may earn affiliate commissions. 100% of the fees we collect are used to support our nonprofit mission. Learn more.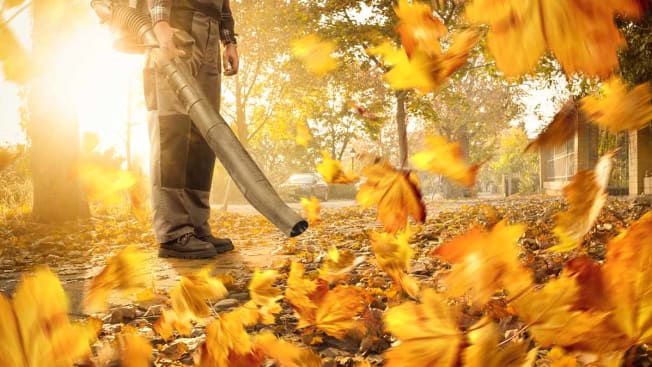 It's 8 o'clock on Saturday morning. Your list of yard chores—much like the invasive trumpet vine strangling your fence posts—has grown steadily all week. Do you dare fire up the leaf blower and risk the wrath of still-slumbering neighbors?
Over the past few years, Consumer Reports' testing has shown that the performance of battery-powered lawn gear—which is significantly quieter than gas-powered lawn equipment—has been improving.
In our evaluations of leaf blowers, string trimmers, lawn mowers, and pressure washers, we measure noise for every model.
"The noise generated by outdoor power equipment can pose a risk to the user's hearing—and it can also drive your neighbors crazy," says John Galeotafiore, who oversees CR's testing of outdoor power gear. "That's why we measure sound at the ear for all tools, and we also measure sound at a distance to see what a mower or leaf blower might sound like from your neighbor's house."
The specifics vary slightly among tools, but we generally measure at distances of 23 feet to 50 feet and assume average lot sizes of 100x100 feet.
Most manufacturers of electric outdoor power equipment make many of the tools for your yard, and we test models from Black+Decker, Ego, GreenWorks, NorthStar, Stihl, Toro, and Worx, among others.
Here, we've highlighted the quietest models of leaf blowers, string trimmers, lawn mowers, and pressure washers that also earn an Overall Score of Very Good or Excellent.
Most electric leaf blowers are handheld, and you'll need to decide whether you want a corded or cordless model. Corded tools cost less, but you'll need an outdoor outlet, and your range will be limited to the length of your extension cord. Cordless leaf blowers go anywhere, but you'll need to charge the batteries periodically. Battery backpack models run longer and are better for big properties, but they're more expensive.
As with leaf blowers, you'll need to narrow your choice of string trimmers by deciding between corded and battery-powered models. Corded tools tend to be cheaper and run indefinitely, making them a good choice if you have a lot of trimming and edging very close to your house. Battery-powered string trimmers are the better bet if you need to trim more than 100 feet from the house.
Battery-powered mowers have gotten better every single year. We now have nearly three dozen battery models in our ratings, including push mowers, good for up to 1/4 acre, and self-propelled models, which can cut a 1/2 acre or more on a single charge.
Quietest Pressure Washers
If the idea of a quiet pressure washer seems crazy to you, we bet you've never tried an electric model. Most have a standard 110-volt plug, but some of the most powerful machines rely upon a 240-volt, so you'll need to have that outlet in a garage, along with the right extension cord.
Which Products Are Damaging Your Hearing?
Some outdoor yard equipment is so noisy it can damage your hearing within 15 minutes. On the "Consumer 101" TV show, a Consumer Reports expert, Eric Hagerman, explains how CR tests to find out how loud—and dangerous—these products can be to your hearing.