When you shop through retailer links on our site, we may earn affiliate commissions. 100% of the fees we collect are used to support our nonprofit mission.
Learn more.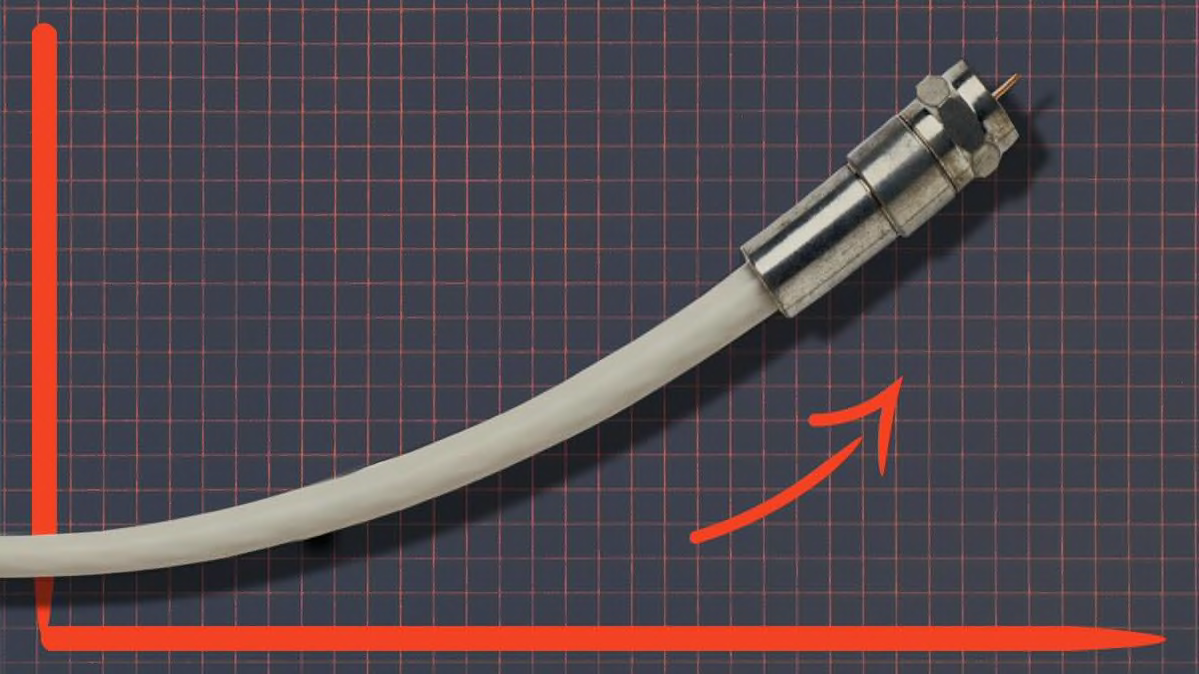 Here's a gift many of us weren't hoping for in early 2020: price hikes on TV service from some of the biggest cable and satellite TV companies.
Just before the new year, Comcast and DirecTV announced they'll be raising prices. Altice, which offers Optimum-branded TV and internet services, recently told subscribers it was increasing its TV plans by $20 to $30 a month starting in February.
These latest TV service price hikes follow an increase by Spectrum, owned by Charter, which took effect last fall.
As with past price hikes, the TV companies blame the rising cost of programming for the increases.
"Rising programming costs—most notably for broadcast TV and sports—continue to be the biggest factors driving price increases for all content distributors and their customers, "Comcast said in a statement. "While we absorb some of the increased programming costs, they have a significant impact on the cost of our services."
More on TV Service & Streaming
The price increases come as traditional pay-TV companies continue to lose TV subscribers. The research firm eMarketer estimates that 19.2 percent more households cut their traditional pay-TV service in 2019. That brought total cord-cutting households to 40 million, leaving 86.5 million homes with traditional pay TV.
In response, many cable and satellite companies, as well as several content companies, are now offering streaming alternatives to traditional TV service. And several more are slated to debut this year.
There's a bright note on the horizon for consumers who resent added cable fees that aren't included in the advertised price but show up on the monthly bill. A new law, passed at the end of 2019, requires cable and satellite TV companies to disclose the total monthly price of your TV bill, including all itemized charges, fees, and estimated taxes, when you sign up.
You also have a 24-hour window to cancel service without penalty, and you can no longer be charged for equipment you don't use, such as a router if you're using your own. The law goes into effect in June.
Rate Hikes, by Provider
Altice
Starting Feb. 1, Altice is raising the price of some its most popular Optimum TV packages by as much $20 or $30 per month, according to its website.
For example, the Optimum Silver package, which includes several premium channels including HBO and Showtime, jumps from $90 to $120 per month. Optimum Premier, a bigger package, goes from $110 to $130 per month.
But an Altice spokeswoman explained to CR that these are rate-card increases for new customers; the company is capping bill increases for existing customers at $14.50 per month, with some paying even less.
Still, the company is also raising it broadcast TV and regional sports fees. The former goes from $7.50 to $10 per month, and the latter rises from $9 to $10.50 per month.
"Our recent rate adjustments reflect the rising cost of programming, which continues to impact pay-TV pricing industrywide," she said in an email to CR, adding that the company will continue to invest in improving its network and services.
AT&T
AT&T's DirecTV customers face a price hike that starts on Jan. 19. The increases will vary by plan, but they go up to $8 (Premier) per month. Xtra and Unlimited plans will cost $7 more per month. Fees for regional sports will go up by as much as $2 per month, depending on where you live.
All AT&T U-verse customers, except those on the Basic plan, are also getting increases. Depending on the plan, they range from $3 to $7 per month. Also, the broadcast-TV fee is going up by as much as $2 per month, again depending on your plan and location.
You can see the full range of price increases on the AT&T support website.
Charter (Spectrum)
In October, Charter hiked the price of three tiers of its Spectrum TV service—Spectrum Select, TV Silver, and TV Gold—by $7.50 per month. (For instance, Select rose from $65 to $72.50 per month.) The company also raised its broadcast-TV fee from $12 to $13.50 per month, and upped the charge for renting mini cable boxes by 50 cents, to $8 per month.
For those cutting the TV cord but keeping internet, Spectrum hiked the price of its entry-level standard service (100 to 200 Mbps, depending on the region) by $5, to $70 per month.
Comcast
Comcast customers got hit with higher advertised prices for TV service and higher add-on fees in December. The price for a basic TV package increased from $30 to $35 per month. The fee for broadcast TV is now 50 percent percent higher, going from $10 to $15 per month.
The company also increased its charge for internet service by up to $3 per month, which pales in comparison to the cost of a returned payment, which jumped from $10 to $30.
If you're considering a streaming alternative to a traditional pay-TV package, remember that all of those services have also instituted price hikes—sometimes several times—over the past year. And some now provide fewer channels and networks than when they launched.