When you shop through retailer links on our site, we may earn affiliate commissions. 100% of the fees we collect are used to support our nonprofit mission.
Learn more.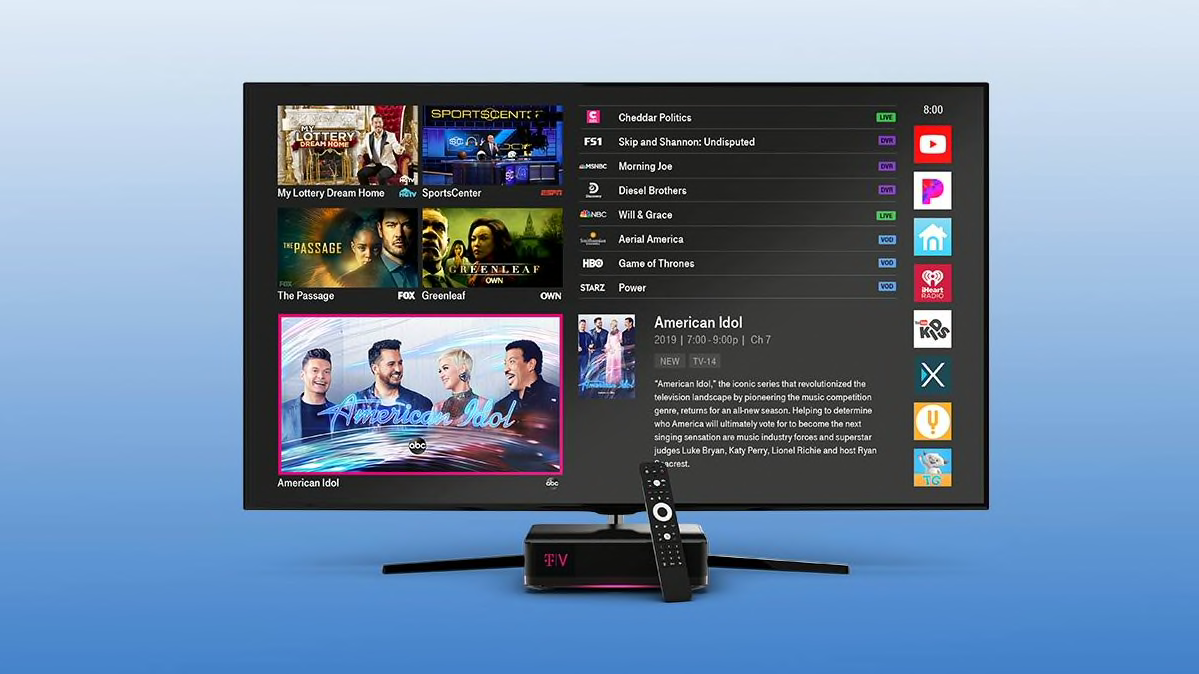 Over the past 18 months, a growing number of streaming services have really been shaking up the TV business, giving consumers a variety of new alternatives to traditional cable and satellite packages. The biggest selling point for all these services is that they offer a cable-style TV package at a significantly lower cost.
The latest entry is a bit different. TVision Home, from cellular provider T-Mobile, isn't really promising to save you money, at least not much. Instead, it vows to be more up-front about the total cost of the service, which is launching at $90 a month for a cable-style tier of about 155 channels. After the promotional period ends—the company wouldn't say when—T-Mobile wireless subscribers will get that rate, while others pay $100 a month.
Unlike traditional pay TV services, TVision Home doesn't hit you with additional charges such as broadcast TV and regional sports fees, or DVR service charges. If you have a cable package, those can sometimes add as much as $40 a month to your monthly bill, and many consumers say such fees are unfair.

However, if you sign up for TVision Home, you will pay a $10-a-month rental fee for the required main set-top box/DVR, plus $10 a month more to rent "Lite" boxes for each additional TV you'd like to connect. You'll also have to pay local taxes.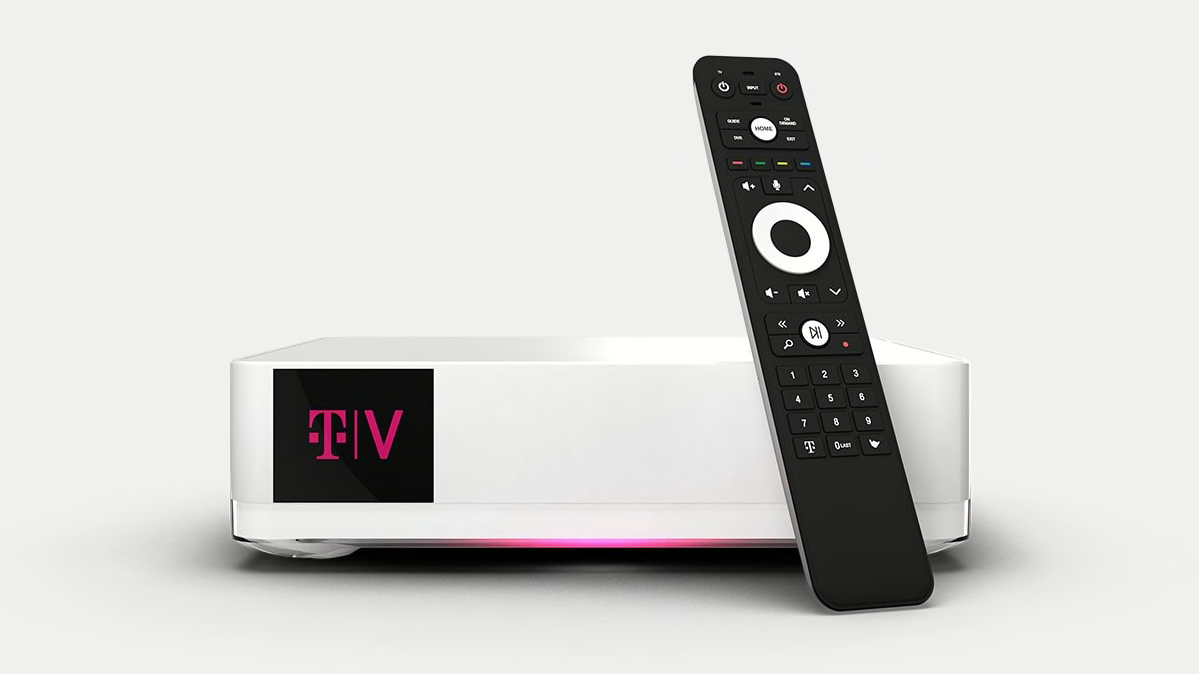 TVision Setup
I recently had a chance to kick the tires on this new service, and generally liked the channel selection and the interface.
TVision Home is a rebranded version of Layer3 TV, an internet-based TV service T-Mobile acquired last year. It's currently available only in the eight markets Layer3 served: Chicago, Dallas-Fort Worth, Los Angeles, New York City, Philadelphia, San Francisco, Washington, D.C., and Longmont, Colo. The company says it will expand its footprint later this year.
To set up the service, I had to swap out my regular DirecTV satellite TV receiver/DVR with the TVision Home gateway box. T-Mobile offers free in-home installation, but it's not necessary. I found the setup to be a snap, since an account is created when you sign up for the service and is preloaded in the gateway box. There's also a set-up video tutorial on the TVision Home website and a call-in number, if you need additional help.
The TVision box requires a wired connection to a router or Ethernet jack in the room. And you need a fairly robust broadband connection—T-Mobile recommends at least 50Mbps.
The main gateway box comes in black or white. It's considerably larger than most streaming players these days, but that's because it houses a 1-terabyte DVR for storing shows. (That's enough storage for about 400 hours of high-def programming.) Once I connected the box, I just needed to plug the power cable into the wall, load batteries in the remote control, and switch the TV to the right HDMI input. Additional TVs use smaller "Lite" boxes, which connect to the gateway box through WiFi.

The box comes prepopulated with the main account already set up, so activating service was fairly straightforward using the company's website. Once the box is activated, you can easily add profiles for other family members, who each get their own personalized home screen, recommendations, and DVR recordings list.
You can expand the TVision Home basic service of about 155 channels to more than 275 channels with add-on packages and premium channels. For example, a Movies & Music pack includes movie channels from Epix, MGM and Sony, plus a few music 24/7 niche channels, and costs an extra $10 a month.
Add-on packs for sports and foreign-language programs range in price from $10 to $15 more a month. Premium networks such as Cinemax, Epix, HBO, Showtime, and Starz can be added for an extra $6 to $20 a month.
Right now, the service is light on some major streaming apps—okay, the major streaming apps. It's missing Amazon Prime, Hulu, and Netflix. But it does have built-in apps for YouTube, plus Pandora, iHeartRadio, and a few other niche services. The company says it's working to bring some of the missing majors to TVision Home later this year.
TVision Home in Action
TVision worked well during the time I spent with it. One annoyance, though, was that the gateway box was fairly noisy, and never seemed to completely shut off. I didn't really hear the sound—likely coming from either the fan or the DVR's hard drive—when watching TV, but it was fairly noticeable when the TV was off.

I found the interface intuitive and easy to use. The left-hand side of the home screen has video tiles showing content that's currently playing live, while the right-hand side of the screen has a list of shows that are either live, on demand, or stored on your section of the DVR. At the far right side of the screen is a list of the apps that are currently supported.
Picture quality was uniformly good, and there were only a couple of instances where the picture froze for a second or two, something that also occasionally happens with other streaming services. TVision Home supports 4K video with HDRfrom those services that offer it. (HDR can produce brighter, more vibrant images when done well.)

TVision Home offers one of the broadest assortments of channels I've seen from a streaming service. I didn't find any must-have cable channels missing, and I got all the local broadcast channels—ABC, CBS, Fox, and NBC, plus PBS and Telemundo.
Most people will be satisfied with the included channel selection without having to pay for any add-on packs, though die-hard sports fans and those addicted to "Game of Thrones" or "Billions" are likely exceptions.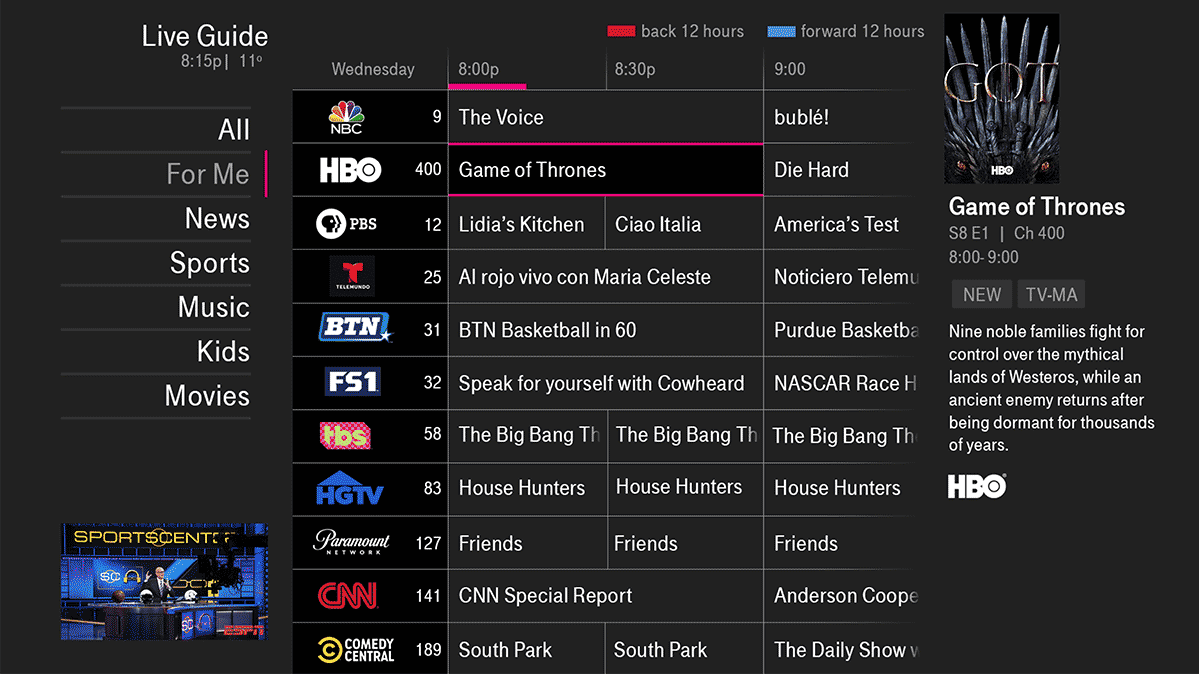 I spent the most time using the modern-looking grid-style program guide, called Live Guide, which is arranged by channel and time slots. At the left of the grid are shortcut filters—All, For Me, News, Sports, Kids, and Movies—that tailor the programs that appear in the grid.
When you highlight a show, a box on the right provides information about the program, including the episode number, when it first aired, and a brief synopsis. Recording a show required just a button click.
Like other services, TVision Home learns what you watch over time, so it can make better program suggestions.
The system is compatible with Amazon Alexa and Google Assistant, so you can use voice controls to change channels or search for shows. In my brief test with an Amazon Echo, though, I found the system a bit clunky to use, since you have to tell Alexa to ask TVision to search for programs or switch channels. There is a microphone in the remote, which might make using voice control more natural, but it wasn't active during my test.
Using the remote control was pretty intuitive; the layout is sensible, with clearly marked buttons near the top for turning the system—and your TV—on and off, accessing the program guide and DVR, and jumping backward and forward in the program guide in 12-hour increments.
Most of the operations are controlled using a large circular navigation pad at the center of the unit. Play, pause, record, and fast-forward/rewind controls are located beneath the circular pad, and above an alphanumeric keypad.
One thing I didn't like was that the remote operates using infrared, so you need a line of sight between the remote and the gateway box. In my setup, the box was slightly blocked by the end of a sound bar speaker, so I had to hold the remote high in the air to change channels. RF, or radio-frequency, remotes, like the one in my DirecTV system, don't have to be pointed at their cable or satellite box to work.
While I enjoyed my time with TVision, the looming question is whether the service will appeal to anyone other than people who really hate their cable TV company and aren't all that concerned about cutting costs.
Compared with many cable companies, T-Mobile is more transparent about the actual cost of the service, but it's still expensive, especially if you want multiple TVs connected to the service—in my home, those connections would cost an extra $50 a month on top of the base programming fee, plus taxes.
TVision Home is T-Mobile's first foray into the TV market, and it's not hard to imagine that it's planting a stake in the ground for the days not too far in the future when the service can be delivered over the company's 5G mobile network.

For now, though, the high price makes it feels like a tough sell.