When you shop through retailer links on our site, we may earn affiliate commissions. 100% of the fees we collect are used to support our nonprofit mission.
Learn more.
AT&T is finally rolling out its DirecTV Now streaming service, which offers 100-plus channels of TV programming for an initial price of $35 per month.
The service, which becomes available Nov. 30, is aimed at the 20 million or so households that don't currently get a pay-TV service. So is this the streaming service that cord-cutters have been waiting for?
Based on what we learned at AT&T's press announcement yesterday, DirecTV Now is an interesting but imperfect mobile-friendly option that won't work for everyone.
For one, it probably isn't for most families. The service is limited to two simultaneous streams per account, so only two people can access the service at the same time on different devices.
Also, unlike DirecTV's satellite-delivered pay-TV service, there won't be any 4K streaming content for those looking for top-notch video quality, something that's available from several other streaming services, including Amazon Prime, Netflix, and Vudu.
Notably missing from the current channel lineup is CBS (and its premium Showtime network), and it's unclear whether AT&T will be able to secure it. That means you'd have to subscribe to the CBS All Access (PDF) streaming service, which costs an extra $6 per month, or $10 if you don't want ads.
DirecTV Now also doesn't include DVR capability to record and watch shows later. The company says that will come next year.
And some sports fans may not feel the service will adequately fill their needs. With CBS absent from the lineup, you'll miss some NFL games and the NCAA Division 1 basketball tournament. You also won't get NFL Sunday Ticket, a big draw on the DirecTV satellite-TV service.
"It's an interesting service that offers a lot of flexibility, but it's not the game-changer many envisioned, at least at launch" says Dan Rayburn, principal analyst at research firm Frost & Sullivan.
"For starters, the $35 pricing AT&T has been raving about is a 'limited-time offer,' and we don't know how long that pricing will be available," Rayburn adds. "And the two-stream limitation means the service won't be great for families."
Rayburn also notes that at launch the service won't be supported on either Roku devices or Xbox and PlayStation game consoles, all of which have huge installed bases.
"And AT&T didn't disclose the maximum bit rate for the streaming video, so it's not yet clear what the quality of the streaming video will be like," he says.
Rayburn's research on the service's content-delivery networks—the backbone of connections that streaming services rely on—leads him to believe that AT&T has the capacity to serve about 1 million simultaneous DirecTV Now subscribers.
Four Programming Plans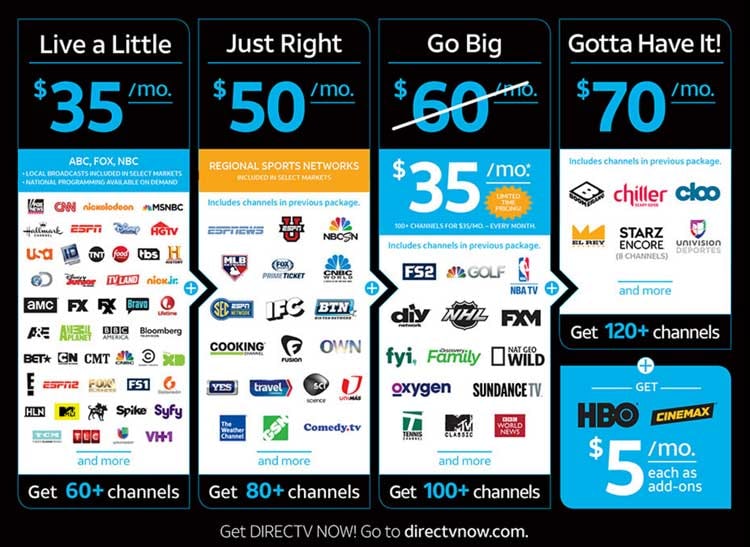 So what will subscribers get? As you can see in the chart above, you'll get mix of live and on demand channels, anywhere from 60 to 120 in all depending on the programming tier you choose.
While early announcements about the service seemed to indicate that DirecTV Now would cost just $35 each month for the 100-plus channel package, it turns out that's a limited-time promotional price for early subscribers.
The company didn't say when the promotional period would end, but did say that price would be grandfathered for early subscribers for as long as they kept the service, subject only to whatever future programming price increases were imposed on all the packages.
Once the promotional price expires, four DirecTV Now programming packages will be offered:
A $35 per month "Live a Little" package of 60-plus channels
A $50 per month "Just Right" package of 80-plus channels

A $60 per month "Go Big" package of 100-plus channels

A $70 per month "Gotta Have It" package with 120-plus channels.
Even the most basic package includes many popular "cable" channels, such as A&E, AMC, Bravo, CNN, Disney, ESPN, Fox News, FX, Syfy, and TLC. Each subsequent tier adds channels.
Subscribers in some markets will also be able to get live local ABC, NBC, and Fox stations. Otherwise, prime-time shows from these networks will be offered on demand a day after they initially air.
One surprise was that subscribers will be able to add either HBO or Cinemax for just $5 more per month each.
During yesterday's press event, AT&T also touted some of its original content that will be available on DirecTV Now, including new channels from Taylor Swift ("Taylor Swift Now") and Reese Witherspoon, whose production company will focus on female-oriented shows and movies.
At launch, DirecTV Now will be available on Amazon Fire TV and Fire TV Stick, Chromecast (Android), and Apple TV streaming media players, as well as on Android mobile devices and tablets, Apple iPhones and iPads, as well as on Internet Explorer, Chrome, and Safari web browsers. It will be accessible from Google Cast-enabled smart TVs from LeEco, as well as on Vizio SmartCast TVs.
Those willing to prepay for service can get either a free Apple TV (three months) or an Amazon Fire TV Stick with Alexa Voice Remote (one month of prepaid service).
AT&T said that in 2017 it will add Roku streaming players and Roku TVs, Chromecast for iOS, smart TVs from Samsung and other brands, and Amazon Fire tablets. There was no mention of support on any game consoles.
Several analysts have speculated that, at least initially, AT&T will be making little or no money on the service, but it could help drive customers to the company's mobile business.
One reason is that DirecTV Now is particularly good for AT&T mobile customers, since the data streamed via that service to a phone or tablet won't be counted against their cellular data limits.
If you get your mobile service from another provider, all that video could burn up a lot of data, a potential issue for those who do have data caps or limited-data plans.

"Zero-rating" plans like this, which exempt a company's own data from caps or surcharges, have come under fire for violating the spirit of net neutrality.
More Streaming Options
We'll take a closer look at DirecTV Now once it launches, but it's nearest competitors are Dish's Sling TV and Sony's PlayStation Vue.
Sling TV's Orange plan offers about 20 channels for $20, and the $25 Sling TV Blue package includes about 45 channels. A combined package with around 50 channels costs $40.
Another competitor, PlayStation Vue, includes approximately 55 channels in its $30 per month starter package; its Elite Slim Plan offers 100-plus channels for $55 per month.
The streaming space will get even more crowded next year, when Hulu is expected to launch a live TV service. Google is also planning to offer a some type of slimmed-down YouTube-based TV service.
Bottom line. We don't believe DirecTV Now is for everyone, but it's an interesting addition to the choices now available to those who have eschewed traditional TV packages.
Since there are no annual contracts and no credit checks, and you can cancel at any time, cord-cutters and cord-nevers might want to give the service a spin.
But DirecTV really isn't a "skinny" TV package, and in many ways it seems to replicate a cable-TV plan, especially its upper programming tiers.
And if rising content costs force AT&T to impose annual subscription cost increases, DirecTV Now might start to feel a little more cable-like like than many cord-cutters will be comfortable with.