When you shop through retailer links on our site, we may earn affiliate commissions. 100% of the fees we collect are used to support our nonprofit mission.
Learn more.
Televisions are part of the continuous testing program here at Consumer Reports. That means we test TVs in batches—usually around 10 at a time—and update our TV ratings with new models every few weeks. We go through nearly 200 TVs every year, many of which have very good or even excellent picture quality, and perform well in a variety of other areas, such as viewing angle, motion blur, ease of setup, and everyday usability.
In the era of ubiquitous, and affordable, Ultra HD (UHD) TVs, there are now plenty of great options for every budget in a variety of sizes. And we've written many articles to help users of various budgets and needs find a TV that's right for them. For example, we've picked the top 4K TVs of 2016 and identified some great TVs you might have overlooked because of mediocre or poor sound quality.
But this is not one of those articles.
At the end of the year, we decided to indulge ourselves and all of the TV nerds out there with a comparison test of the absolute best TVs that have come through our labs, based primarily on picture quality and UHD performance. This is a price-is-no-object comparison of the best technology the industry has to offer—kind of a Lamborghini vs. Ferrari vs. Porsche test for the TV world. It's an opportunity for us to break out all of the jargon that makes normal people's eyes glaze over and let enthusiasts pore over the technical details and test analysis at a waist-deep level. For the rest of you who might just be curious, don't worry, we'll diligently explain all of the technology in normal English wherever it occurs.
For our shootout, we tested the three sets side by side, using both a battery of test patterns designed to reveal flaws as well as using real-world video clips from a variety of movies played on an Ultra HD Blu-ray player. We tested each TV's ability to produce full 4K resolution, accurate colors, and deep black levels. We also measured each TV's brightness to see whether it could produce the full effect of content with high dynamic range images—more on that later. All of the TVs were calibrated for optimum performance.

The TV Contenders
Here's an overview of the three TVs in our shootout:
LG OLED65G6, $6,000
This is LG's flagship OLED TV, from its limited Signature series. The TV, which has fluctuated in price from $6,000 to $8,000 and back over the past few weeks, is attractively styled, with the company's "picture-on-glass" slim design and a sound-bar-style speaker system, which can rotate for wall mounting, built into its stand.
The G6 is the only one of our three finalists that supports both the HDR10 and Dolby Vision high dynamic range (HDR) formats—we explained both formats in detail in this article in July. The model comes with LG's webOS3.0 smart TV platform, and it's one of the few TVs that still supports 3D. (Remember when 3D was a thing?) It also has very good sound, among the best we tested this year. And like all OLED TVs, it has an unlimited viewing angle—the picture looks great even if you don't get the central spot on the couch.
Samsung UN65KS9800, $3,500
Samsung's flagship SUHD model in 2016 was the UN65KS9800. It's a curved-screen model from the company's step-up line of SUHD sets. This was the only Samsung series this year to use a full-array LED backlight with local dimming. This lets the TV achieve better black levels by dimming certain areas of the image while keeping others illuminated.
The TV supports the open HDR10 high dynamic range standard and has quantum dot technology, which uses nanocrystals to produce a very wide range of colors. Like the other sets in our test, it has 10-bit color processing. Though quantum dots are just one way for LCD sets to achieve a wider color gamut, a TV must have 10-bit color processing to produce that wider range of colors with smooth transitions between shades, without visible bands between the various colors. This year's Samsung sets use a slightly revamped version of the manufacturer's Tizen smart TV system.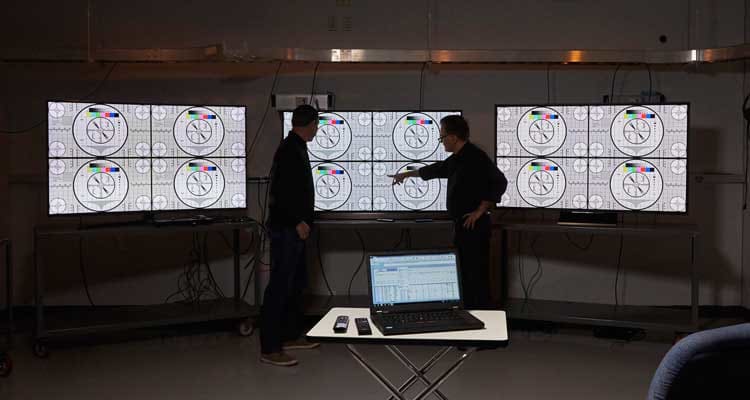 Sony XBR-65Z9D, $5,500
Sony's flagship 65-inch TV has a unique full-array LED backlight system called Backlight Master Drive, which lets the TV turn each individual LED off or on independently. That has the potential to let a very dark area of a scene sit alongside a very bright area, without light bleeding across the boundary. Almost all other LCD-based TVs divide the LEDs into groups or zones.
This model supports the HDR10 high dynamic range format, and like other Sony XBR sets this year, it features the company's Triluminos technology, so it can produce a wider range of colors than conventional TVs can. The 65Z9D uses the Google Android TV smart TV platform, which offers access to Google Cast for streaming from mobile devices, plus Google Play apps, in addition to several streaming services.
Despite impressive picture quality, the Z9D didn't score as high in our overall TV ratings as the other two sets. One reason was sound quality, which was below the LG and Samsung sets. But the other was what we felt was a non-intuitive process for playing HDR-enabled 4K content.
Most TVs switch to HDR mode as soon as that content starts playing, but the Sony requires you to manually put the TV into this setting—and provides little information about how to do this. As a result, we suspect that many Sony owners will never actually see HDR displayed on this TV.
Shootout in the CR Corral
All three models deliver excellent all-around image quality whether you're watching HD or UHD programs, including 4K titles mastered for high dynamic range. That means you get generally accurate colors and deep black levels, above-average image brightness, and excellent rendition of fine detail.
Whether we were playing our test HDR videos or 4K Blu-rays, all three TVs delivered excellent brightness and nicely saturated colors. And, more often than not, the three TVs looked almost indistinguishable from one another, especially when viewed head-on.
But we did see some subtle—and not so subtle—differences. And those enabled us to pick a winner.
OLED Advantages
Because OLED is an emissive display—each pixel produces its own light, so no separate backlight is needed—the brightness level of each individual pixel can be driven from true black to the specific brightness value required in the image. What this means for the LG is excellent control of brightness on fine details, where highlights can be made very bright without affecting adjacent darker areas. This gives you an image that appears as intended. In brighter scenes, contrast remains consistent, and image depth and dimension never vary as scenes change.
With Sony and Samsung, this is not the case—especially with darker scenes. The local-dimming feature on both of these TVs, though very effective, simply can't match OLED's pixel-by-pixel control of brightness levels. Both the Samsung and Sony sets exhibited degrees of haloing on more challenging dark scenes, where a ring of brightness can show up around the edges of objects. In a scene from the movie "Sicario" that showed a police car's roof lights at night, the halos became more obvious. In other scenes we saw subtle illumination of the black letterbox bars above and below the movie content.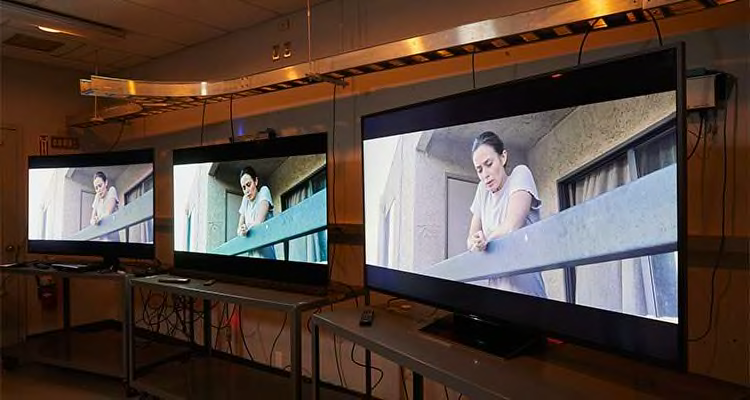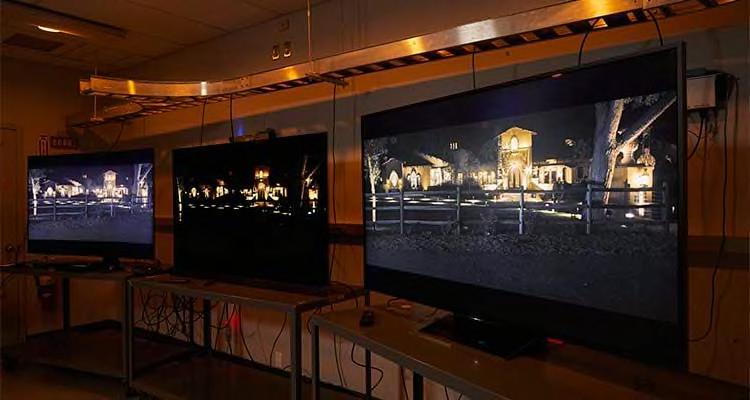 As you can see in the images above, the greatest differences between LCD and OLED TV technologies appeared when we were evaluating viewing angle. The OLED never revealed a discernible loss of contrast, black level, or brightness, no matter what angle we were viewing from. And even the color looked fine, despite a subtle tonal shift in color temperature.
With Sony and Samsung, contrast took a visible hit as we moved off angle from the center of the screen, as did black level, and color accuracy and saturation. In short, the LCD TVs' viewing angle was no match for the OLED's.
Brightness—which is measured in "nits"—is a key element to producing a rich, dynamic HDR experience. To analyze brightness, we run test patterns as well as real-world video scenes. In our tests of these sets, we found that the comparative brightness of each TV depended on the type of test images we threw at it.
With scenes such as the one shown below, we found all three TVs capable of delivering top-notch HDR performance. After optimizing the picture settings, the Sony Z9D, at 770 nits, provided the highest brightness number with a full white field test pattern, with the Samsung KS9800 trailing at 600 nits. The LG was a distant third at 139 nits.
With a 10 percent white window—a standard measurement of a small white square at the middle of the screen—the Samsung soared to 1250, and the Sony remained constant at 770 nits. The LG rose to 660 nits.
Though both of the LCD TVs had higher brightness measurements with our test patterns, we were surprised to find that the OLED set consistently had the highest level of brightness on highlights when watching movies. The Sony was second brightest with real-world content, and the Samsung was third.
On the other hand, for scenes that had high brightness covering a larger part of the image, the Sony came out on top, followed by Samsung, then LG.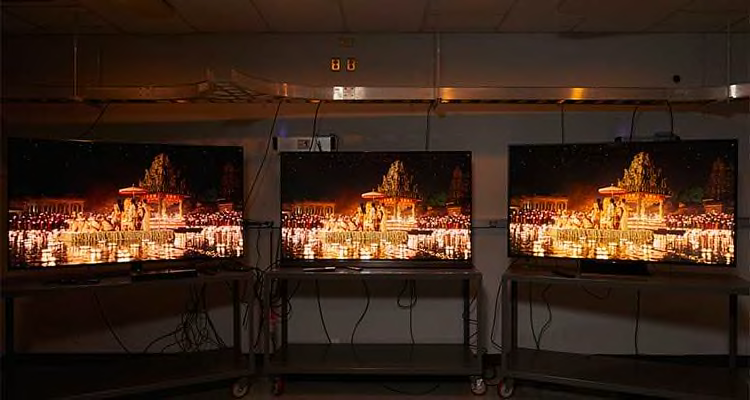 Because a full white field doesn't happen very much with real-world content (except maybe in a documentary about Antarctica), the 10 percent window can actually be a better indicator of a TV's brightness during TV shows and movies, especially with an OLED. It's a good stand-in for some HDR scenes, such as those with a glint of sunshine off a metallic object.
And that's an important point: Test patterns can help you understand, to a degree, how a TV is going to perform, but they don't tell the whole story. That's why all of our TV evaluations are made with both test patterns and real-world video. Brightness is a prime example of this, because in our testing the TV with the lowest measured brightness actually looked the brightest on some movies and TV shows with HDR.
But where the LG did fall short was on its ability to reproduce accurate near-white shadow detail on the brighter details within the image, as we noted on both our HDR test videos and some 4K movies. For example, one test scene—from "The Smurfs 2," a 4K HDR movie we often use as a reference—showed a Ferris wheel with its white frame lined with illuminated bulbs.
On the LG, some parts of the frame appear nearly flat white; on the Sony and Samsung sets, the individual bulbs remain clearly distinguishable and look more natural. We even tried lowering the contrast setting on the LG, but that didn't help recover the missing detail.
The Winner: LG G6
If you've stuck with us so far, it's probably no surprise to you that the LG G6 gets our nod for best TV of 2016. It provided the best, most consistent image quality across a broad range of content, regardless of where we were sitting. But that doesn't mean it was the best at everything, or that there isn't room for improvement.
For one, LG needs to fix its white-level clipping issue—the problem we saw with the loss of detail in very bright scenes. And though it did give us consistently good brightness in movies with a mix of dark and light content, it would be good to see this TV make larger white areas of the image brighter to provide better contrast and shading in scenes with lots of whites, such as large clouds against a sunny sky.
As for the runner-up of the best TV of 2016 shootout, we would have given the Sony Z9 TV a very slight edge over the Samsung based purely on the picture quality: It matches the Samsung at almost every step while providing better brightness, plus slightly better control of image contrast on brighter scenes. Its black levels were also excellent, and this set had perhaps the best banding performance of all three tested TVs—meaning that in scenes with subtly shaded light-to-dark areas, such as a sky during sunset, it excelled at producing a smooth transition without distinct, coarse bands.
However, Sony was really hurt by its flawed process for getting the TV to play HDR content.
For that reason, we're tapping the Samsung KS9800 as the better choice for most viewers. It also had the best HD-to-UHD upconversion of any of the sets, and though it might be hard to consider a $3,500 TV a bargain, it's considerably less expensive than either of the other two sets.
But any of these "Best TV of 2016" candidates would make a fine choice for almost anyone. When placed side by side in a TV lab, we were able to discern subtle differences in performance that would probably go unnoticed by all but the most astute viewer in the home. All three of these TVs represent the current state of the art in TV technology for anyone who is looking for absolute top-notch performance, and who can afford to buy it.