When you shop through retailer links on our site, we may earn affiliate commissions. 100% of the fees we collect are used to support our nonprofit mission.
Learn more.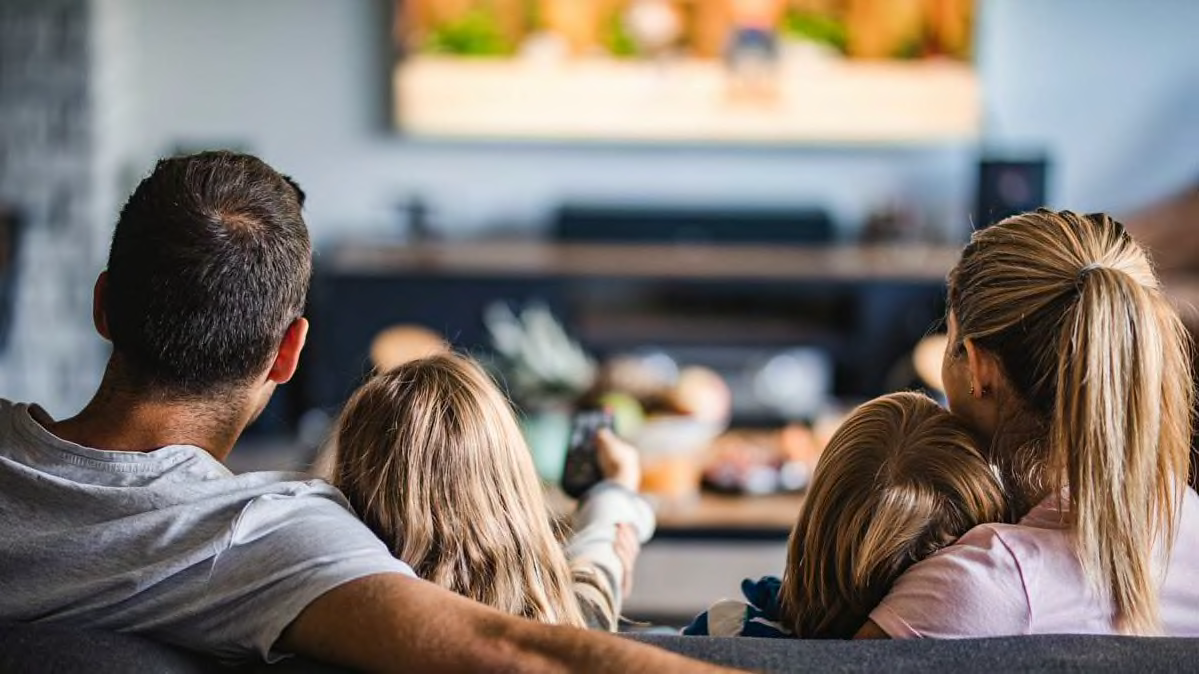 With summer now in the rearview mirror, we're fast approaching the holiday shopping season, when you can expect to find lots of high-quality TVs for sale at great prices. In 2019, those deals may look particularly attractive if you're hankering for a big television.
Over the past few years, the 55-inch TV has emerged as the large-screen standard for many Americans, and 65-inch sets are surging, too, according to The NPD Group, a market research firm. (See below for more details on the rising percentage of large-screen TVs on store shelves.)
One reason: The average price of a 55-inch set fell 8 percent from last year, NPD's research shows, while prices for 65-inch sets dropped even more, by 20 percent.
These aggressive price declines are great news for shoppers. Sure, you can pay $4,000 or more this fall for one of the first generation of 8K models, but we think it's too early to buy into that technology. Some of the top 4K TVs in our ratings are almost that expensive, as well, but you'll find lots of solid choices no matter your budget.
What to Expect When You Pay More
It's pretty easy to spot the difference between a luxury sedan and a cheap commuter car, but things aren't so obvious with TVs. Even if you're shopping only 65-inch 4K smart TVs, a single brand may offer everything from basic sets that cost a few hundred bucks up to high-end TVs priced well over $1,000. Here, roughly, is how TVs change as you move up a typical company's price ladder. (The details and prices vary by brand.)
Basic TVs
Many basic sets are smart TVs, but they may have access to only a few streaming services. You may get an IR (infrared) remote control, which requires line of sight to the TV, rather than a Bluetooth or RF (radio-frequency) remote, which does not. The screen probably won't have local dimming, a feature that can enhance the depth of black levels by dividing the TV's backlight into zones that can be illuminated or darkened independently.
And basic TVs generally aren't great at displaying high-dynamic range (HDR) content. (When done well, HDR can produce brighter, more colorful and lifelike images.) Audio quality is rarely very good.
See our recommended basic-tier TVs below.
Midtier TVs
In this range you'll see more features, such as local dimming, described above. The smart TV system may have access to more streaming services and more-intuitive onscreen navigation. And you may get an enhanced remote control with voice capability.
Lots of midtier sets support voice-enabled digital assistants, such as Amazon Alexa and Google Assistant. And because they can hit higher brightness levels, these TVs may deliver a more effective HDR experience. Audio quality is all over the map at this level, from top-notch to just passable.
See our recommended midtier TVs below.
Flagship TVs
These are the priciest models in a company's lineup, with the most features. As in the lower-priced tiers, most high-end TV screens are LCDs, but the flagship versions will have full-array LED backlights, spread across the entire TV. The greater number of dimmable zones allows the darkest parts of a picture to look nearly black. This technology doesn't apply to OLED TVs, which top our ratings, where every pixel can be dimmed independently to create very deep black levels.
Flagship TVs may have better audio systems and support Dolby Atmos, which creates an immersive sound experience by adding an element of height. These sets typically earn the highest scores from CR on a number of features.
See our recommended flagship TVs below.
The 'New Model' Name Game
If you're shopping in a warehouse club such as BJ's or Costco, you may stumble across sets from LG and Samsung that look remarkably similar to others you've seen at Best Buy, but with slightly different model numbers. It's not unusual: Model names for essentially the same TV can vary from one retailer to the next.
This one-TV-but-many-names phenomenon ramps up in the fall, when TV makers start pumping out so-called derivative sets based on models introduced earlier in the year. Often, the model name will have one or two different digits than the sets we saw earlier in the year. The TVs usually have lower prices and may have different features, such as a simpler remote control or a smaller number of HDMI ports.
The naming confusion makes it hard on shoppers looking to compare prices. If a store is the only one selling a TV with a particular model name, you can't come in with an ad for that exact TV from a different store. That makes it harder to negotiate on price—although it never hurts to try.
Often, sets with similar model names perform equally well. We don't test all the derivative models on the market, but we do bring a number of near-twins into the lab. For example, one 55-inch, derivative set we tested last year cost about $170 less than the model it was based on—and the price was the only significant difference.
The lesson? Don't be afraid to buy the near-clone of a highly rated TV if it has the features you want at a great price.
The rising percentage of large-
screen TVs on store shelves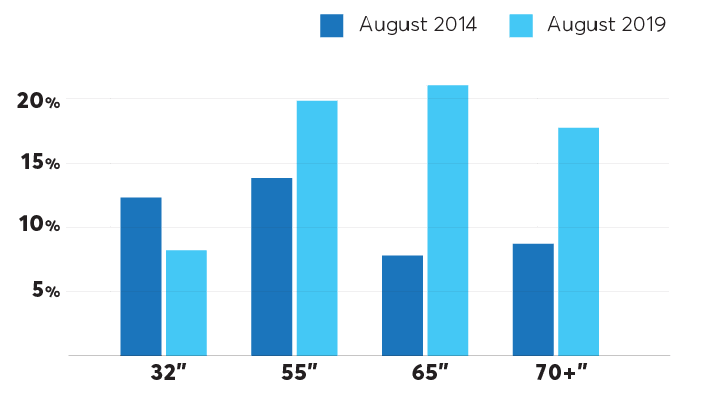 Source: GAP Intelligence data from walk-in retail stores.
The rising percentage of
large-screen TVs on
store shelves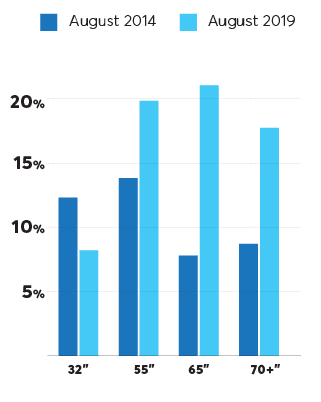 Source: GAP Intelligence data from walk-in retail stores.
Editor's Note: This article also appeared in the November 2019 issue of Consumer Reports magazine.