Should You Buy a TV at Costco?
The retailer often has great deals, but Costco-only model numbers can make it hard to compare prices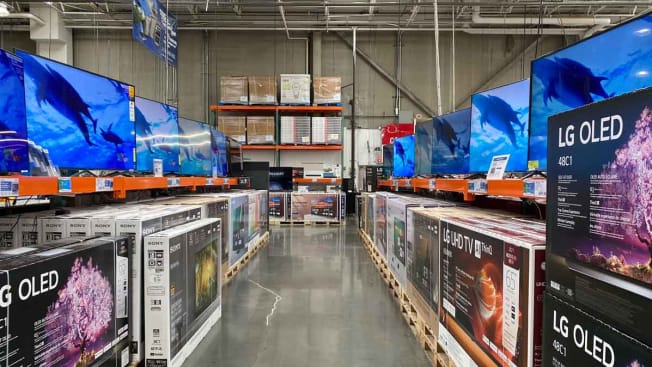 Costco is best-known as a place to snack on samples while finding huge deals on bulk items. I'm a Costco member, and my family is still working through the 114-ounce jar of ketchup I bought for a Fourth of July party.
But Costco is also a leading retailer for lots of other products, from hearing aids to appliances to books. So, how about electronics? Should you buy a TV at Costco?
Costco Offers Lots of TV Brands and Screen Sizes
Costco has a pretty decent assortment of TV brands, both in stores and online, though it features fewer brands and models than you'll find at an electronics specialist such as Best Buy. Costco tends to focus mainly on better-known TV brands; its current selection includes sets from Hisense, LG, Samsung, Sony, and Vizio.
That's a pretty good list, but if you're looking for a model that has done well in our TV ratings from another national brand, such as TCL, or a lower-priced set from a house brand such as Insignia (Best Buy) or Onn (Walmart), you'll have to shop elsewhere.
Also, we've found that Costco tends to concentrate on larger sets, carrying mainly TVs 55 inches and larger. In late October, Costco.com had 34 televisions with 65-inch screens in stock, and 38 sets that were 75 inches or bigger, including a few 86-inch models. So Costco is a good option if you're looking for a big TV—and of course, many of us are doing exactly that.
Costco does offer smaller and less expensive sets, just not as many. We found just one 32-inch set and a handful of models smaller than 48 inches. And the only 48-inch sets are two OLED models, which cost appreciably more than LCD TVs.
No matter what kind of set you're looking for, you'll find more options on the Costco website than in the warehouse stores.
Costco's TV Prices Are Competitive
It can be hard to know whether you're really getting a good deal on a TV at Costco and other warehouse clubs. Almost identical televisions from the same manufacturer may have different model names, depending on what store you go into. That makes it hard to compare prices and to take advantage of price-match guarantees. A retailer doesn't have to match a price from one of its competitors if the TVs have different model names, even if the sets are almost identical.
Despite all that, we find Costco to be very competitive with other major retailers when it comes to TV prices. And actually, it's not hard to decode warehouse club models on your own, so you can compare deals and look up reviews in Consumer Reports' ratings, which are open to members.
Often, the model designations only differ from what you'll see at stores like Walmart or Best Buy by a few digits. For example, with LG TVs, the models sold at warehouse clubs will have an AUA suffix, while sets sold at other types of retailers will use either PUA or PUB endings. That 65-inch LG OLED65CXAUA OLED TV you find at Costco will be very similar to the LG OLED65CXPUA at Best Buy or Crutchfield.com.
Samsung TVs sold at Costco will often differ by just one number or letter. For example, you'll find the Samsung QN65Q8DA at Costco and other clubs and the Samsung QN65Q80A at Amazon and Best Buy.
Sony TVs often differ by just a digit or two. The Sony XR-65A80J is sold at electronics retailers such as Best Buy and Crutchfield, while the Sony XR-65A80CJ model can be found at Costco and Sam's Club.
In most instances, the TVs perform very similarly, and are often priced within $100 of each other, and sometimes at the exact same price. For example, the two Samsung sets are priced at just under $1,300 at Best Buy, Costco, and Walmart; the two Sonys are about $1,800 at Best Buy and Costco.
Those are the list prices, but Costco often sweetens its deals by including an extended warranty as part of the purchase price or by bundling a TV with another item, such as a sound bar speaker, at a price lower than if you bought them separately.
Some retailers include installation with the purchase of a TV. However, when you buy a TV at Costco, you get only delivery to the room of your choice, not setup or installation. You can purchase a basic setup for $20, and Costco will wall-mount your TV for $100 to $120.
Warranties and Returns at Costco
Costco's warranty and return policies are among the best in the industry. The warehouse club extends the standard manufacturer's warranty on TVs, along with other select electronics items, to two years from the date of purchase.
If you have a Costco Anywhere Visa card, you'll get an additional two years of protection.
Costco also offers three-year extended warranty plans, which are administered by Allstate. Unlike some other extended service plans, where the coverage runs concurrently with any other plan—so a three-year plan covers you for only two years after the manufacturer's one-year warranty runs out—Costco's coverage begins after all other warranties expire.
That means you could get up to seven years of coverage if you purchase a television at Costco using a Costco Anywhere Visa card, and also buy an Allstate Protection Plan. In this scenario, the first two years would be covered by the Costco membership, the next three years would be covered by Allstate, and the final two years would be through the credit card.
Costco also provides members with free technical support for TVs and other electronic items. The online support is open from 5 a.m. to 10 p.m. ET seven days a week, except for holidays.
But there is one piece of bad news on Costco's customer policies. In general, Costco's return policies are as good it gets—you can pretty much return anything, for any length of time. But the retailer pulled the plug on that policy for TVs and some other items in 2017.
Now, you have up to 90 days to return a TV. That's still quite generous compared with the period provided by many other retailers. At Best Buy, for example, you have only 15 days to return a TV unless you pay for the retailer's $200-per-year TotalTech support membership service, which extends TV returns to 60 days.
Walmart and Target each have 30-day return policies on TVs. Crutchfield has a 60-day return policy, but if you bought online you'll have to pay between $135 and $175 in shipping costs, depending on the size of the TV. (Crutchfield has only two retail stores, both in in Virginia.)
One other thing to consider if you're buying a bigger TV in a Costco store is whether it will fit inside your vehicle; despite having a decent-sized SUV, I had to borrow a truck to get my 75-inch TV home. Costco doesn't deliver TVs bought in the store, but it has partnered with GoShare for delivery. Based on the estimate I received to deliver that 75-inch set, it would have cost me $118 to have it delivered plus $1.94 per minute if the delivery time exceeds 55 minutes.