When you shop through retailer links on our site, we may earn affiliate commissions. 100% of the fees we collect are used to support our nonprofit mission.
Learn more.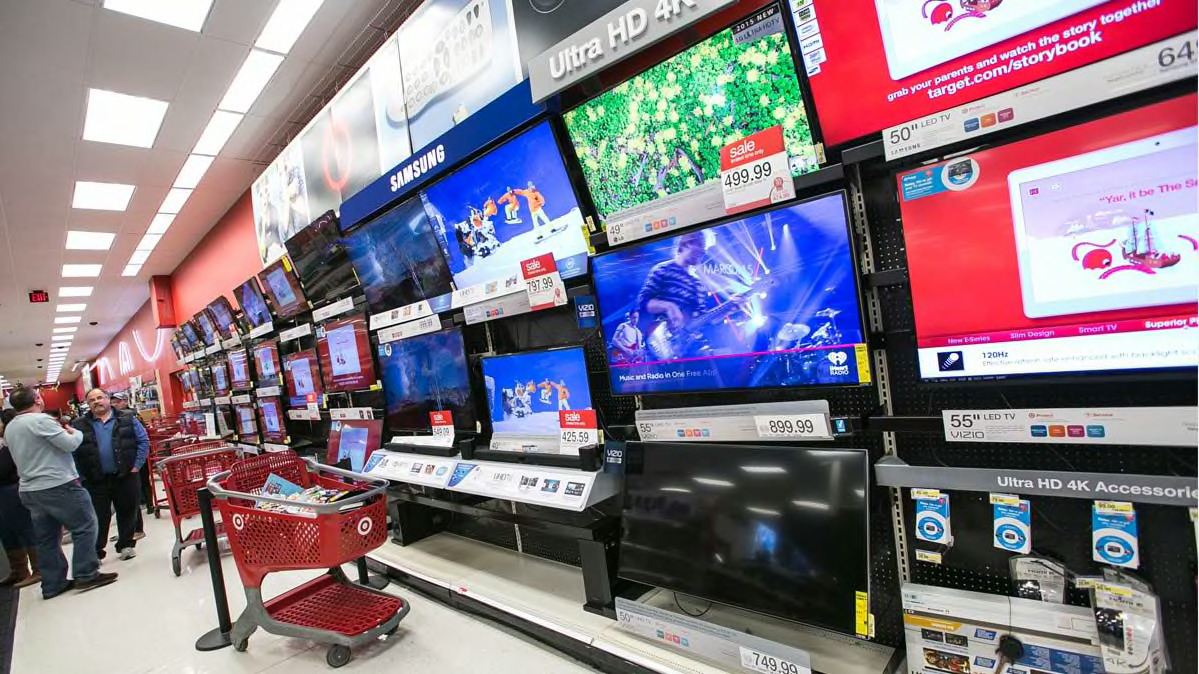 Black Friday TV deals at Target this year are similar to offerings from years past, though the retailer did manage to shave some off the cost on many listed items.
For example, its low-priced doorbuster special is an $80 720p TV from a secondary brand. That's $5 less than the deal from a year ago—maybe even on the exact same TV.
Target's top price this year—once again on a Samsung 4K smart TV—is $800, down from $850 in 2017.
In general, there's a nice assortment of TVs in various screen sizes and prices in the Target Black Friday ad.
MORE ON TVS & SHOPPING DEALS
Not all the deals are really special, though, as you can tell from our assessment below. There are a few models worth considering, especially if you're a regular Target shopper with a store credit card that gives you an additional 5 percent off.
The in-store doorbuster deals kick off at 5 p.m. on Thanksgiving (Nov. 22)—an hour earlier than a year ago—and run until the stores close at 1 a.m. Friday—an hour later than last year. Doors will reopen at 7 a.m. on Black Friday. You can shop the deals all weekend at target.com—they go live on Thanksgiving, but Target hasn't yet specified the time—and there's free shipping on everything, no minimum charge required. You can take advantage of the offer by ordering online between Nov. 1 and Dec. 22.
Thanks to our friends at bestblackfriday.com and bfads.net, we got early access to the deals and ad scans, but you can now see them for yourself on the Target Black Friday website. The retailer doesn't always provide model numbers, so at times we've given our best guess as to which TV model is on sale.
Smaller TVs
32-Inch Polaroid LED TV, $80
This is the type of doorbuster we expect to see, a smaller-sized TV at a very low price. Last year Target had a similar deal, but this year it's $5 cheaper. No model is given, but we suspect it's the Polaroid 32GSR3000FC, a basic 32-inch 720p model that sells for about $130.
32-Inch Samsung Smart LED TV, $180
No model number on this doorbuster special, either, but we think it's the Samsung UN32M4500. If so, it has commendable picture quality, though the viewing angle and sound aren't so hot. The TV usually sells for just under $200, so this isn't a great deal.
32-Inch Element Smart LED TV, $120
This doorbuster is also hard to identify given that Element makes a variety of TVs featuring the Fire TV, Roku TV, and its own smart TV platforms. We think it's the Element ELST3216H, a 720p set that usually sells for about $150.
Midsized TVs
40-Inch Vizio Smart LED TV, $200
We think this is the Vizio D40F-G9 model, which is priced at $179 in the Sam's Club pre-Black Friday sale and $200 in Costco's Black Friday event. If so, it usually sells for about $230 to $250.
43-Inch LG 4K UHD Smart TV, $270
This set—the LG 43UK6090—comes from a series that has grown increasingly popular for Black Friday TV sales. It's selling for about $500 at a few retailers, including Best Buy, but B&H says it will offer it soon for $300.
43-Inch Samsung 4K UHD Smart TV, $280
The Samsung UN43NU6900, another doorbuster item, is selling for $330 at Best Buy and P.C. Richard & Son right now, so you'll save about $50.
49-Inch LG 4K UHD Smart TV, $330
This is the LG 49UK6090, sometimes listed as the LG 49UK6090PUA. The model will be part of Costco's Black Friday sale for $320, $10 less than at Target. It's a good deal at either price because it regularly costs $400 to $500 elsewhere.
50-Inch Westinghouse 4K UHD Smart TV, $230
This one stumped us, but our best guess is that it's the Westinghouse WE55UB4417, which is selling for about $350 at Best Buy right now. We haven't tested that set, but Westinghouse TVs have typically not done very well in our ratings.
50-Inch Samsung 4K Smart TV, $330
Another Samsung doorbuster, the UN50NU6900 sells for about $500 right now at other retailers. When we tested the model, it did well in most picture-quality areas and had very good sound.
50-Inch Philips 4K Smart UHD TV, $250
When we tested this doorbuster set, the Philips 50PFL5703, it turned in a decent performance, and this is a good price because the model usually sells for about $400.
50-Inch Vizio 4K UHD Smart TV, $300
There's very little info to go on for this doorbuster, especially because Vizio makes many different models. But based on the photo of its internet service, we think it could be a 2017 or even a 2016 model that uses Vizio's older VIA smart TV service rather than the SmartCast platform on newer sets. One guess would be that it's the Vizio D50U-D1, which is still available at Sam's Club for $400. If so, it has great high-def picture quality, but the Ultra High Definition performance wasn't nearly as good.
Larger TVs
55-Inch TCL Roku 4K Smart TV, $350
Our best guess for this doorbuster is that it's the 2017 TCL 55S405, which we tested. If so, it's priced at $380 at Amazon and Best Buy right now. A more entry-level model, it wound up in the middle of our TV ratings in its size class.
55-Inch Samsung 4K UHD Smart TV, $400
Another doorbuster item, the Samsung UN55NU6900 can also be found in our ratings. This model showed up this morning priced at $400 in the Dell Black Friday TV sale. The set is available now for $450 at a few retailers, and we expect others to offer it at roughly the same sale price, so the deal really isn't too special.
55-Inch Samsung 4K UHD Smart TV, $580
The Samsung UN55NU7300 is a curved-screen set that did well in our ratings. Sometimes listed as the Samsung UN55NU7300FXZA, it can be purchased for $600 at other retailers, including Target and B&H.
55-Inch LG 4K UHD Smart TV, $470
Another doorbuster, the LG 55UK6300 is selling right now for about $550 to $600, so this is a decent deal on a very good set. (The model we tested is listed as the LG 55UK6300PUE.)
60-Inch LG 4K UHD Smart TV, $550
Another doorbuster special, the LG 60UK6090—sometimes referred to as the LG UK6090PUA—usually sells for about $600.
65-Inch LG 4K UHD Smart TV, $750
This doorbuster, the LG 65UK6300 (tested as the LG 65UK6300PUE) is another decent TV at a decent price, though you can buy it for about $800 to $850 at a few places, including Amazon and P.C. Richard & Son.
65-Inch Samsung 4K UHD Smart TV, $800
A larger version of the curved-screen set we mentioned earlier, the Samsung UN65NU7300 did well in our ratings. Target's doorbuster price is about $100 less than the prices at other retailers.