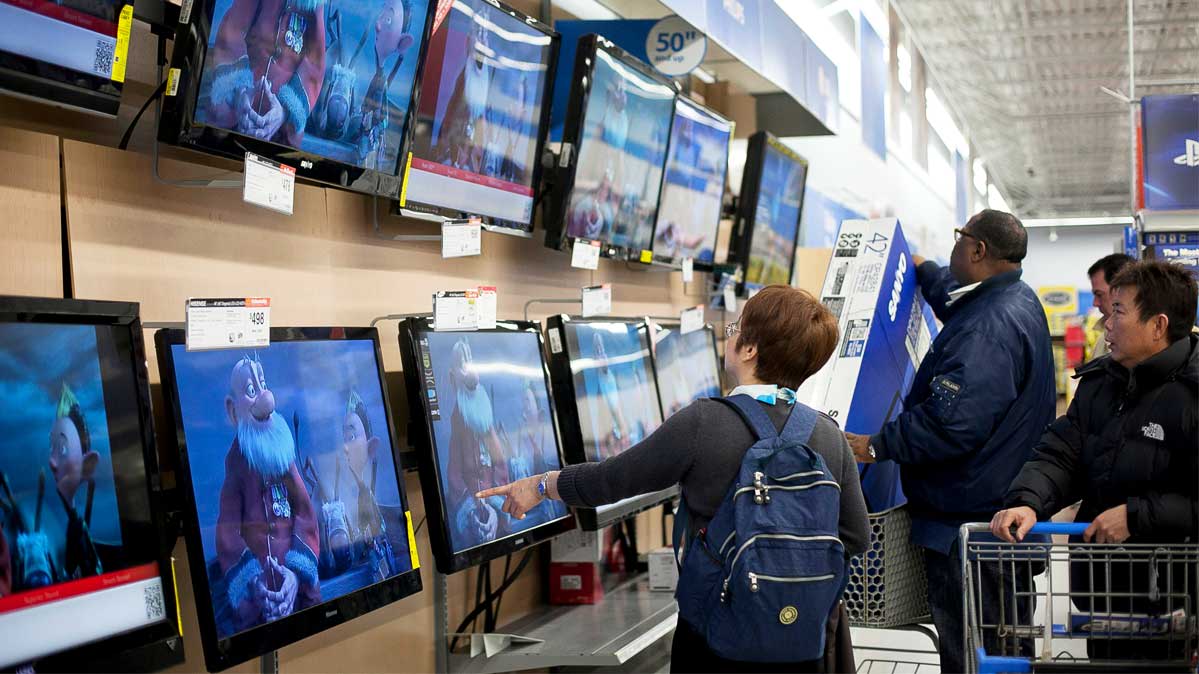 If you're eager to get a jump on your Black Friday shopping and are hoping to snag a new TV, check out Walmart's deals starting today.
Televisions will play a big part in the retailer's in-store and online offerings, and you can already buy a 65-inch RCA 4K set for $400 and 50- and 55-inch Sharp 4K smart TVs for $249 and $299, respectively.
The Walmart early Black Friday sale kicked off online at 12:01 a.m. this morning, Thursday, Nov. 8. The retailer is offering 18 deals during this early event, including the three TVs.
More on TVs & the Holidays
Walmart's main Black Friday action starts the night before Thanksgiving with an online sale that kicks off at 10 p.m. EST. The in-store sales start at 6 p.m. local time Thanksgiving Day.
During a Q&A session, Walmart executives told Consumer Reports that the retailer would have Black Friday deals on models exclusive to the chain and on brand-name TVs you might also see at other retailers. Most, but not all, of the TV deals offered in stores will also be available online.
One convenience this year is called Check Out With Me, which will let customers buy from roving sales clerks armed with mobile devices, skipping the lines at the cashier. Also, during the sale, the Walmart app's Store Map feature will let you choose a promoted item onscreen, then see its location on a map.
Here are details on the sets already available for purchase, as well as deals that will be available during the main sale. Walmart doesn't list specific models, but we've done our best to identify them and give you our analysis.
TV Deals You Can Get Right Now
Here are the TVs that you can already purchase as part of Walmart's early sale. Walmart claims these three TV deals will be exclusive to the chain.
65-Inch RCA 4K UHD TV, $399
No model name is given for this set, and Walmart sells several 4K (Ultra High Definition) RCA models, so we'll have to take a guess. Given that it's not listed as a smart TV, we think it could be the RCA RTU6549, which is selling for about $420 right now—though Walmart claims to be offering a $70 savings. We didn't test this set, but we did test the similar RCA RTU5540, which didn't do all that well in our TV ratings.
50-Inch Sharp 4K UHD Smart LED TV, $249
This is the Sharp LC-50Q7030U. The TV did well in our tests, though its HDR, or high dynamic range, performance wasn't great. Walmart had the set selling for $280 before the sale began, and the retailer had offered the same reduced price as part of an earlier deal that has now expired.
55-Inch Sharp 4K UHD Smart LED TV, $299
This is the Sharp LC-55Q7030U, the bigger sibling to the set above. Walmart says this set is $200 cheaper than usual, but we saw it selling for $320 yesterday. The chain also had it for $300 as a special sale earlier this year.
Black Friday Deals
These deals will be available online starting at 10 p.m. Wednesday, Nov. 21 (EST), and it will continue in stores at 6 p.m. local time Thanksgiving night.
32-Inch Samsung Smart TV, $178
This is the Samsung UN32M4500AFXZA, a 720p HD model that's in our ratings. It's a good choice for those not looking for a 4K TV. This TV will be available elsewhere, including BJ's and Target, for $180.
40-Inch Hisense 1080p TV, $99
This is the Hisense 40EU3000, a basic model we haven't tested. This TV had previously been selling for $178 at Walmart, but it was out of stock when we last checked.
55-Inch Hisense 4K Roku Smart TV, $248
This is the Hisense 55R6000E. We don't see this set elsewhere right now, but Walmart does sell a 55-inch Hisense 4K Roku TV for $378. That's the Hisense 55R6E, a model we've tested.
55-Inch Samsung 4K UHD Smart TV, $399
This is the Samsung UN55NU6900FXZA, a model that we tested. It did well, though it wasn't a top performer when it came to HDR. (We have it listed in our ratings without the FXZA suffix.) Right now it's selling at other retailers for about $450 to $480, so Walmart is giving you $50 to $80 in savings. For Black Friday, Dell will have it for the same $398 price, and Target will have it for $400.
60-Inch Vizio 4K UHD Smart TV, $498
This is the Vizio D60-F3, a model from the company's entry-level 4K series. This set is selling everywhere for about $600, so this represents a nice $100 savings.
65-Inch TCL 4K Roku Smart TV, $398
No model number is given for this set. Our guess is that it's the TCL 65S401, which has been selling at Walmart for $598. Other 65-inch 4-series Roku TVs sell for about $580 right now at Best Buy (the TCL 65S423) and BJ's (the TCL 65S403). Note: Walmart claims this set is the TCL 65S4, a model we've never seen before. In any event, it;'s now sold out on the Walmart website.
65-Inch Sharp 4K UHD Smart TV, $398
This set is the Sharp LC-65Q7300U, and it usually sells at Walmart for $498. So you're getting a $100 savings, a significant discount for a set this price.

Consumer Reports is an independent, non-profit organization dedicated to helping consumers. We make it easy to buy the right product from a variety of retailers. Clicking a retailer link will take you to that retailer's website to shop. When you shop through retailer links on our site, we may earn an affiliate commission – 100% of the fees we collect are used to support our mission.
Learn more.
Our service is unbiased: retailers can't influence placement. All prices are subject to change.